Welcome to the All-New Bestbettingsites.com!
Sports betting lovers have a new home with the launch of our incredible new bestbettingsites.com. For years, we have been helping UK customers find their perfect betting partner, claim the best betting bonuses, and get the latest sports news and betting tips in our excellent blog section. Many of our visitors have contacted us asking for the same service for other countries, we've listened, and we are proud to present our new-look site.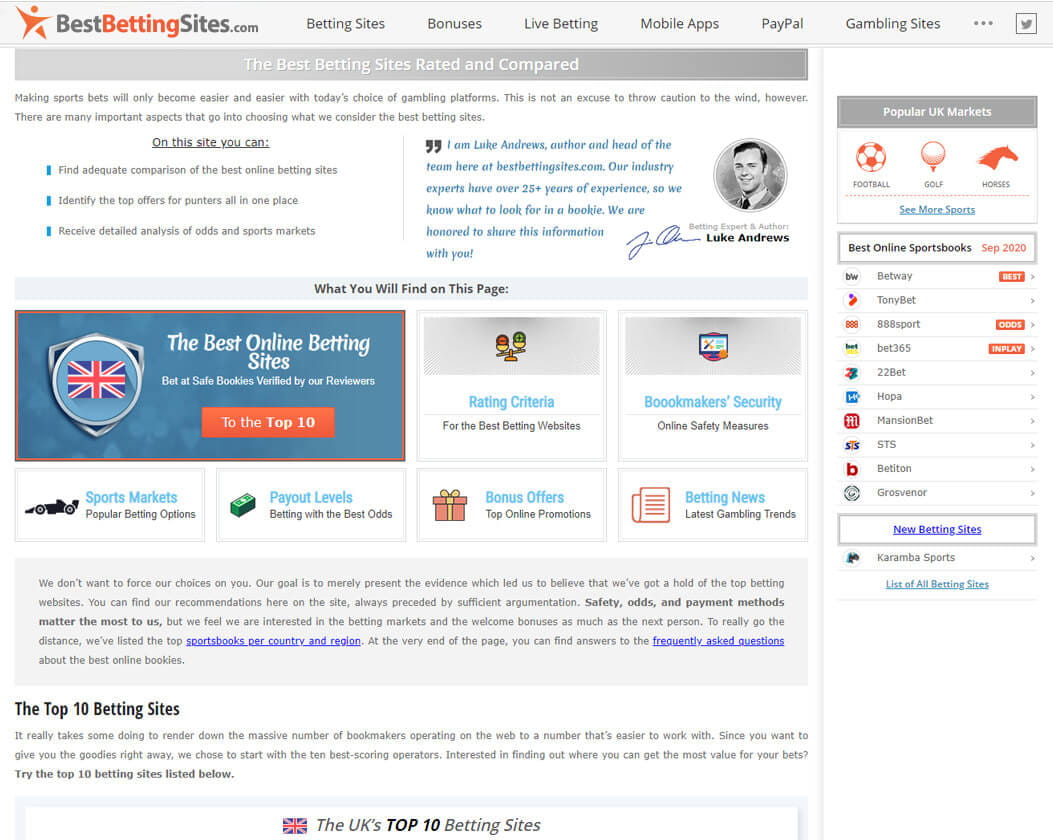 You'll notice we have a fresh new look for our site with every section given a modern makeover and we've worked hard to ensure that no matter what device you use, browsing our site and finding the information you want, is not only easy but looks great.
What Will You Find at The New Home for Sports Betting
Our mission has always been to provide you with the latest information about sports betting, and on our new domain, we expand our knowledge base to include other countries. You'll still find everything we are famous for; In-depth bookmaker reviews, excellent betting guides and betting tips and more—the same great content, just a lot more of it.
The Best Bookmaker Reviews Just Got Better
Our online sports betting bookmaker reviews are respected in the industry and are very popular with our visitors. As we are independent, our in-depth and detailed reviews tell it like it is. Written by sports enthusiasts, we'll tell you the pros and cons of each bookmaker with no stone left unturned.
Unlike other comparison sites you may find, our reviews are continuously updated, giving you the confidence that the information you find is accurate and up-to-date. Our team of experts are continuously reviewing newcomers to the market, bringing you reviews you won't find elsewhere. We have also negotiated unique promotions, especially for our visitors.
Country Pages: Advice Wherever You Are in the world
One of the biggest changes you will find on our new domain is the introduction of country pages. As sports gambling is legal in some countries and not others, finding reliable and accurate information used to be time-consuming. Not anymore! Our country pages provide you with all you need, current laws, the top bookmakers, reviews and much, much more.
From world-famous names to smaller online bookmakers, you'll find reviews for them all in our country pages. As local experts write the reviews, we are confident that you'll not find a better or more accurate resource for sports betting on the internet. Our goal is to match you with your best betting partner wherever you are in the world.
Bonuses and Promotions at Online Betting Sites
Getting the best online sports betting bonuses can greatly enhance your betting experience. On our newly designed home page, you'll see at a glance what special promotions are on offer. Forget checking dozens of sites; we've done all the hard work for you.
If you are a newcomer to sports betting and are not aware of the special promotions that you can claim when betting online, we can help you. We have guides written by experts that cover in detail all the offers you can claim. From free bets, matched deposit offers, no-lose bets and many others are explained.
Choosing the Best Bookmaker for your Sport
Not only does our new website cater to different countries, but it also helps you choose the best bookmaker for your chosen sport. Our researchers have found that you can significantly increase the size of winnings you collect, just by choosing the right bookmaker for your sport.
Think of a sport, and the chances are we have a dedicated page for it. Popular sports such as soccer, American football, horse racing and basketball are covered of course, but you'll also find more obscure sports like table tennis, Gaelic sports and badminton. We compare odds, betting tactics, different types of bets you can place and much more.
Payment Methods Specific for your Country
Choosing a payment method to use at an online sports betting site can be a daunting task. Not only are there so many to choose from, not all payment methods are available in all countries. To complicate matters even more, in some countries the payment methods can vary from state to state. There are also differences between the ways to pay; such as maximum deposit, speed of transaction and even if you can withdraw using your preferred method.
We can help you navigate this potential minefield and give you the information you need. We'll let you know in our specific country pages what payment methods that are accepted. We also have more detailed information on the payment providers such as PayPal, Skrill, Visa, and more in our dedicated pages on them.
You'll Find Betting Guides, Odds Calculators and More!
We have years of betting experience that we love sharing. Knowing how to use cash-out effectively, the pros and cons of in-play betting, handicap betting and system bets are just a few of the topics you'll find contained in our articles, even if you are a beginner, we will have you betting like a pro in no time.
A website that focuses on sports betting globally has to provide information to a wide audience, many of which, use different terminology. To help with this, we have created an excellent glossary of terms that you might encounter. We'll show you how to switch between decimal, fractional or American odds and we even have a great odds calculator that will inform you of your potential winnings.
Different Design – Same Great Features
We've put in a lot of work to ensure our new website is even easier to use while keeping all the functionality which has been popular with visitors. You'll find navigation icons at the top of the page to allow you to quickly find what you need. Our new country pages have been designed with simplicity in mind, with easy to spot flags.
Our website uses adaptive technology and knows what device you are using and will optimise your experience accordingly, giving you a great experience on a phone, tablet or laptop. Our graphic designers have been busy producing pictures that make complex topics like matched betting accessible to all, and we know you will love our visitor-friendly design.
New and Improved: Check us out!
We are excited about the many features we have added to the new domain while still keeping a similar look and feel that made the original site so successful with our visitors. Our new country pages will allow us to reach new audiences, but we can assure UK visitors that we will still produce the high-quality content you are accustomed to.

As you can see above, our logo has changed, but the one thing that hasn't is our commitment to you. We will provide you with all the information you will need to find your perfect betting partner online.
Stop the Press: News Section
We couldn't let you go without making sure you were aware of our news section. Updated regularly, we bring you all the latest news in sports betting and society news that involves betting. With topics ranging from a ban on sponsorship in football in Spain to American gambling laws, we cover it all.
Another gem you might have missed is our blog section. Here we give our view on the often weird and wacky world of sport and take the opportunity to share our expertise. Pre-season we preview the action ahead and each week we share our prediction in the top games, helping you to bash that bookie.