The Best Trotting Betting Sites in 2021
Growing in its popularity as a spectator sport, trotting is becoming available to an increasing number of online bookmakers. In this guide, we review the best trotting betting sites and share our hints and tips so you can get the best value. We discuss which wager types you should consider and help you develop your betting strategy.
The Top Trotting Betting Sites
Best Trotting Betting Sites
Bonus Offers
Highlights
Rating
Secure Link
T&C's
888sport
$500 Risk Free Bet
N/A

,

6+

,

Stat Centre

Visit Site!
Full T&Cs Apply! New customer offer. Please gamble responsibly. 21+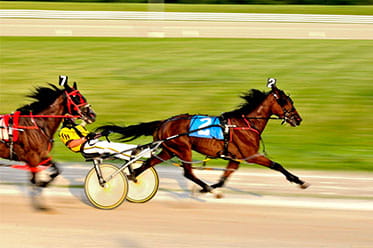 Top 5 Trotting Betting Sites
Our five recommended bookmakers are mainly household names, and they all feature something unique. Punters can get either better odds, more markets, or simply a great offer. Thus, we've prepared a listing of each sportsbook and the category where it excels. Have a look at the best trotting betting sites.
Best Trotting Betting Sites by Category:
| | |
| --- | --- |
| 🏆 Best Trotting Betting Site | 888sport |
| 💰 Top Trotting Payouts | Grosvenor |
| 📱 Best for Mobile Trotting Betting | Unibet |
| 🔄 Easy-to-Use Trotting Bookie | Mr Green |
| ⚡ Best Livestream Platform | bet365 |
As all our featured bookmakers are both regulated and licensed by reputable gambling commissions, you can bet with confidence whoever you choose. Before we recommend a sportsbook, we fully review their services and give an independent and impartial opinion. Until the end of this trotting betting guide, you'll read a lot more useful information, so we better get on with it.
Trotting Betting Odds
The odds that a bookmaker offers can tell us a lot about the company. And if other aspects of the service, such as customer service, payment speed, markets offered, etc., are the same, the odds a bookmaker offers can be a deciding factor. The sad fact is that many of us don't know if we are getting good value for money or not; most of us use one bookmaker and take whatever price is offered.
Therefore, to enable us to compare our top five trotting betting sites, we collated the odds offered for the sport at our five bookmakers. Using twenty race meets, we compared the odds provided for all the runners in a race. This allowed us to calculate the profit margin on the average per tournament. Once we knew the level of profit (known as the vig), we were able to work out the return to player (RTP) percentage. The findings from our research can be seen below;
Average Odds for Trotting Tournaments
Trotting Betting Site
Finnish Derby
Prix d'Amerique
Elitloppet
Swedish Derby

bet365

97.35%
93.55%
97.75%
95.93%

888sport

95.82%
97.22%
95.48%
95.81%

Mr Green

92.82%
94.82%
93.98%
92.18%

Grosvenor

93.28%
94.22%
92.67%
91.81%

Unibet

94.11%
94.31%
90.98%
90.81%
The data showed us that there are little variance overall and no variance between four bookmakers. Now, this may seem suspicious, but before we all start claiming conspiracy theories, there is a simple explanation for this. All the sportsbooks we tested in this review, except bet365, use a company called Kambi to provide their sports betting platform. Kambi, who was once part of the Unibet Group, offers 65 sports with 250,000 pre-match and 120,000 in-play events, explaining why the odds are the same. The difference between bet365 and Kambi's odds was minimal; bet365 averaged 96.64% RTP compared to 96.08%.
What Tournaments do the Bookmakers Offer?
While trotting may not have the same popularity in England as flat or jump racing, over the border in Wales, it is taken a lot more seriously and competitively. In 2019, there was 29 different locations in which Welsh trotting took place.
One of the biggest competitions held in the UK is the STAGBI Future Broodmares' Race, which is organised by STAGBI, the approved registration organisation. The annual race is open to any STAGBI registered mare that is four years old or over. The event is held over nine meetings at Amman Valley, Tir Prince and Corbiewood in Wales, and York and Wolverhampton in England.
Just over the channel in France, it is a large business and a sense of national pride. France offers two specialties: harness and mounted trotting races. More than 11,000 races take place in France every year, and like many Brits holiday in France, interest in the races has increased over here.
The Paris-Vincennes winter meeting, starting from November until March, is the highlight of the French trotting season. Races include; Critérium Continental, Grand Prix de Bourgogne, the Prix Ovide Moulinet, and the Prix de France. bet365 also cover the popular Australian market, they were the only bookmakers we found that did.
Common Betting Markets for Trotting
As the sport involves racing horses, you won't be surprised to know that many of the bets available for horse racing are also available for trotting. It's worth mentioning that not all markets feature at all bookmakers, but here are some of the most popular events;
Trotting horse to Win

The most popular bet in trotting betting, you are deciding which horse will win. Some events, such as the Finnish Trotting Derby, Prix d'Amerique and Elitloppet open betting for the tournaments many months in advance, whereas local meetings book may not open till days before the event.
Another option you have on a 'to win' bet is to make it 'each-way'. This means if your horse finishes in the top three, you will see a return. Your stake doubles when you make an each-way bet and the odds are normally reduced by a quarter. For example, the next Elitloppet race in 2020, the favourite Vitruvio is listed at 7/1 for the win or 9/4 each-way.
Top Earning Horse Odds

As trotting is a global sport, there are several leagues and tournaments taking place over the calendar year. A popular betting market is which horse will the biggest earner in that event. One such market is 'Leading North American-Based Money Winning Horses'. You can find similar markets for the Paris-Vincennes winter meeting and the UK's STAGBI Future Broodmares' Race.
Virtual trotting

Whilst not really a betting type, virtual trotting is just too good for it not to get a mention. Available at many bookies, the virtual action takes place at Etruria Stadium. However, if you didn't know the action wasn't real, you'd have believed it is the real thing, it's spectacular. Similar to video horse racing which used to be popular in amusement arcades, the latest technology used makes this as engaging and enthralling as betting on the real thing.
Trotting Live Betting
In many sports, the bookmakers allow bets to be placed once the event has started. In sports like cricket betting and football betting, live betting has revolutionised how people bet, as you can watch the action before you bet. Unfortunately, due to the fast-paced nature of the sport, no bookmaker currently offers live betting on trotting.
Another innovation that, unfortunately, the sport misses out on is the new ability to cash-out while the event is still taking place. On selected markets, once the action starts, the bookmaker will offer you a price to 'cash-out' your bet. This figure they offer could be higher or lower than your original bet. However, the slight delay that bookmakers need for the cash-out functionality means it's not practical for trotting betting.
Bookmaker Bonuses for the Sport
One of the biggest issues you will find when betting on the sport is not all the events are covered. It's very much the same when it comes to the offers. Many of the operator betting bonuses can be used on the sport, even if they aren't necessarily catered toward it.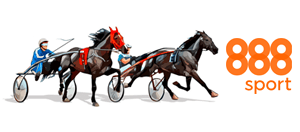 The Best for European Trotting
Excellent Odds
Great for In-Play Betting
ESSA, IBAS, Licensed by:
Unibet deserve mention for their new customer welcome offer. Instead of offering free bets, their welcome offer only helps if you're unlucky! Their promotion will give you up to £40 if the first bet you place with them loses. Therefore your first bet is a win/win situation. LV BET are also a good choice, they will 50% match your first deposit up to a maximum of £50.
Trotting Betting Strategy
Over the years, we have found that the type of bet you place is almost as important as what you place it on. And having at least a basic knowledge of some of the available betting types can boost your winnings or give a degree of forgiveness when some of your selections go to plan.
To boost your winnings, accumulators are the path to riches. In an accumulator bet, you place bets in several races and the winnings rollover from one race to another. For example; If we placed four separate £10 wagers for a horse to win at 4/1 and all four horses won, we would receive a total of £200 (£10 returns £40 at 4/1 plus the stake = £50 per bet, times four).
If, however, we placed a £40 four-fold (an accumulator bet with four selections) bet, this would pay out an incredible £25,000. This is because when the first horse won, your £50 winnings went onto the 2nd horse, and this pattern repeats with all the winnings re-invested.
Check the form of each driver and horse
Research previous results and rankings
Follow the news about each harness race
Look for the highest odds
Learn how to manage your bankroll
Bet on underdogs for bigger profit
This is, of course, the happy path! While you may be disappointed in receiving £200 rather than £25,000, if just one of the horses didn't win, your £150 that you would have received by placing singles would be reduced to zero if you had placed an accumulator. It's a case of balancing risk and reward.
Another of the trotting betting tips we would like to share is to repeat your bets but reduce the stake. If we plan on placing a £10 accumulator, we often break that bet down into 4 x £2.50 accumulator bets. This gives you the option to cash-out some of the wagers while letting some of them go full term.
If you are interested in finding out more about accumulator bets, you can read about these bet types and many more by visiting our betting calculator page.
Interesting Facts and Stats
So, now you know how to bet on trotting, and our guide should have also given you some ideas on what you'd like to bet on, we are going to put betting aside for a short while as we take a closer look at the sport. How did it start? Who are the stars of the sport? And any other interesting fact we feel you might like.
Trotting History

You only need to watch the sport in action to see the similarities to chariot racing and be reminded of the 1958 classic Ben Hur. Believed to have originated around 680BC, chariot racing was a huge crowd pleaser at the ancient Olympic Games. And while Charlton Heston's race in the film took a year to plan, a month to shoot and used 78 horses and over 700 actors, we reckon the first races that took place in Ancient Greece was spectacular affairs.
Trotting in Europe

It was Britain who was responsible for the spread of trotting in the modern era. In the 18th century, the "sport of kings" became popular with nobility. In a quest to produce the ultimate trotting horse, the English created a new breed. The foundation sire of this breed was the English Thoroughbred Messenger (1780–1808), he was exported to the United States in 1788. Messenger's bloodline would dominate the sport stateside even to this day.
England's success at breeding and hosting races ignited a trotting war with France. The French bred a new breed of horse called the Trotteur Fançais. This breed originated from the cross of Thoroughbred English from the Norfolk region and Norman mares. The French even to this day are highly protective of their breed and have Trotteur Fançais only races.
Equestrian Best Rider

Those who know the sport well, refer to Boyd Exell as the 'champion of champions' and it's easy to see why the equestrian world rate the four-times World Champion so highly. Growing up in Australia, a fortunate introduction by Excell's teacher to a carriage driving friend, enticed the youngster into the sport.
A short while later, Boyd claimed the Australian Pairs Championship, aged just 16. Deciding to move to the UK, he made a massive impact on the world of carriage driving by winning the FEI World Cup Driving Championship seven times, alongside his four world titles.
Stateside, Australian-bred import None Bettor is sending shockwaves through the sport and could well become a legendary horse. None Bettor, owned by Oldford Racing and Joe Pennacchio's Joe P Racing, has won 9 of 11 races since arriving in America. Two third-places in his first two races gave little indication of the results that were to come.
Trotting for Punters
Trotting online betting is easy, but it's finding a bookie that accepts these bets that can be the difficult part. Despite being very popular in Wales and hugely successful in Europe, especially France, trotting betting is still very much a niche market. However, the good news is that we feel any of our recommended top 5 sites give you everything you need.
Questions and Answers about Trotting
We love hearing your feedback and suggestions for our site, and if you have any questions regarding Trotting betting or any other topic, you are welcome to drop us an email at info@bestbettingsites.com.
🏆 What are the best trotting betting sites?
The best trotting betting sites offer many opportunities to play with the best odds, as well as generous bonuses and regular promotions. The top recommended bookies for harness racing also offer many other sports markets and different betting types.
🎁 Are there any good bonuses for betting on trotting?
Betting on trotting has many differences compared to other sports. Luckily, there're some great bonuses and promotions that can be used on harness racing. Get the best trotting betting bonus from our top recommended sportsbook and get a head start of your venture.
💡 What are the best trotting betting tips and strategies?
To win at any sport, you need to be fully prepared, aware of all pros and cons and know that there're no guarantees. That's why we recommend following some of our pro trotting betting tips that could be handy if you implement them in your strategy.
🏇 How can I find out when Trotting meetings are held?
As trotting is a relatively obscure sport, it can be difficult to keep up to date with results and news. The Welsh Trotting website is a great source of information. English results and breed information can be found at STAGBI's website.