The Complete Overview of Neteller Betting Sites

Out of the many e-wallets that exist – few have had a bigger influence on the development of online gambling payments systems than Neteller. Throughout this article we'll give you the full guide for creating an account, making deposits and staying safe when using Neteller betting sites. Today, this e-money wallet service has an enormous range of gambling operators under its wing – punters using it will have an abundance of places where they can register, deposit and withdraw all without having to hand over sensitive bank card information to the bookmaker. Have a look at the table below for an overview of the top Neteller betting sites.
United Kingdom's Top 3 Neteller Betting Sites
Best Neteller Betting Sites
Bonus Offers
Highlights
Rating
Visit Bookmaker
T&C's
Betway
Up to £30

100% Deposit Match

31,000

,

32+

Visit Site!
Full T&Cs Apply! *New UK and Ireland Customers Only. Min Deposit: £/€10. First Deposit matched up to £/€30. 1 x wagering at odds of 1.75+ to unlock Free Bet. Debit Card & PayPal deposits only.
NetBet
Up to £30

In Free Bets

30,000

,

30+

Visit Site!
Full T&Cs Apply! 18+ / Customers Will Be Awarded £15 In Free Bets And £15 In Free Spins For Casino And Vegas New Customers Only / Freebets Valid For 3 Days / Free Spins Valid For 30 Days /
LV BET
Up to £100

100% Profit Boost

29,000

,

29+

Visit Site!
Full T&Cs Apply! Min deposit £10. Max bonus £50 (based on the first deposit amount). Wag req. 15 (bonus funds). Bonus valid for 21 days. Certain payment methods excluded. Please read the full T&C for further details and gamble responsibly. 18+
So, what cements the status of the top Neteller betting sites? We have critically analysed the vast number of operators who support the e-wallet within their payment portals and we have collected together the five that execute this process better than the rest! As a punter using an e-wallet the first concern will be on the deposit limits – and it is massively preferred for these to have as wider scope as possible in order to satisfy all sorts of players. The five operators listed above all exemplify relaxed limitations that benefit both small stakes and high-rolling punters. We also took into consideration the added extras that come with each operator such as mobile betting, live streaming and bonus value; the above table is comprised of those companies that get all these criteria exactly right, and serve the Neteller customer in the best way possible.
Essential Information for the Punter
The key factors when deciding your chosen payment method at an online bookmaker are mainly centered around the financial benefits. That is why we have taken the time to give you the complete overview of all the fees involved in Neteller transactions – this way you have all the crucial data to decide what payment method suits you best. Every payment method comes with unique pros and cons, read on to discover the key performance indicators of Neteller.
Fees and Processing Times
Whilst there are many great features about betting with Neteller such as the rapid processing times involved in moving cash – a major drawback of the service is the fees applied to transactions to and from the e-wallet. Now, these fees are not exceptionally high – roughly around 2% of the turnover amount – but they do seem rather arbitrary when you consider the excellent service offered by PayPal, a company that charges almost nothing for regular usage. However, most e-wallets these days do charge their customers small fees and Neteller justify this by having relaxed restrictions on where you can send money and allowing seamless integration of many different funding sources.
Operator

Neteller

Processing Time
Limits min/max
Fees

Netbet

instant
£10 – £5,000
48 hours
no limit

Lvbet

instant
£5 – no limit
–
–
–

MrGreen

instant
£30 – no limit
24 hours
no limit

Betway

instant
£10 – no limit
24 hours
no limit
The Pros & Cons of Using Neteller for Betting
We hope by now you have a great understanding of the clear advantages that make Neteller a fantastic choice of e-wallet. Not only does the peer-to-peer money service allow you to make quick deposits to the bookmaker – they ensure you will receive your winnings in a speedy fashion also. Combine this with a first-class security protocol and excellent customer support helplines and its plain to see why this company has gone from strength to strength in the ever-increasing competitive industry of fin-tech. Take a look at the table below for a summary of our key performance categories at Neteller!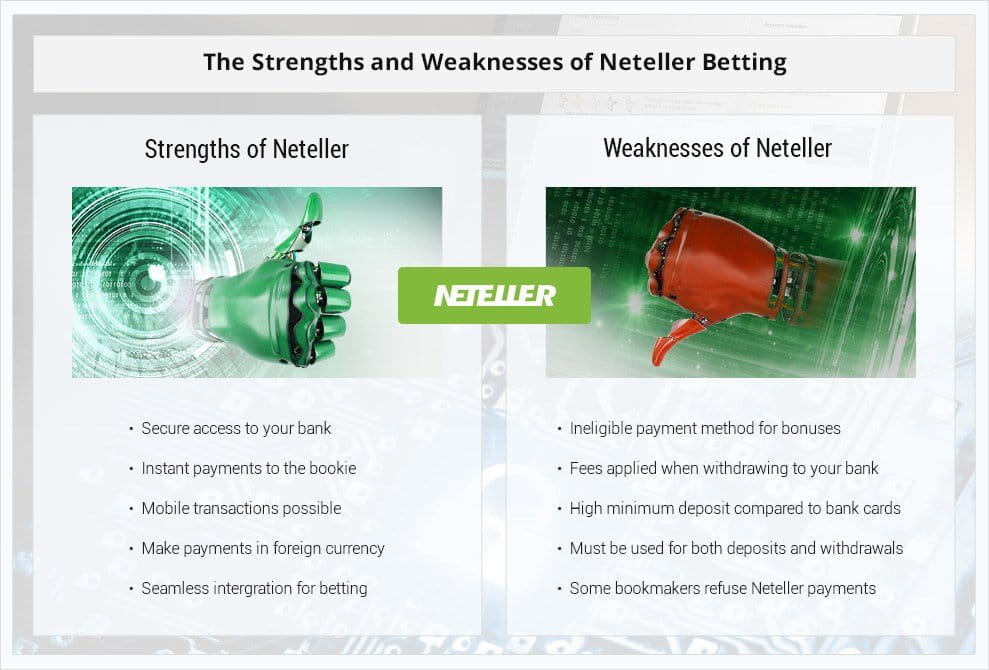 There are some drawbacks to this service, most notably the fees involved when depositing and withdrawing through the service. Compared to other e-wallets like paysafecard and Skrill these fees are very fair and in alignment with the industry averages. Furthermore, users of Neteller will find difficulty in claiming the vast number of welcome bonuses available across the online gambling industry – two companies that will support a Neteller deposit as an eligible first deposit bonus activator are Betfair and William Hill. However, it is worth mentioning there is absolutely nothing stopping a customer making the first deposit at a bookmaker with your bank card – then switching to Neteller payments after you have received the welcome bonus, you will just be required to make your first withdrawal through the same method of deposit.
Depositing Funds to the Bookmaker with Neteller
When it comes to peer-to-peer transaction sites such as Neteller you expect the depositing process to be as simple and streamlined as it could possibly be – or why use them at all right? The process of attaching your card to the log in credentials of an e-wallet is the only time you will be required to have your card details handy – from every point following this your credentials will essentially act as a key to your bank accounts. The simplicity and effectiveness of the platform does by no means suggest vulnerability and insecurity, quite the opposite – the security protocols and customer support systems in place ensure that you will be kept 100% safe whilst using the service. Our research team have put together a 3-step instruction guide on how to exactly create an account in the simplest way possible. Have a look below for step on.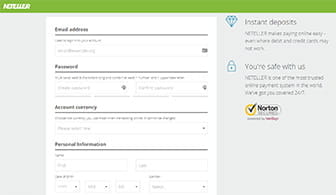 Step One: Getting Started with Neteller
To get started with Neteller betting, start the sign-up process by clicking the "Join for Free" button in the top right corner of the screen. Follow the intuitive sign-up process by completing the sign-up form with all your basic details. You will need to make sure that you have consistently used the same credentials between your Neteller sign-up and the bookmaker account registration – simply to ensure your account verification process goes as smoothly as possible when making your first withdrawals. Finally, check the terms of the agreement with Neteller, then confirm your details by clicking the "Open Account" button.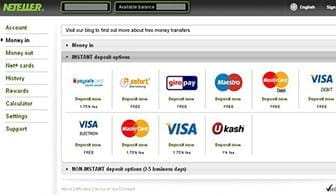 Step Two: Transferring Money to the Betting Wallet
Now you have created an e-wallet at Neteller, it's time to connect your bank account. So, Log in to your account with the credentials you provided in the sign-up step, then locate the cashier tab in the top navigation bar and select the "Deposit" button. Here you will recognise a standard payment portal that will require you to provide the details of your bank card, you can choose to either deposit money directly onto your Neteller wallet, or simply connect the card for quick access to your funds by logging into your Neteller account whilst making online payments to the bookmakers.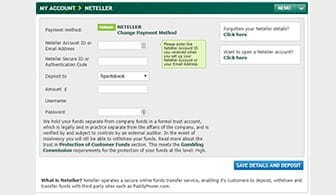 Step Three: Transferring money to the betting wallet
Now you have created a Neteller account successfully and have connected your bank card to the e-wallet, you're completely set to make payments at online vendors and bookmakers for your betting. When making a bookmaker deposit you will need to first enter the deposit portal of your bookmaker and select the option for depositing. You can see at the top of this review some quality bookmakers to go ahead with Neteller. On your first deposit you will be required to enter the 12-digit account number of your account for increased security clearance. Once you have done this – subsequent deposits will only require your log in details for Neteller.
Withdrawing Winnings Through Neteller
Punters will be pleased to know the process of withdrawal is extremely fast compared to standard banking methods. The steps you take at the bookmaker are very intuitive and so long as you have successfully created an e-wallet and attached your bank card to Neteller you will feel the streamlined nature of this service. The benefits to using this payment service go far beyond its speed, the separation of bank details, high-tech encryption and two-factor authentication give an enhanced layer of security that is simply not possible with other methods of processing. The one drawback to this bundle of positive features is the fees applied when withdrawing with this e-wallet – not from the bookmaker but Neteller themselves, taking money from your e-wallet will encounter a small fee of around £3 which may seem insignificant depending on you're the weight of your gambling finances.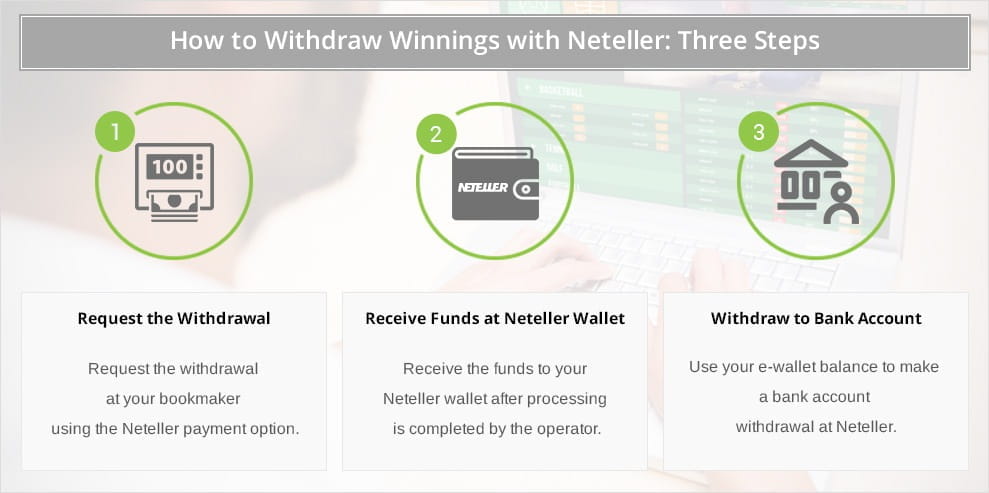 The first step to withdrawing winnings would be to log into your bookmaker account and request your withdrawal through the banking portal to your verified account – you will be required to authorise your account before the first withdrawal is made. Following your withdrawal request from the bookmaker you will have to wait for the payment to be processed, this can take anywhere from a few hours to a few days – depending on the quality and efficiency of the bookmaker you are using. Neteller is usually one of the fastest options you'll be pleased to know. Now you have received the funds to your Neteller e-wallet – you have the control over the cash winnings. You can choose to either withdraw the funds to your bank account for a wider scope of spending – or simply leave them rthere future bookmaker deposits. The process is very intuitive and mirrors that of competing e-wallets who all utilise similar account verification and withdrawal process systems to make the experience completely easy for the customer.
Security of Neteller Gambling Sites
When it comes to the security of Neteller betting sites – there really are few payment methods with the same sophisticated defense mechanisms against cyber-fraud. The firm take extreme measures to protect their customer data and ensure the separation of sensitive information by allowing you to pay simply with your log in details and nothing more. The company also take steps to comply with financial regulation imposed by the FCA and anti-money laundering agencies around the world. For a visual guide on exactly how Neteller prioritise the security of their customer base – take a look at our detailed security guide below.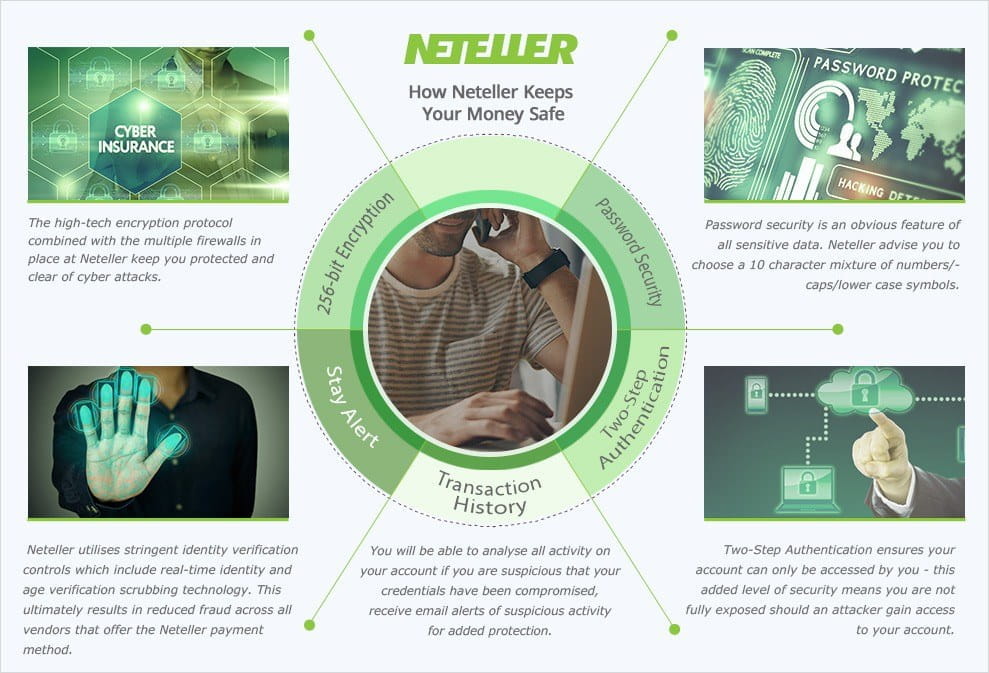 Neteller: a Short History of the Firm
The Company At a Glance
Company Name
Neteller Limited
Headquarters
Cambridge, UK
Founded
1999
Parent Company
Paysafe Group
Users
11m
Revenue
US $90m (2014)
Regulator
Financial Conduct Authority
The peer-to-peer e-wallet payment service has been in operation since 1999 – and the firm began service online gambling interests in early 2000. As the popularity grew Neteller's service has reached over 80% of the worlds online gaming operators with a total of 95% of their revenue being generated from transactions between punters and bookmakers. Plagued by legal issues surrounding the gambling industry across the world – they are attempting to diversify itself and branch out into the wider market of e-commerce – high turnover customers are now offered "NETELLER VIP" which has an attractive reduced fees package, similar to the "Premium" membership offered by their biggest competitor, Skrill.
How Does Neteller Compare to Other Deposit Methods?
Given the competitive nature of the industry Neteller occupies – it is no surprise there are several fantastic e-wallets that can also be used when making payments to the best online gambling sites. There are several good options but none that come close to the all-encompassing fantastic platform offered by PayPal. It is certainly the most cost-effective way to transfer money, the speed of the transfer is unmatched and you will be able to activate every welcome bonus using this method. Neteller does offer a few nice features that PayPal have failed to integrate, for instance, the cashback loyalty scheme which rewards high-turnover clients with a bit of extra cash is something that PayPal do not offer. For a more in-depth overview of how the two services stack up against one another, look at our comparison table below for a clear guide.
When we consider that both services are very unique in their own right it really helps us clarify exactly how varied the quality of different e-wallets is. On the one hand we have one of the most popular modern payment systems in the world, PayPal – and on the other we have a great, gambling friendly service that will not restrict your turnover amounts and support your gaming aspirations to the maximum. When comparing both e-wallet services to the process of gambling directly with your bank card – it becomes plain to see there are some clear advantages to the e-wallet methods. Security is far superior as you have not handed over any card details to a bookmaker when you use an e-wallet like Neteller or PayPal. The speed of the transaction is generally quicker by 24/48hours as the funds need only an email address to be directed too, and you will have immediate access to spend these funds at any vendor that accepts the e-wallet method of payment. All in all, the benefits of e-wallets are enormous and create a far more streamlined and efficient gambling experience when compared to the regular traditional methods.

Betting with Neteller – an Excellent Tool for the Modern Gambler
When it comes to modern gambling there really are so many fantastic operators out there – it is no longer uncommon for a regular punter to have 15+ active betting accounts and in terms of security, e-wallets act as an effective barrier between your sensitive data and the various bookmaker's databases. Neteller is especially interesting as it takes the limitations away from gambling that several other e-wallets have failed to do – they support high-turnover clients with cashback schemes and VIP loyalty programs, all the more reason to switch from regular banking methods to the e-wallets!For more detailed information on betting bonuses and how to claim them, take a look at our dedicated bonuses review page and also for more information on top e-wallets read our complete overview of Skrill. To learn more about gambling in general, head back on over to our main page now!
Safe and Secure Financial Details Kept Private
FAQ
If you have any pressing questions regarding anything on this page, send an email to info@bestbettingsites.com.
How much are the currency conversion fees at Neteller?
A foreign exchange (FX) fee of 3.99% will be applied to any NETELLER transaction which involves changing currencies.