The Full Overview of Apple Pay Betting Sites
Apple Pay has redefined how we pay for things on our smartphones. With the innovative touch-id verification making paying quicker than ever before, it is an exciting time to be a punter. This review will guide you through all the best Apple Pay betting sites, from setting up an account to the best bookmaker supporting the payment method – this is the most comprehensive report out there!
United Kingdom's Top Apple Pay Betting Sites
Best Apple Pay Betting Sites
Bonus Offers
Highlights
Rating
Visit Bookmaker
T&C's
888sport
Up to £30

In Free Bets

31,000

,

34+

Visit Site!
Full T&Cs Apply! Under the terms of this Promotion, eligible members will receive £30 in free bets at the Site. In order to receive the welcome offer, members must first place a qualifying bet. A qualifying bet is a 'real money' stake of at least £10 with odds of 1/2 (1.5) or greater. Bets that are 'Cashed Out' do not qualify. First qualifying bet must be placed within 30 days of registration. Please gamble responsibly. 18+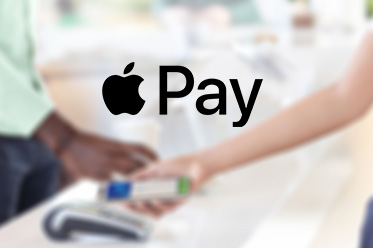 TOP Apple Pay Betting Sites
At this time, we have only one operator in 888sport who is supporting users of Apple Pay. Luckily for you, this is one of the best bookmakers operating in the UK and if you haven't got an account already, follow the link above to claim the bonus and check out what all the excitement is about. Look at all the boxes it checks:
Best Apple Pay Betting Sites by Category:
The Best Apple Pay Betting Operator: Where to play
When it comes to betting with Apple Pay, there really is no better operator than 888sport. The leading UK bookmaker supports many fantastic payment methods whilst boasting a supremely optimised betting interface that brings an excellent live betting platform to the forefront. For users of Apple Pay there is one distinctive advantage that makes this payment method so attractive, live betting at speed.
Every seasoned sports betting enthusiast will recall moments where they had an inclination to back a particular live betting market – only for it to disappear once their deposit had been verified. You will have the money in your betting wallet within seconds, freeing you to wait for sudden developments in the match before committing financially.
What Is Apple Pay and How Does It Work for Betting?
Sometimes it is better to hear straight from the horse's mouth. Apple have some of the best marketing teams in the world, and have created an amazing video to demonstrate exactly how it works. Take a look now to learn all about it in under 2 minutes!
Apple Pay is very quick and easy to set-up on your device. It essentially acts as a key to your bank card, with your finger print acting as the pin security number. You will need to have an Apple device that supports finger print ID, that is an iPhone 5S or later iPad 2015 edition or later and MacBook 2016 edition or later.
The advantage of this remains the swiftness and simplicity you can make payments to the betting wallet, confirming them in a really satisfying and cool way. Take a look at the guide below for a step by step outline of the transaction process when using Apple Pay.

Given the scope and technological superiority of Apple it is no surprise they have completely disrupted the whole industry and set in motion a new era of online payment systems. Apple's marketing team do a fantastic job of demonstrating all the unique features that make this service so popular.
How to Create an Account
Setting up your Apple Pay account is relatively simple. Firstly, make sure you have a product that is compatible to run the Apple Pay software. If you have, then great! Head over to the Settings > Wallet & Apple Pay. From here you will see the option to add Debit Card by taking a photo of the card in question, or manually entering the data. Once your bank has cleared the security confirmation you are all set-up and ready to make payments.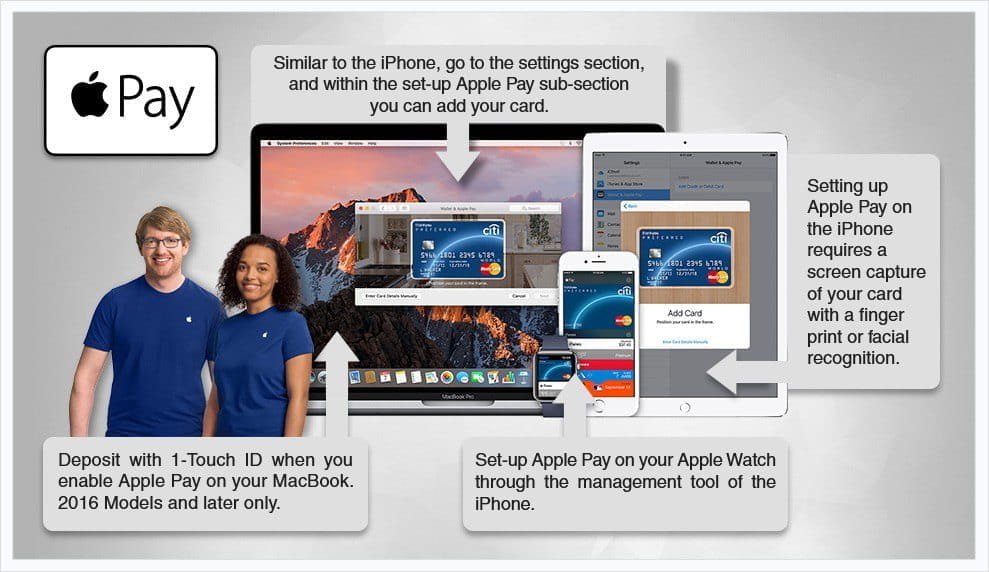 How to Deposit with Apple Pay to a Betting Site
When making a deposit with Apple Pay the process is relatively simple and streamlined. This is a payment feature available on the latest iPhones, iPads and Apple Watches using technology that utilises your debit card details and enables the use of your device as a wallet at store checkouts.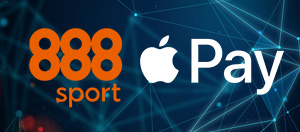 Why 888 Sport
Apple Pay Compatible
Effortless Transactions
Full T&Cs Apply! Under the terms of this Promotion, eligible members will receive £30 in free bets at the Site. In order to receive the welcome offer, members must first place a qualifying bet. A qualifying bet is a 'real money' stake of at least £10 with odds of 1/2 (1.5) or greater. Bets that are 'Cashed Out' do not qualify. First qualifying bet must be placed within 30 days of registration. Please gamble responsibly. 18+
Firstly, launch the deposit portal at your bookmaker, follow the Apple Pay deposit option and confirm the deposit with the unique finger print confirmation process. The funds will then be pulled immediately from your bank card, requiring no other confirmation apart from the initial finger print recognition.
1/3 Register Your Card Go to Wallet > tap Add Debit Card > tap Next > scan your card or enter its code > agree to terms and conditions > verify your card with your bank.

2/3 Deposit with Apple Pay Log into a bookmaker supporting Apple Pay and select this option from the list of deposit methods.

3/3 Confirm the Transaction Use your 1-Touch security verification to complete the transaction and receive funds to your betting wallet.
As you can see from the slideshow above, the whole process is relatively straight forward – it follows a simple intuitive structure that Apple have developed to be as quick and simple as possible. Please keep reading for a detailed explanation on the 1-touch ID integration process.
How Do I Set-Up 1-Touch Id on My Mobile?
The following steps should be taken in order to successfully set-up 1-touch ID on your Apple device. Firstly, make sure you have a piece of Apple hardware that supports finger print recognition, the home button is the component of this. Next, make sure that your finger is clean and dry and the home button is clean of any dirt or grease. Head over to the Settings > Touch ID & Passcode, then enter your passcode.
Tap Add a Fingerprint from the list of options, hold your device in the palm of your hand normally and hold your thumb/finger on the home button until you feel a quick vibration. Rest your thumb/finger on the home button making small adjustments to the positioning in order to scan the prints from the outer areas of your thumb/finger. Once the process is complete you'll be asked to remove your thumb/finger – you can add other thumbs/fingers to the registry if you so wish.
Which Banks Support Apple Pay?
There is a huge range of banks that support Apple Pay – which is not surprise considering the corporate leverage a company like Apple possess. The table below shows the entire list of participating banks for customers in the UK.
Sportsbooks Licensed by the Gambling Commission
American Express

American Express

MBNA

MBNA

Bank of Scotland

Bank of Scotland

Metro Bank

Metro Bank

Barclaycard

Barclaycard

Nationwide Building Society

Nationwide Building Society

Barclays

Barclays

NatWest

NatWest

boon. by Wirecard

boon. by Wirecard

Royal Bank of Scotland

Royal Bank of Scotland

Clydesdale Bank

Clydesdale Bank

Santander

Santander

Cumberland Building Society

Cumberland Building Society

Starling Bank

Starling Bank

Danske Bank

Danske Bank

Tesco Bank

Tesco Bank

First Direct

First Direct

The Co-operative Bank

The Co-operative Bank

Halifax

Halifax

Thomas Cook Cash Passport

Thomas Cook Cash Passport

HSBC

HSBC

TSB

TSB

Lloyds

Lloyds

Ulster Bank

Ulster Bank

M&S Bank

M&S Bank

Yorkshire Bank

Yorkshire Bank
You can be sure that if you're one of the unlucky people who use a non-participating bank, it won't be long until Apple include them. Alternatively, get in touch with your bank and ask them about Apple Pay, if you don't see them on this list.
Bonuses at Apple Pay Betting Sites
Every punter wants to know if bonuses are available for Apple Pay betting sites. The bookie we have highlighted below has a great welcome offer for users. Naturally, you should read the T&Cs to make sure you are eligble.
The Best Apple Pay Bonuses in the UK
Best Apple Pay Betting Sites
Bonus
Highlights
Rating
Secure Link
T&C's
888sport
Up to £30

In Free Bets

34+

,

100+

Visit Site!
Full T&Cs Apply! Under the terms of this Promotion, eligible members will receive £30 in free bets at the Site. In order to receive the welcome offer, members must first place a qualifying bet. A qualifying bet is a 'real money' stake of at least £10 with odds of 1/2 (1.5) or greater. Bets that are 'Cashed Out' do not qualify. First qualifying bet must be placed within 30 days of registration. Please gamble responsibly. 18+
It must be noted that you need to be careful, as often time some payment methods are restricted when it comes to welcome bonuses. So don't count on them when you are playing at your online bookmaker!
Fees and Processing Times
The great thing about using Apple Pay to play at online sports betting websites is the speed and financial freedom it powers you with. Making deposits to the betting wallet has never been quicker, and for players particularly involved in live betting this can be the difference between a big win and missing the opportunity.
Operator

Apple Pay

Processing Time
Limits min/max
Fees

888sport

instant
£10 – £10,000
48 hours
Unlimited
As excepted, this service carries no fees as you are effectively paying with your bank card and confirming the transaction with finger print technology. In this vain, it is perhaps already obvious that Apple Pay is not used for withdrawals, and you will simply have to request a withdrawal in the normal way to receive the funds back to your bank card.
The Key Positives to Apple Pay Betting
What must be abundantly clear by now, Apple Pay is one of the most efficient payment methods you can employ for online betting. It allows you a quick and ultra-secure route to depositing that requires no passwords or lengthy process to fund your bets. The table below analyses the four key benefits to Apple Pay betting, take a look!
Quick Deposit Method

The beauty of Apple Pay remains the speed of money transfer and the efficiency of the security confirmation process. When it comes to live sports betting, a few seconds can be the difference between missing a profitable window of opportunity. Luckily for users of Apple Pay transaction speeds are rapid and the money will be on your betting wallet within seconds of your finger print confirmation, users of Apple Pay will quickly realise the benefits of this when entering the live betting arena of 888sport.

Simplicity

The simplicity of Apple is testament to the sheer practicality of this payment method, where ease-of-use is another fantastic defining feature. Once you have your bank card attached to your Apple Pay account, making transactions is made effortlessly simple through the 1-touch payment confirmation. Unlike standard payment methods and other e-wallets, no code or password is required making this the simplest payment method in terms of confirmation and authorisation of payment.
Better Experience

The experience of using Apple Pay and 1-Touch confirmation is undeniably satisfying. Apple has mastered the art of optimal user experience with its products, and know exactly how to reward the user with a hit of dopamine through small sounds, notifications or vibrations in-app. Apple Pay is no different and you will feel this sense of satisfaction when pressing your thumb to the home button and feeling the vibration of the device as the confirmation is presented to you.

Integration with iPhone and Apple Devices

Apple Pay, once set up, is easily integrated across all your devices. Setting it up on these devices is very similar to setting it up on the iPhone, simply go to the Wallet, select Add Debit Card and follow the steps. Similarly, users of MacBook versions supporting Touch ID can head to the Wallet and set it up for use for Safari transactions. This will give you full access to your card confirmation on all Apple devices.
The Limitations of Apple Pay at Gambling Sites
Although there are many fantastic things about using Apple Pay, we have to discuss some of the limitations to this service. The most frustrating thing for users is the severe lack of bookmakers offering this deposit method. Admittedly, the Apple Pay betting sites that have integrated this technology onto their platform are of the highest quality.
For more information on our favourite Apple Pay operators in-play betting performance, take a look at the 888sport live betting review. Then there is the issue of withdrawing. Given the intrinsic nature of Apple Pay this simply is not possible. Users looking to withdraw can simply direct the winnings back to the same bank card they have used to deposit with.
Security of Apple Pay Gambling Sites
The security of Apple Pay is completely bullet proof to be frank, utilising military grade encryption and biometric identification ensures your funds and bank details will be completely secure throughout the transaction processes.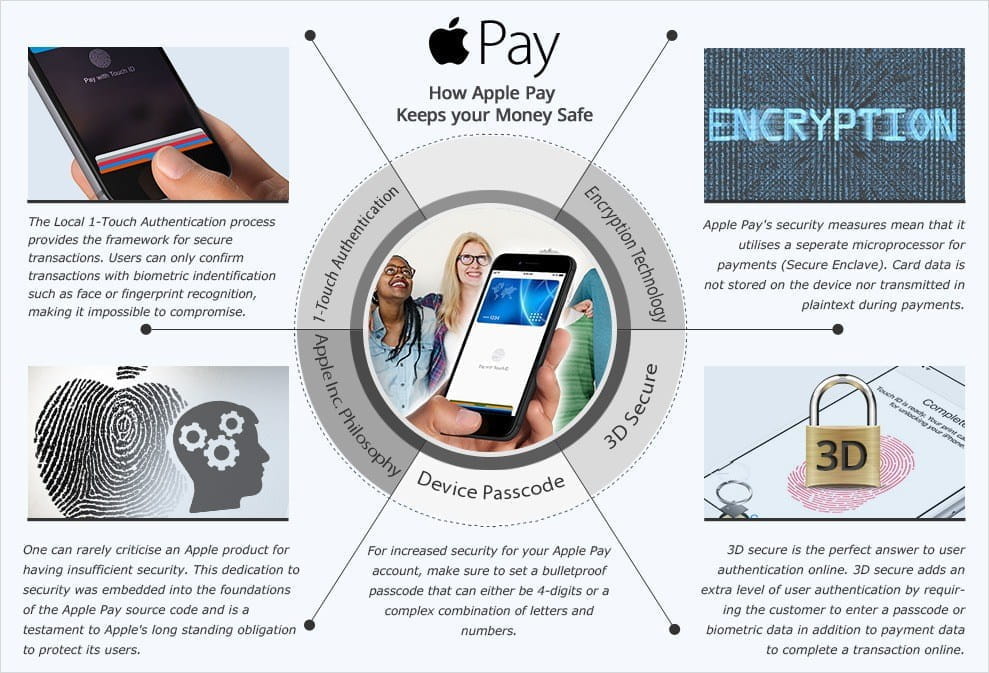 Apple Pay code has been developed following tried and tested security mechanisms, in order to prevent any data being compromised between the merchant and customer, especially when using this service on a public Wi-Fi. Above, you will see our explanation of every step Apple has taken to ensure their product is completely secure.
Apple Pay: Background Info and Future Prospects
Apple Pay is newest payment method we have reviewed in this series, launched just three years ago and integrated into the betting industry in 2015, it really is a low-key not widely used method of depositing at this stage. But Apple have repeatedly asserted the claim that this method of biometric confirmation of payments is going to be a game-changer, just as contactless payments have replaced the standard chip and PIN methods of the 00's.
The rewards for Apple will be enormous if this ambition becomes a reality, elevating the firm to a position of dominance in the online payments sector. If Apple Pay becomes increasingly popular the financial rewards will be huge, as Apple take a small percentage in "fees" from every transaction transmitted on its network. But given the success of the last two-years and the exponential growth of this payment method's popularity, we can only expect more and more bookmakers to integrate this technology into their banking options.
The Service at a Glance
Apple:

| | |
| --- | --- |
| Company Name: | Apple Pay |
| Business Sector: | Online Payments |
| Headquarters: | California, USA |
| Website: | www.apple.com/apple-pay/ |
| Regulation: | Financial Conduct Authority |
| Share Price: | Nasdaq |
| Founded: | 2014 |
| Parent Company: | Apple Inc. |
| Revenue | 260,174 billion $ (2019) |
Headquarters in San Jose, California
Whether this trend will continue into the world of online bookmaking remains to be seen, but as depositing becomes more optimised and customers are demanding stress-free instant secure depositing methods, Apple Pay seems to have set a precedent for the future. The firm will try to extend and push this product into the lives of their users as they have done so successfully in the past decade, taking innovative ideas and making them readily available to the wider public, cementing their status as the worlds leading technology firm.
Best Apple Pay Alternatives
Our best alternative to Apple Pay is undoubtedly PayPal, check out our PayPal betting review here. In terms of the UI and UX (user interface and user experience) it works in a very similar way. The deposit order is submitted, you are redirected to a security verification portal, with Apple Pay this is a biometric confirmation and PayPal requires your password. After this is confirmed the funds are directly pulled from your bank card to the destination account.
All of these payment methods are highly secure and have a loyal following amongst e-commerce customers across the world. When it comes to paying online for goods and products at many different web-shops and bookmakers, we often hesitate to forfeit our bank card information to be stored in a database and with the use of these payment methods. Find which one you like for your betting needs.
Betting with Apple Pay – a Handy Depositing Method
All in all, this is a fantastic and enjoyable way to send money to the betting wallet. Not only is it the fastest method around – which is perfect for live betting enthusiasts, but also rewarding in a serotonin sense. The fingerprint confirmation and the soft vibration upon confirmation of money transfer is particularly enjoyable, we have to admit!
Easiest Way to Transfer No Download Needed
This is a very limited application as not many bookies support this technology currently and Apple products aren't something everyone has the desire to invest in. In the future we expect to see this available at all the top bookmakers reviewed in this series – for a look at some of the new kids on the block, read our UK's new bookmakers review now. To learn more about how betting works, head on over to our review of the UK's best betting sites.
Q&A/FAQ
If you have any pressing questions regarding anything on this page, send an email to info@bestbettingsites.com.
🏆 Which is the best Apple Pay Betting site in the UK?
Our team of dedicated experts have compiled the list of best Apple Pay betting sites. They have done this, with the user in mind. They have used a number of different factors to come to this outcome.
🎁 Are there any bonuses available at Apple Pay betting sites?
Yes. There are many types of bonuses you can claim from sites that accept Apple Pay. Check out our list of bonuses, and you will be sure to find something you are interested in!
↔️ Are there any alternatives to Apple Pay betting sites?
Yes, there is! There are a number of alternative options you can consider. Depending on what you require from your payment method, you have a lot to choose from. Even so, some betting sites only accept certain ones!
⌚ Can I Use Apple Pay on my Apple Watch?
You can use Apple Pay on your Apple Watch by integrating via the app on your iPhone. The process is simple to set up and requires some confirmation with your security passwords.