The Best Recommended Boxing Betting Sites for 2020
One of the oldest competitive sports known to man, boxing is a hugely popular betting market in the UK and around the world. A brief period in the 1990's saw betting on boxing decline due to the rise of pay-per-view contracts changing the way the sport could be viewed on television in the UK – bookmakers would only offer bets on the biggest fights in the world and exclude all other lower-level bouts. Nowadays, however, pretty much every reputable betting site that operates in England will ensure that they offer match betting on nearly every major bout across all the professional weight divisions. To find out where to get the best boxing odds, as well as the best bonuses and in-play bet types, keep scrolling down to our complete guide to the best boxing betting sites.
The Top 4 Boxing Betting Sites
Best Betting Sites in United States
Bonus Offers
Highlights
Rating
Secure Link
T&Cs
BetMGM
100% up to $500
19+

,

46+

,

94.09%

Visit Site!
Full T&Cs Apply! New customer offer. Please gamble responsibly. 21+
888sport
$500 Risk Free Bet
18+

,

55+

,

94.23%

Visit Site!
Full T&Cs Apply! New customer offer. Please gamble responsibly. 21+
Sugar House
100% up to $250
20+

,

58+

,

94.83%

Visit Site!
Full T&Cs Apply! New customer offer. Please gamble responsibly. 21+
Borgata
Get $100 in Free Bets
18+

,

112+

,

94.09%

Visit Site!
Full T&Cs Apply! New customer offer. Please gamble responsibly. 21+
The Best Boxing Odds
To make your search for the best boxing betting sites that little bit easier, we've gone ahead and done all the necessary research and provided you with the sites that offer the best average odds prices.
Which Betting Site Has the Best Boxing Betting Odds?
Betting Site
Average Payout Prices

Coral

91.98%

William Hill

91.48%

Ladbrokes

91.40%

Betway

91.12%
As can be seen in the table above, there's very little difference between the odds prices at the featured operators. Paddy Power came out on top with the best boxing betting odds, however with a difference of less than 2% between them and last-place Betway, you can be sure that you'll get good value for your money at any of the featured operators.
Fight Coverage
One of the most attractive features of boxing is that there are no set seasons. This means that in any month of the year you'll be able to find bets on boxing matches from several different divisions. There are 17 different weight divisions at the professional level ranging from heavyweight down to light minimumweight and the bookmakers we've featured on this page support match betting for all of them. You'll find that betting sites won't list every professional fight, but rather, a selection of the most high-profile, championship bouts that demand the most attention.
Belts
WBA
WBC
IBF
WBO
The Ring
Weight Divisions
lbs
Kg
st & lbs
Heavyweight
> 200
> 90.7
> 14 st 4
Cruiserweight
< 200
< 90.7
< 14st 4
Light Heavyweight
< 175
< 79.4
< 12½
Super Middleweight
< 168
< 76.2
< 12
Middleweight
< 160
< 72.6
< 11.6
Super Welterweight
< 154
< 69.9
< 11
Welterweight
< 147
< 66.7
< 10.5
Super Lightweight
< 140
< 63.5
< 10
Lightweight
< 135
< 61.2
< 9.9
Super Featherweight
< 130
< 59
< 9.4
Featherweight
< 126
< 57.2
< 9
Super Bantamweight
< 122
< 55.3
< 8.1
Bantamweight
< 118
< 53.5
< 8.6
Super Flyweight
< 130
< 59
< 8.3
Flyweight
< 112
< 50.8
< 8
Light Flyweight
< 108
< 49
< 7.1
Minimumweight
< 105
< 47.63
< 7.7
Light Minimumweight
< 102
< 46.27
< 7 .4
Boxing Bet Types
As far as bet types go, boxing isn't the kind of sport that offers a wide range of variable outcomes. It only involves two competitors, and the rules are very straight-forward, which means that you will normally only find a handful of bet types for professional bouts. A selection of the ones most commonly found can be seen below.
Round Betting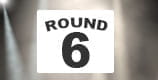 Wager on the round in which you think the fight will end. For the bet to pay out the fight must end in exactly the round stated on your bet slip – note: if a fighter fails to rise from his corner at the start of any round then the bookmaker will normally judge the fight to have ended in the previous round.
Method of Victory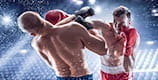 Decide on whether you think the fight will be decided by a KO, a TKO, by disqualification, by the judge's decision or by technical decision. This is one of the harder bet types to get right depending on the bout, however can bring good returns if guessed correctly. This bet type is normally found in the match specials category.
Over and Under Rounds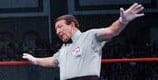 The bookmaker sets the threashold, you decide on whether or not the fight will last for more or less rounds than stated. For this type of bet it's important to have a good knowledge of the fighter's past form and fighting style as this will play a huge part in the outcome of the bout.
Specials Markets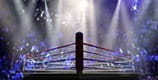 In addition to match specials such as guessing whether the final judge's decision be split or unanimous or how the fight will end, the best boxing betting sites offer creative specials markets that allow you to bet on which city you think certain fights will take place as well as in what year they will take place.
For some of the less high-profile fights you may find that betting sites only offer straight-forward fight result markets – i.e. which boxer will emerge victorious or will the fight be decided by draw or technical draw. For the bigger bouts, however, many betting sites offer individual round bets, total round markets and a small selection of specials that include KO, TKO and disqualification options.
Live Boxing Betting
Unfortunately, due to the strict rules and regulations regarding pay-per-view contracts for boxing matches, betting sites are not permitted to offer live streams for prized boxing bouts. Similarly, most betting sites only offer in-play markets for the most high-profile bouts. As an alternative, some operators provide live commentary of boxing bouts via their radio platforms.
Bonus Offers
Truth be told, betting sites rarely offer regular promotions for boxing. The only time that you'll tend to find special deals are when there are big, show-stopping fights with some of the greatest fighters of the modern era, or sometimes for championship bouts between two UK fighters. Some sites have been known to offer special enhanced odds price deals to entice new customers where the odds prices on certain fighters are increased and you can, on rare occasions, find money-back offers. For instance, when Carl Froch fought George Groves for the second time in 2014, some betting sites were offering to refund all losing bets of up to £25 if the fight ended in the last three rounds. Bear in mind, however, that these deals tend to be one-offs and are not available all year round.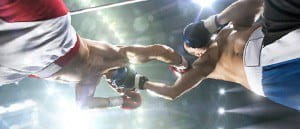 £20 welcome bonus
great odds
great market selection
EssaIBAS
Licensed by:
Government of Gibraltar
Due to the fact they have proven to be the most consistent when it comes to offering promotions for the big boxing bouts, we have chosen Paddy Power as the operator with the best bonuses for boxing. As mentioned earlier, they do not offer a continuous selection of bonuses that are available all throughout the year, but you can be pretty certain that when it comes to the big fights they will have one or two deals – most likely bet refunds or enhanced odds prices – where you can cash in.
Boxing Betting Strategies
Much like say rugby or formula 1 racing, there aren't really any recognised boxing betting strategies that punters generally use to try and increase profits over time. Rather, there are some important practices that you should keep in mind before you place a wager. As with many other sports markets, studying the past form of the competitors in hugely important. When we say study the past form, we don't just mean see how many bouts the fighter has won and lost. Often in boxing, fighters want to try and maintain unbeaten records for as long as possible are guilty, at times, of fighting weaker opponents. Make sure that you check who your prospective selection has been fighting, what weight category he has been fighting at, and always check the final score cards whenever they are available. If possible, also try to watch playbacks of the fighter's previous bouts and look to see how they performed – check to see the areas where they were tested, the mistakes they made and compare this to the fighting style of their upcoming opponent.
Another thing to bear in mind is that it can pay to study the judges who are set to officiate a certain bout. When we consider that around 30% of boxing matches are decided by points, it becomes clear that the three officials outside of the ring actually play a significant part in deciding the outcome of the action inside the ring. If you're determined enough, find out who is set to officiate a bout and do some research into the kind of fights they have taken charge of before. Find out if they are the kind of judge that tends to award work-rate over execution, whether they are influenced by the crowd, or if they have a tendency to be overly generous to the defending champion if there's a belt on the line. If you aren't planning on going into that level of detail, one thing to bear in mind is that where a fight is being staged can influence the outcome – judges have often been known to favour the home fighter.
When placing boxing bets in a betting exchange, we strongly advise looking for value rather than being enticed by short-term gains. This means calculating the percentage of an outcome rather than just accepting the listed odds price so that you can check to see if there are any inconsistencies. Head over to the football betting page and familiarise yourself with the formula for calculating value (the formula can be applied to work for any sport).
Brief History & Facts
Since emerging from an activity that was largely regarded as illegitimate and forced underground during the 19th and early 20th centuries, boxing has evolved into a well-respected, global, spectator sport enjoyed by millions. Boxing has produced great champions, individuals of unparalleled charisma, and produced some of the most compelling sporting controversies of the 20th century. Keep reading to discover some interesting facts and figures related to the sport in the section below.
Highest Grossing Fights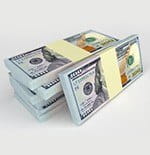 Due to the dangerous nature of the sport, boxers are among the world's highest earning sportsmen, with high profile fights often generating staggering revenue through sponsorship, television rights and ticket sales. The biggest grossing fight to date was between Floyd Mayweather Jr and Manny Pacquiao in May of 2015. The fight generated an estimated $400 million; Floyd Money Mayweather is said to have pocked $120million from the fight, whilst Manny Pacquiao's contract guaranteed him $80million. Other fighters whose appearances have demmanded large sums of money include Evander Holyfield and Mike Tyson, however Floyd Mayweather Jr has proven to be the most valuable fighter in the history of the sport.
Rocky Marciano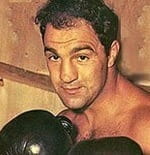 It is the goal of every boxer to be a great champion and leave behind a lasting legacy. The mark of a truly great fighter is not simply to become a champion, but to remain a champion and repeatedly defend your title – the very best, however, retire undefeated. Rocky Marciano, the Italian American orthodox fighter who held the world heavyweight title for 4 years, is regarged by many to be among the greatest, if not the greatest heavyweight fighters of all time. Despite having a relatively short professional career, he is the only heavyweight to retire undefeated. He has a record of 49 wins, of which 43 were by knockout and defeated the likes of Joe Louis, Archie Moore and Bernie Reynolds.
Longest Reigning UK Champion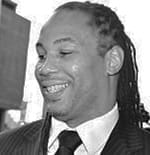 Did you know that Lennox Lewis was the longest reigning heavyweight champion from the UK? He held either the WBC, IBF, WBA or The Ring title for a period of 4 years, 2 months, 15 days. During this time he defeated the likes of Evandeer Holyfield, Frank Bruno, Vitali Klitschko and Mike Tyson. He retired with a win record of 41 wins, of which 41 were by knockout, and 2 losses. The prized fighter holds a dual Canadian-British passport and represented Canada at the 1988 Summer Olympics in Seoul. He progressed to the quarter-final stage before losing out to the American fighter Tyrell Biggs. The two fighters met again three years later in the professional ranks, with Lennox Lewis recording a convincing knock out in the third round.
Boxing Super Fight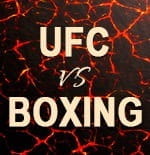 For the first time in the history of prize fighting, we may see a fantasty fight come to fruition as early talk of a possible show-down between retired boxing champion, Floyd Mayweather Jr, and reigning UFC lightweight champion Connor McGregor now appears to be taking shape. The fight has sparked numerous debates concerning McGregor's ability as a boxer and whether or not he should be allowed to compete. If it were to take place however, it would surely be a historic moment for both sports, with both fighters taking home a huge pay cheque. Although it's hard to guess at this moment in time how much the fight would be worth, estimates from pay-per-view comapnies and key brand sponsors predict it would be somewhere in the region of $150million.
Paddy Power – the #1 Betting Site for Boxing
Betting on boxing has transformed drastically since the early days of illegal, underground boxing rigs. When it first became acknowledged as a legitimate professional sport bets were placed either at ringside with official bookmakers or at designated betting shops. Nowadays, online betting contributes a significant share of all bets placed on the sport, particularly in the UK where the more established betting sites continue to offer impressive coverage of all professional fights great value-for-money odds price offerings.
It was a tough choice, as all the featured operators offer a top boxing betting service, however after all was said and done, Paddy Power came out on top as the best betting site for boxing. In the end, it proved to have the best boxing odds prices and a creative range of specials bets, which meant that it just managed to get the nod over the other contenders. For a complete overview of the betting site, which includes extensive odds price breakdowns, mobile app ratings and bonus specs, head over to the full Paddy Power review – you can also find a thorough overview of the bookmaker's testing and security standards over on the main sports betting page.
FAQ
If you have any questions about tennis betting, or anything else contained on this site, please feel free to email at info@bestbettingsites.com.
Which governing bodies are in charge of making sure boxing is fully licensed?
In Britain, the main governing body for regulating professional boxing is known as the British Boxing Board of Control. It was established in 1929 and it's roles include manning disciplinary procedures, updating and apllying rules and regulations and allocating licenses both to figters, coaches and referees. Other world-wide sanctioning bodies include the International Boxing Federation, the World Boxing Association, the World Boxing Council and the World Boxing Organization.