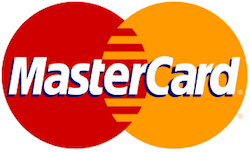 MasterCard is one of the most widely accepted deposit methods in the gambling industry. Visit almost any online betting site and the chances are you'll see the MasterCard logo. It's a payment system that we've had with us for decades and is recognized for fast, safe transactions. If you have your eye on a certain bet and are in a hurry, MasterCard is a worthy option.
Although MasterCard itself is a reputable organization, the same cannot be said for all merchants. Any transaction, whether it be with an online bookmaker or some e-commerce website, requires you to type in your credit card number. This is why it is of utmost importance that you only do business with the best MasterCard betting sites.
The above betting sites all meet three important criteria for the purposes of this article:
Long term reputation for security
Legal and licensed
Confirmed to accept MasterCard deposits
The order of those bullet points is no accident. A long term reputation for security trumps any other factor because no matter what else a site may promise, nothing is more important than knowing that your private information will be protected and your money kept safe.
Second on the list is the betting site's legality and licensing status. Site that are approved to operate are always safer than sites that operate outside the law. Licensed sites are subject to the law of the land, must submit to financial audits and are bound by gaming regulations designed to protect customers such as yourself.
Only after the first two conditions have been met does it matter whether or not a site even accepts MasterCard. I did confirm that each site works with MasterCard, but only after considering each site's history and licensing status.
Can I Withdraw to MasterCard?
In most cases, no. Credit cards are not prime targets for withdrawals as they are only intended for use as payment methods. I do know that some betting sites can sometimes issue a "refund" when you want to withdraw and credit a certain amount of funds to your card, but the availability is hit or miss.
This is not a problem – you'll just have to choose a different withdrawal method when you're ready to claim your winnings. Most people use one of the following methods to get their money back when they're done betting:
Electronic bank transfer (straight to your bank account)
Paper cheque in the mail
Transfer to your e-wallet account
Do Maestro Cards Work?
Yes. Maestro is owned by MasterCard and is accepted almost by all betting sites that serve the UK, Europe and parts of Asia. Maestro deposits work just like regular credit card deposits: just type in your number, expiration date and any other information to complete the deposit.
Prepaid Maestro cards also serve as an excellent alternative if you're uncomfortable sharing your actual banking details with any betting site. You can purchase a prepaid card in the real world with cash and then use that to fund your gambling account without ever giving your personal information to anyone else.
MasterCard and the UIGEA
Problems depositing with MasterCard are often a result of a piece of legislation passed in the United States called the Unlawful Internet Gambling Enforcement Act (UIGEA). The UIGEA has been a thorn in the side of betting sites around the world for years because it impacts great swaths of the financial industry.
Issues with credit and debit card deposits pop up even in places where online betting is completely legal. Whether you live in New Jersey or the UK (both regulated markets), there's a chance that the lingering effects of the UIGEA cause a declined transaction when you try to deposit.
The reason for the trouble is that the UIGEA directs all financial institutions in the USA to block transactions to unlicensed betting sites. This can impact you anywhere in the world because MasterCard is a US-based company.
Even more annoying, problems can occur at licensed sites because of the way in which credit card transactions are coded. Every commercial transaction is noted with a code, and online gambling has its own code. Many issuing banks make no effort to distinguish between "licensed" and "unlicensed" and simply block all transactions flagged with that code.
If you find yourself unable to deposit at your favourite betting site even though it is licensed and you know you have the funds, it's probably a side effect of the UIGEA. Problems depositing with MasterCard do not mean you have done anything wrong. It's just one of those things that happen in an imperfect system.
There are a couple solutions you can use to resolve this type of problem. One is to simply use a different card. The odds are that at least one of your credit or debit cards will make it through. If that doesn't work, you can always sign up for an e-wallet account such as PayPal or Neteller and then fund your e-wallet with your card. From there, you can transfer the funds to your betting site without any issues.