An Ultimate Look at Pingit Betting Sites

Pingit, unless you are tech-savvy, is unlikely to be the first name you think about when considering online payment methods. Using just your mobile phone number, you can send and receive money. Backed by banking giants Barclays, the safety and security of your money is never in question. Are there any Pingit betting sites that are recommended by the team? We have the answer to these questions and many more in our review.
United States's Top 4 Pingit Betting Sites
Best Betting Sites in United States
Bonus Offers
Highlights
Rating
Secure Link
T&Cs
BetMGM
100% up to $500
19+

,

46+

,

94.09%

Visit Site!
Full T&Cs Apply! New customer offer. Please gamble responsibly. 21+
888sport
$500 Risk Free Bet
18+

,

55+

,

94.23%

Visit Site!
Full T&Cs Apply! New customer offer. Please gamble responsibly. 21+
Sugar House
100% up to $250
20+

,

58+

,

94.83%

Visit Site!
Full T&Cs Apply! New customer offer. Please gamble responsibly. 21+
Borgata
Get $100 in Free Bets
18+

,

112+

,

94.09%

Visit Site!
Full T&Cs Apply! New customer offer. Please gamble responsibly. 21+
When sports betting online, choosing a payment method that you like can be just as important as finding the best Pingit betting sites. And of course, the worst-case scenario is when your favourite site doesn't accept your ideal one. Using this guide will save you time and frustration, as we have no vested interest in which payment method you chose, all our advice is impartial and based on years of online gambling experience. We will always give credit where credit is due, but you can also depend on us to point out the bad, and offer a better alternative when possible.
Great Information that Every Punter Needs
If you're the type of punter who likes to cut to the chase and get the headlines without the faff, we can tell you that it will appeal to very few people. The reason why is despite our long and arduous journey, we could only find one bookmaker that takes Pingit. Don't believe what you have read on other websites, at the time of writing; only Betfred accepted Pingit payments. Now of course if you are interested in joining Betfred or already have an account then this is excellent news. If however you use it and are looking to use it at a different bookmaker. It's bad news, we are afraid! If, however, you are still interested, read on!
Fees and Processing Times
In this next section, we answer the question that most punters ask when considering a payment method, "how much does it cost?" After all, you've used your skill and judgement to win, so the last thing you want to do is have to pay a charge, no matter how small. We also check how long it takes to make a deposit, and when you win, how long does it take before the funds are in your account and ready to spend. You can see the results of our research in the table below:
Operator

Pingit

Processing Time
Limits min/max
Fees

Betfred

Instant
£5 – £9,999
5-10 working days
Unlimited
As you can see in the table above, Betfred does not charge for either making a deposit or making a withdrawal request when Pingit betting. This is in line with other payment methods such as Mastercard or Visa who also don't charge. The speed of deposit is excellent with the majority of transactions taking place immediately. A downside is the length of time it can take to withdraw your funds. It can take up to 10 working days until you can access your money, as this figure is working days, depending on the time of year it could be three weeks or more before the funds could be in your account. The minimum deposit of £5 is the lowest you will find with any payment method which is great for the budget-conscious.
The Pros and Cons of Betting Sites that Accept Pingit
One of its unique features is the ability to create jars; these act like mini piggy banks and enables you to monitor your spending and help you to budget tightly. You can, for example, have a jar that you use at betting sites that accept Pingit and another jar for household expenses. Setting up a new jar takes only a few taps and takes less than a minute. As Barclays back Pingit, security is not a concern, and as you use your mobile phone number to make transactions, you are not divulging your debit card details to a third-party.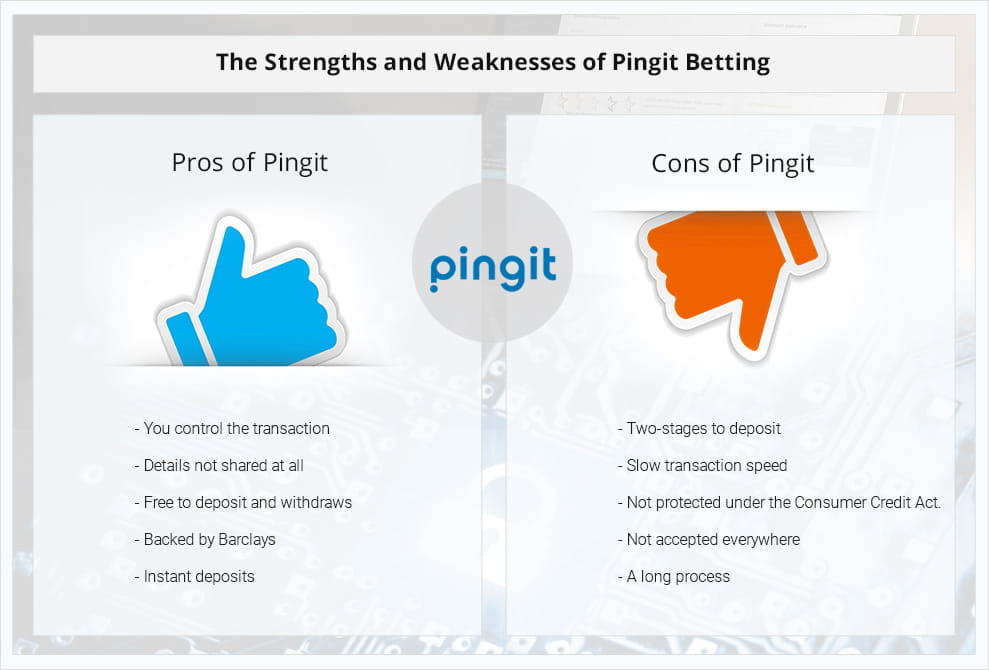 While Pingit for sports betting scores highly in regards to security, unlike using a debit card, transactions are not covered by the Consumer Credit Act. This will not be a concern for many, primarily as banking giant Barclays own the payment method. The extended timeframe of up to 10 working days for a withdrawal could put a lot of people off; deposits are instant though. The lack of charges is a plus point with no fees levied for deposits or withdrawal requests. However, the lack of Pingit betting sites is the biggest downside to this payment method. Bookmaker uptake may improve in the future but looks unlikely, Trustly offer a similar service which is accepted at more bookmakers.
Depositing Funds at Pingit Betting Sites
The process to deposit funds at betting sites is a two-stage process.
You firstly need to log-in to your bookie's account and select withdrawal. All the information you need will be displayed; you will need to use this information on the Pingit app. Ensure you have enough funds in your account to cover the deposit, then create a new payment. Let's take a closer look at the steps you need to complete.
Step One: Log-in to your Bookmaker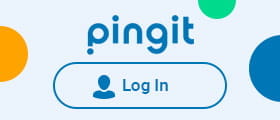 The first stage, as with all payment methods, is to log-in to the sports betting site with your user name and password. You then need to access your account section and click on deposit and select Pingit as the payment method. If this is the first time using it to deposit at an online betting site, you will need to download the app; we discuss this next.
Step Two: Download the Pingit App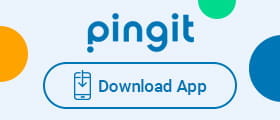 Downloading the Pingit app is quick and easy. We used the IOS app, but the process is very similar for Android operating systems.
Launch the App Store (or Google Play) and using the search function type in 'Pingit'. In the results, you should see the Pingit app, the icon looks like a broken P, and Barclays Services Limited is shown as the app maker.
Once you have confirmed it is the correct one, click on download.
Step Three: Complete the Required Fields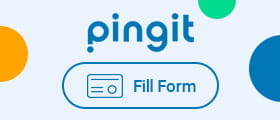 You will be asked to enter a five-digit passcode which will need to be entered twice. You will also be asked to choose a security picture; this picture will be used every time you use Pingit, and it is your assurance that you are using the official app. It's worth noting that the image stays on your device and is not loaded to the Pingit server.
You then need to complete the rest of the fields required, including name, address, and bank sort code and account numbers. Once done, you are all set to use Pingit and can now return to the sports betting site.
All that is left to do is approve the transaction in the app, once done, the deposit is successfully processed.
Withdraw Winnings Through Pingit
The steps required to make a deposit may seem long-winded, but it's a natural process, and the sports betting site guides you through the steps, the Pingit app is also easy to follow. The same is also true when withdrawing funds; the whole process can be completed in a matter of seconds. The steps are as follows.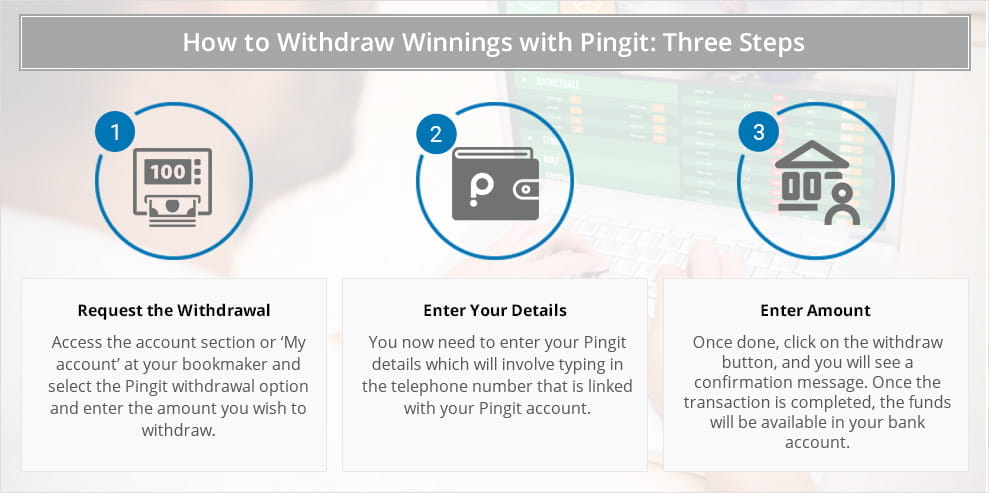 To request a withdrawal, click on the balance icon at the top of the page (could also be called my account or similar) and then select withdraw. The Pingit option will be presented to you, and you now need to enter your details and password. You will need to enter the amount you wish to withdraw (minimum £5, maximum £4,999) and then click on withdraw. If all fields are completed correctly, you will then see a confirmation page and the funds will be in your bank account once processed.
Security of Pingit Gambling Sites
You would expect any product that is released by Barclays to be secure and this is the case with the best Pingit betting sites, with the payment method being awarded The British Standards Institute for security and resilience. This certification shows that it has been independently tested and safeguards are in place to protect your financial and personal details.
While it doesn't have the protection of the Consumer Credit Act; it is covered under Barclay's Mobile Banking Guarantee in which the bank promise to refund any money that's taken from your account if you're a victim of fraud. You should, however, ensure that your passcode is not stored on your mobile phone and avoid writing your passcode down.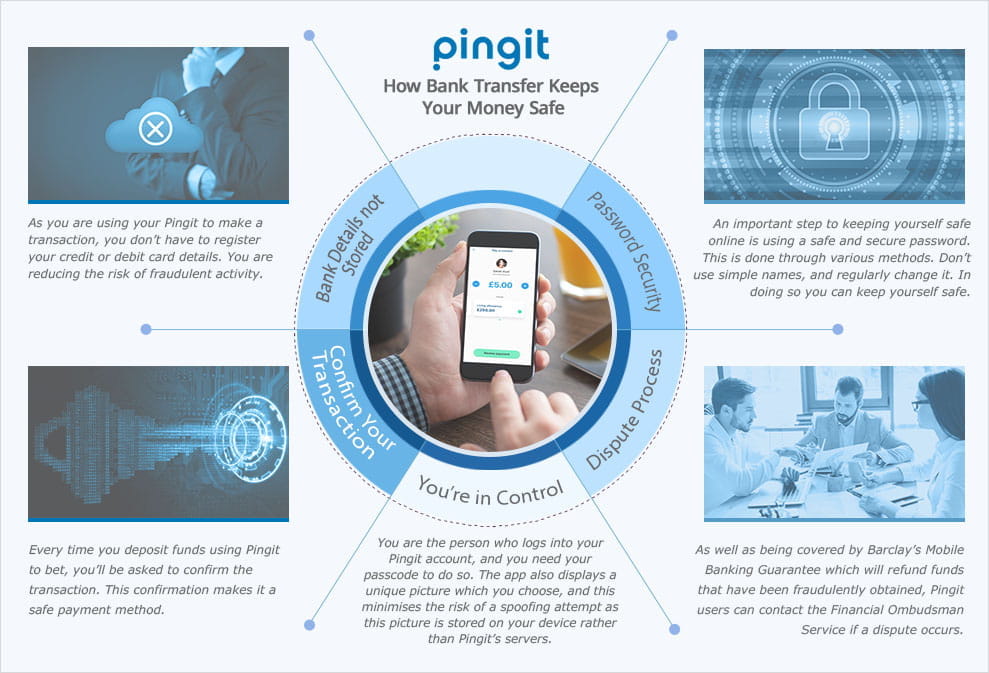 Pingit: A Short History
The Company At a Glance
Company Name
Pingit
Headquarters
1 Churchill Place, London
Founded
2012
Parent Company
Barclays Bank
Users
N/A
Revenue
€20 million
Regulator
Financial Services Authority
Pingit is the brainchild of Barclays Bank and was initially called Barclays Pingit when released in 2012. Originally it was solely for the use of Barclays Bank customers only and to use the service the customer needed to be 18 years old or over.
Barclays later dropped the account requirement, and the service is now open to all bank account holders. A unique selling point of the mobile payment is that the transfer is linked to the mobile telephone number and not the app itself, this means that all phones can use the service, not just smartphones. Working on the FPS (Faster Payments Service), deposits are almost instant.
How does Pingit Compare to Other Alternatives?
There is a large range of ways to fund your online betting sites, and in this section, we compare it with one of the most popular methods, which is PayPal.
PayPal, is backed by a huge corporation. eBay bought PayPal for $1.5 billion in 2002 and has a huge 173m registered users. In terms of cost, there is little between the two payment methods as they are both free to use for consumers. If you want to make big deposits, then PayPal would be the preferred choice as some sites such as 888sport have no limit on deposit amounts.

PayPal also wins the battle of depositing and withdrawal timeframes. Pingit does offer instant depositing, but a withdrawal request can take a couple of weeks, this compares to mere hours with PayPal at some sports betting sites. Both provide high-security measures, and we like not having to share personal details with the operators. A win for it is the ability to take advantage of bookmakers welcome or new customer offers, PayPal is excluded from these offers at some bookmakers. However, PayPal is accepted at many more bookies than Pingit; for this reason alone we feel PayPal is a better choice for sports betting.
Pingit Is an Innovator of the Future
Pingit does offer some novel features, and in many ways it is surprising that this payment method isn't more popular at the best betting sites. The payment method's use of jars to help you compartmentalise your spending is a useful feature and can help you save for holidays, contribute towards a collection or charity and easily send money to friends and family. We are also big fans of not sharing our sensitive information unless necessary, and the involvement of Barclays is reassuring. The lack of any fees at Pingit gambling sites for depositing and withdrawing is also a highlight.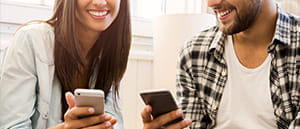 Financial details not shared
Very safe to use
Backed by Barclays
eCogra, IBAS
Licensed by:
UK Gambling Commission
Despite these positives, it is hard to make a compelling case for Pingit. The length of time it takes to receive your funds is a lot longer than with other payment methods we have reviewed. Although ten working days is likely to be the worst-case scenario, due to Bank Holidays, it could take much longer at certain times of the year (such as Christmas / New Year).
However, the main reason that we cannot recommend this payment method is the lack of betting sites that accept Pingit. We feature 45 bookmaker reviews on our pages, and out of these, just 1, which is Betfred accepts it. Therefore, unless you intend to use one site, a different payment method is needed. Our suggestion would be to take a look at alternatives such as PayPal; If you want to know more about the service you can read our review of PayPal here .
FAQ
We love hearing your feedback and suggestions for our site, and if you have any questions regarding Pingit betting sites, payment methods, online gambling or any sports wagering questions then you are welcome to drop us an email at info@bestbettingsites.com.
I see a Pingit transaction I don't recognise, what should I do?
If you think payment has been made from your account without your knowledge or permission, call Pingit instantly on 0333 200 1012. The helpline is open 24 hours a day, 365 days a year.