The Complete Overview of Boku Betting Sites

Boku sounds like a great idea, most of us pay for our mobile phone by direct debit, so why not combine other purchases on that bill? We'll see if Boku betting sites are any good and check the range of betting sites that accept Boku. We have the answer to these questions and many more in our comprehensive review.
United States's Top 4 Boku Betting Sites
Best Betting Sites in United States
Bonus Offers
Highlights
Rating
Secure Link
T&Cs
BetMGM
100% up to $500
19+

,

46+

,

94.09%

Visit Site!
Full T&Cs Apply! New customer offer. Please gamble responsibly. 21+
888sport
$500 Risk Free Bet
18+

,

55+

,

94.23%

Visit Site!
Full T&Cs Apply! New customer offer. Please gamble responsibly. 21+
Sugar House
100% up to $250
20+

,

58+

,

94.83%

Visit Site!
Full T&Cs Apply! New customer offer. Please gamble responsibly. 21+
Borgata
Get $100 in Free Bets
18+

,

112+

,

94.09%

Visit Site!
Full T&Cs Apply! New customer offer. Please gamble responsibly. 21+
The way we fund our online sports betting sites is often an afterthought, and we spend much more time comparing bookmakers than we ever would the different payment methods available to us. And why would it be any different, all we want from a way of paying is that it is safe, secure, quick, and in a perfect world we'd not even notice! The reality though is somewhat different, it's easy to get caught out with hidden charges you weren't aware of, depositing and withdrawing may take much longer than you realised and you may get excluded from the welcome offers that the bookmakers offer. We will help you avoid these pitfalls and help you decide if Boku betting is for you, or should you consider an alternative?
All the Info Every Punter Needs
If getting down to the bottom line is in your nature, we can this keep this short and sweet for many visitors and warn that Boku is likely to have minimal appeal for most punters. As such a small amount of bookmakers support this payment method, you don't have a lot of choice. Pingit offer a similar service, it, however, suffers from the same shortcomings of adaption rates with bookmakers. Only one of our recommended bookmakers directly accepted it and that was NetBet. It is, however, possible to use your account to fund an e-wallet such as Neteller. Therefore to give you maximum choice, we have included bet365 and Paddy Power in our Boku gambling sites recommendations.
Fees and Processing Times with Boku
In this next section, we answer the question that most punters, ourselves included, ask when considering a payment method, "how much will this cost me?". Whether we like it or not, it's easy in this day and age to get sucked in with a flashy website and a great app that promises everything. It's only once you use the service that you realise that section 47 of the terms and conditions doesn't make this a great deal after all. Worry not! We've read the fine print, and you can see the results in the table below:
Operator

Boku

Processing Time
Limits min/max
Fees

NetBet

Instant
£10 – £5,000
N/A
N/A
N/A

bet365

Instant
£5 – £25,000
24 hours
Unlimited

Paddy Power

Instant
£5 – not specified
24 hours
Unlimited
*Limits may apply from the payment processor themselves.
NetBet, our only recommended bookmaker that accepts Boku, doesn't charge any fees for using this payment method. Deposits are instant; the £10 minimum is reasonable as is the maximum deposit of £5,000. As we will discuss further in our next section, the inability to withdraw using Boku is a significant drawback and you will need to find an alternative method for when you wish to withdraw your winnings. As bet365 and Paddy Power accept Neteller, these figures are based on the bookmaker's rules on Neteller payments; it may be different when using your Boku account to fund Skrill, so this information is for comparative use only.
The Pros and Cons of Betting Sites that Accept Boku
The idea of charging your phone account for purchases is nothing new, but the concept hasn't taken off over here, unlike in other countries. After all, the company themselves point to a potential user base of over three billion; we should all be doing it! We like the idea of adding a payment onto an existing one; a direct-debit is used so, in theory, you can top up the online sports betting site and pay for it when the mobile phone bill is due. A deposit is instant; it is secure and linked to the bank account.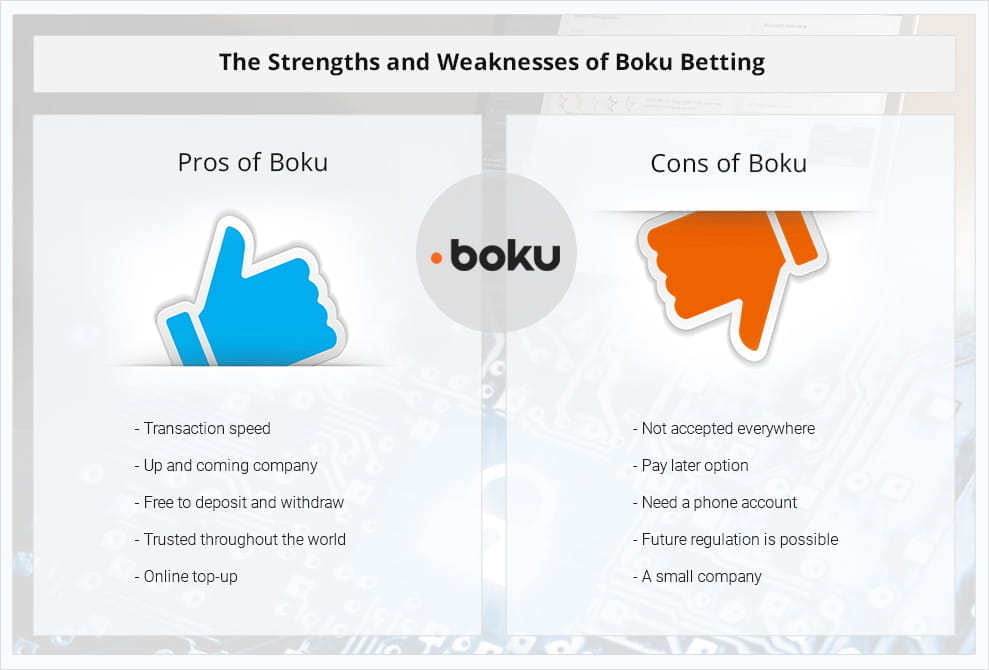 In some ways, it's greatest strength is also one of its most significant weaknesses. The ability to 'play today and pay tomorrow' is worrying, especially in this age of social responsibility and we here would never encourage you to bet with funds that you don't have. It's, of course, easy to preach, but this method doesn't sit comfortably with us. The mobile-based nature of this method could also appeal to younger users, who could be enticed to bet with funds they don't have. Pingit offer a similar service, but the funds are from your current account rather than paid for at a later date.
Depositing Funds at Boku Betting Sites
The process to deposit funds at betting sites that accept Boku is a two-stage process.
You firstly need to log-in to your online bookmaker account and select withdrawal. From the list of deposit options shown, select Boku. The bookmaker will then automatically direct you to the website, and you will need to enter your mobile number and follow the on-screen prompts to continue. If you wish to use a different bookmaker to Netbet, there is a separate process to follow, let's take a closer look at the steps you need to complete in our step-by-step guide. Be careful though, betting bonuses aren't usually eligible with this payment method.
Step One: Log-in at your Online Sports Betting Account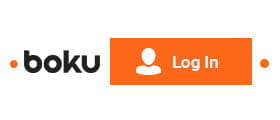 The first stage, as with all payment methods, is to log-in to the betting site with your user name and password. You then need to access your account section (or similar) and click on deposit and select Boku as the payment method.
Enter the amount you wish to deposit, remember the minimum amount usually is £10, and the maximum is often around £5,000.
Step Two: Enter the SMS code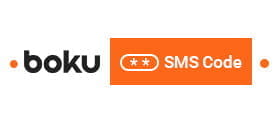 Like all popular payment methods, Boku uses fraud detection measures and has processes in place that must be followed before your payment is confirmed and released.
One such process is the two-stage authentication that Boku uses. Request to make a deposit, and a unique code will be sent to your mobile unless you enter this code the payment will not take place.
Once you have entered the code, the screen should automatically refresh, and the new balance should be shown. If not you can click the refresh icon or click f5 on your keyboard if using a laptop, PC or Mac.
Step Three: Using Boku at Neteller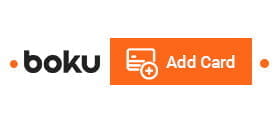 Currently, only one of our recommended sports betting sites, NetBet, directly accepts Boku. However, if you wish to use a different bookmaker, there is a workaround you can use to enable you to try Boku betting at almost any site.
We will be using Neteller which is a popular e-wallet service, other services such as Skrill should work similarly.
Create a new Neteller account if you don't already have one, then log-in and access the 'Money In' section. In the method of payment, choose 'Boku' and enter how much you would like to deposit followed by your mobile number.
You will be redirected to the Boku website and will be asked to confirm your number, along with any security checks. Confirm the transaction by replying to the text message you'll receive. Once done, your sportsbook balance will be changed.
Withdrawing Winnings Is Not Possible
Unfortunately, if you want Boku to be the only payment processor you use, you are going to be disappointed as NetBet do not offer Boku as an option to withdraw funds, as you see, even the best Boku betting sites aren't good enough here. Therefore, when you win, you are going to need to use a different method to get your cash. The good news though is that this is an easy process to do using an e-wallet. Neteller and Skrill as well as PayPal are all good options. Neteller and Skrill are accepted at more online betting sites, PayPal is not as universally accepted but tends to be slightly cheaper to use, and you can usually take advantage of bookmaker's welcome offers when using Paypal.
Bonuses at Boku Betting Sites
There are plenty of reasons to choosing one Boku betting site over another, yet the bonuses available do have a significant impact on the reasoning behind this choice. Our best bookie is listed below.
Overall, their welcome offer is very good value. Even so, we recommend that when making your choice that your carefully read the terms, to make sure you are not excluded from partaking in the promotion.
Security of Boku Gambling Sites
The simple fact that you are not disclosing your debit card details or even your bank account number means that using Boku betting sites is one of the most secure systems possible. As most fraud attempts or data breaches involve using these details, this is reassuring. Boku's attempts to provide the safest possible platform is emphasised with the company investing $100m over ten years building a global network to handle transactions. Ownership of their system has enabled them to introduce a 'confidence score' which uses intelligence gathered from Boku Payments and Identity to verify authentic user information from mobile operators and other authoritative sources.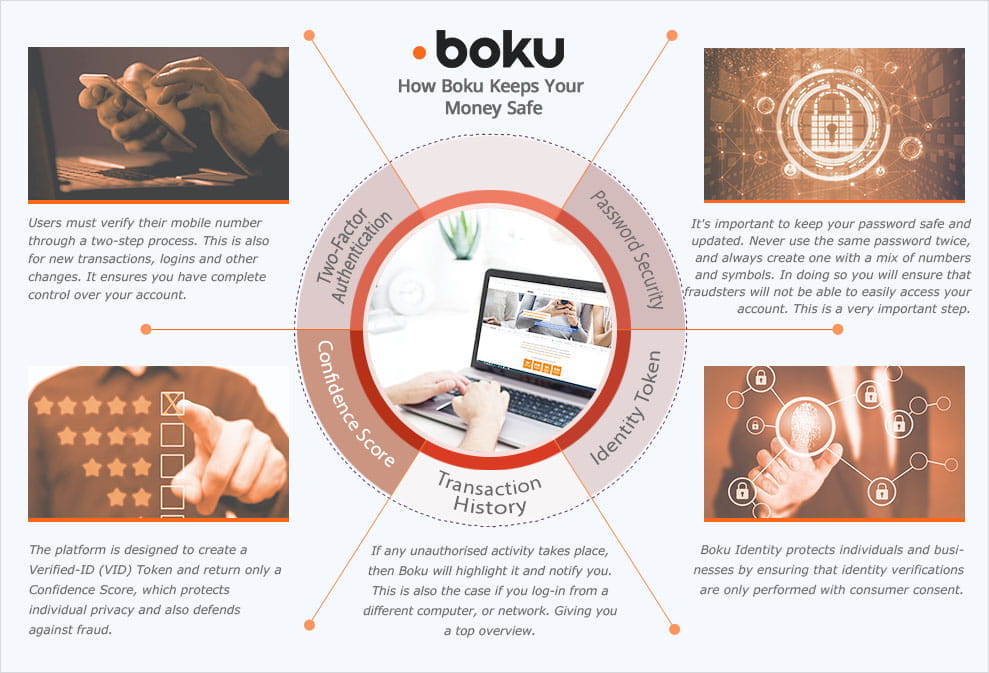 Boku: A Short History
The Company at a Glance
Company Name
Boku
Headquarters
735 Battery St, San Francisco, USA
Founded
2009
Parent Company
Boku
Users
13.5m month
Revenue
€34.8 million
Regulator
Financial Services Authority
Despite being listed as an American company on the London Stock exchange, Boku started life in Chesterfield in Derbyshire in 2003 and was initially called Vidicom. After receiving funding from Silicon Valley's venture capitalist, the application 'Mobilcash' was created, the name was changed to Boku and released to the American public in 2009. The company was listed on the London Stock exchange in 2017 with the company valued at £125 million at the time of the floatation. Currently, the company are performing well. Revenues are up 40%, and the yearly value of transactions on their platform is $3.6 billion and the company claim that at their peak, they handle 220 transactions per second.
How does It Compare to Other Alternatives?
The different ways you can fund your online sports betting sites are numerous with new players entering the arena all the time. In this section, we compare it with the opposition, is Boku betting a good idea or are there better alternatives?
In terms of security, Boku stands up well, even against the big players. As you don't need to disclose any information except your mobile phone number, it's arguably safer than using PayPal as you need to share bank or card details. PayPal, however, wins hands down in the number of betting sites you can use with the payment method, you will struggle to find more than one with Boku. It is lightning fast in regards to deposits; money will be available to use instantly, but withdrawals are not possible, so an alternative such as Skrill is needed.
Deposit limits are adequate for the average punter, high rollers may wish to consider Visa or Mastercard.

Conclusion: A Great Idea but Falls Short
Boku offers an exciting product and depositing funds at Boku gambling sites was a simple enough process. As our phones are generally by our sides, the payment method feels as secure as any we have reviewed, and we like the concept of paying for something by just increasing the amount of an existing bill, one less thing to remember. The lack of charges by both Boku and the bookmaker is also a positive for this payment method. Check out our review of best betting sites for more bookies to use.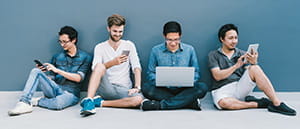 Financial details not shared
Very safe to use
Pay by mobile
eCogra, IBAS
Licensed by:
UK Gambling Commission
FAQ's About Bank Boku Betting
  We love hearing your feedback and suggestions for our site, and if you have any questions regarding the best Boku betting sites, payment methods, online gambling or any sports questions then you are welcome to drop us an email at info@bestbettingsites.com.
I've been charged, but my balance hasn't changed, what should I do?
Payments are normally instant but may take a short period to complete. If you can access your mobile phone records online, check to see if you've been charged and take screenshots. Contact Boku support and provide evidence if needed.