A History of Betting on Horses in the UK
As a pastime, horse racing has been in existence for pretty much as long as humans and horses have been in contact. It is well known that chariot racing was a popular feature in the ancient Greek Olympic Games – which dates back as far as 510bc – and that it was also a prominent feature in early Roman times, often being used in religious festivals and celebrations between neighbouring towns.
There is also evidence to suggest that people have been pitting horses against one another ever since they were first domesticated in central Asia in around 3500-4000bc. Now, thousands of years later, horse racing stands as one of the most popular and most lucrative betting markets in the UK, which gathers worldwide interest and contributes billions of £'s to the economy. This remarkable journey will be detailed below in our English horse betting history page.
A Brief History of Horse Racing Betting
1606:

Newmarket Becomes the Horse Racing Landmark King James I establishes the town of Newmarket as a royal resort. The famous palace is build and the town becomes recognised as a horse racing landmark. King Charles II continues his legacy and puts on the first ever Gold Cup.

1702:

Horse Racing Turns Into a Professional Sport Queen Anne plays an central role in turning horse racing into a competitive, professional, spectator sport on which people could wager. In 1711, she opened the Ascot racecourse.

1815:

The British Classics Emerge The 2,000 Guineas Stakes, 1,000 Guineas Stakes, Epsom Oaks, Epsom Derby, and the St Leger Stakes are established. These make up what is now known as the British Classics.

1928:

On-Site Pool Betting Is Permitted The Racecource Betting Act of 1928 makes The Tote organisation the solitary UK company permitted to organise pool betting for racing events.

1961:

Off-Course Betting Made Legal Off-course betting shops are made legal. WIthin the first six months of the legislation being passed, over 10,000 shops are established in the UK.

2000:

Online Horse Racing Betting The first online betting services begin to open with British horse racing prioritised alongside football.

2014:

Gambling (Licensing and Advertising Act) of 2014 The 2014 Act changed the landscape in the UK. All operators now required a UKGC licence in order to offer their services to UK punters.
The timeline above shows how horse racing came to resemble the gentlemanly, organised, spectator sport as it is seen today. Carry on reading down below as we delve a little deeper into English horse betting history and explain how the sport evolved to become one of the foundations of British sports betting culture.
King James I & Newmarket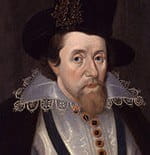 "When did horse racing start?" This is a commonly asked question that's very hard to pinpoint to an exact moment in time. Although the first formal horse racing events in the UK were thought to have taken place during the middle ages during the reign of Henry II, it really came to the fore in English culture during the reign of King James I. It wasn't until he established the small town of Newmarket as a royal resort, built the famous castle and began racing horses there that it became known as a major landmark for horse racing and other races began to appear in other parts of the country in locations such as Yorkshire, Croydon and Enfield.
Queen Anne II & Ascot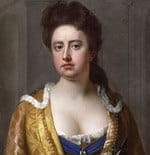 It was under the reign of Queen Anne that horse racing really took off and started to resemble the sport as it is known today. In 1711 she first had the vision of a major racecourse at Ascot. One day whilst out riding she is reported to have looked out onto an area of open land close to Windsor Castle and expressed her desire to establish an area "for horses to gallop at full stretch". Later that year the first ever race meeting is held at Ascot. To this day, the opening race at the Royal Ascot festival each year, the Queen Anne Stakes, is fondly named after her in recognition of her efforts to progress the sport as a mainstream past time in British sports culture.
The British Classics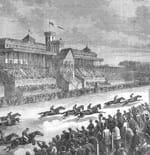 Shortly after the running of the first 1,000 Guineas stakes race in 1814, the five classic British Races are established. The chosen races were the S.t Leger Stakes, first run in 1776; the Epsom Oaks, first ran in 1779; the Epsom Derby, first ran in 1780; the 2,000 Guineas Stakes, first ran in 1809, and then lastly the 1,000 Guineas Stakes. Today, they are widely recognised as top-tier flat races which represent the highest level of competition for three-year-old race horses. Three races combined, the 2,000 Guineas Stakes, the Epsom Derby and the St Leger Stakes constitute what is known as the British Triple Crown of horse racing – winning all three of these races is probably the greatest achievement in the sport.
Race Betting Act – 1928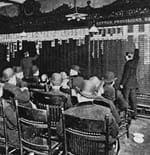 With the intention of providing a legitimate, government controlled solution to illegal off-course betting operations, Winston Churchill passes the Race Betting Act in 1928. The legislation meant that profits made from betting could be invested back into the sport, and also that betting could now be taxed and controlled by the government. This lent a fair amount of credibility to betting on the sport as no longer did people have to go via illegitimate gambling rigs or undesirable operations in order to place bets. They could now place wagers with full peace of mind that they were dealing with a properly organised and regulated organisation. Newmarket and Carlisle were the first meetings which offered official tote betting pools in 1929.
Betting Levy Act – 1961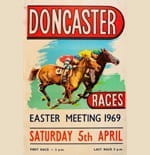 The Betting Levy Act of 1961 meant that for the first time, bookmakers could open betting shops and conduct betting operations away from the race track. The passing of this act meant that bookmakers could now offer – and were restricted to – horse racing pool bets and that it was now compulsory for bookmakers to pay a levy tax on their off-course profits to the Horse Racing Levy Board. This is a landmark date in English horse betting history as not only did it mean that people had easier and greater access to sports betting, but the law, which stated, that companies had to contribute a percentage of their earnings to the levy board meant that there were additional funds were now available to be invested back into the sport.
Online Sports Betting Is Born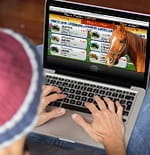 In 1996 the first fully licensed online betting site, Intertops was launched. Punters across the world took to the idea of placing bets conveniently from inside their own homes and began signing up in their thousands. This then heralded the age of online gambling as new betting sites began to spring up and companies began investing in web-based operations to complement their services. UK betting sites recognise horse racing as one of the most valuable sports markets and funnel their resources into providing widespread coverage of races from the UK and abroad, which is why, today, the best horse racing betting sites provide outstanding services with race coverage from all corners of the globe, and offer competitive odds prices across the board.
As you can see from the timeline above, English horse betting history goes back a long, long way. It is for this reason that we have tried to offer a more streamlined version so that you can gain a clear understanding of how betting on horses came to be such a lucrative and popular UK pastime activity.
For more information on some of the customs and traditions attached to the sport, including answers on what to wear to a horse track, keep scrolling down to the section below, or for more info about horse racing betting, head back over to the main page and check some of our facts and figures.
The Tradition of Betting at the Track
Despite the major increase of online gambling activity in recent years, heading out for a day at the races and placing a few wagers at the track is still a widely popular British pastime. In fact, official statistics from the British Horse Racing Authority report a 5.3% increase in attendance at horse racing festivals from 2014.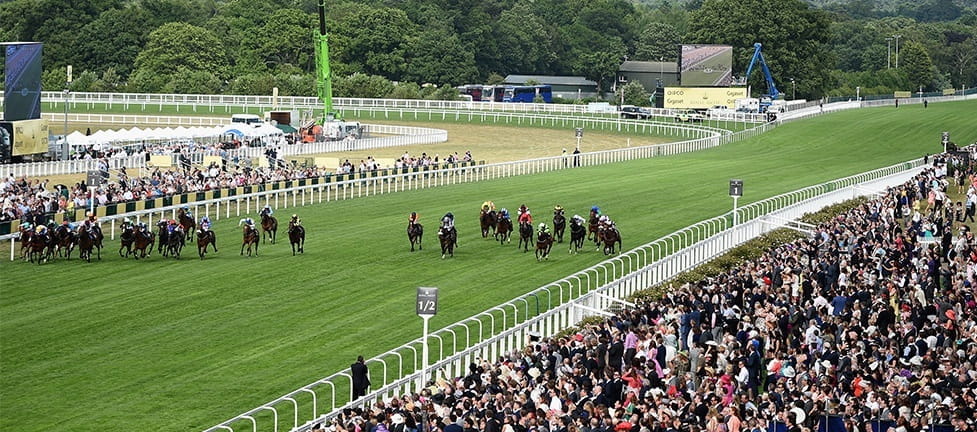 The Famous Ascot Race Track
It is widely-known across the world that horse racing events in the UK are about far more than just the sport. Whilst they can often be fun-filled family days out where casual punters and experts alike gather to spectate and wager, the most high-profile meetings are often lavish, glamorous social events that continue for a number days and attract an exclusive guest list of royal and high-profile attendees.
Horse Racing Etiquette: Styles of Dress
Whilst it is true that race tracks tend to apply their own code of dress depending on the time of year in which they mostly operate, the tracks that host some of the older, more traditional races such as Ascot or Aintree often maintain a certain sense of style and class.
The Formal dress codes adopted at festivals such as the Grand National or Royal Ascot aim to uphold the longstanding tradition of elegance of nobility associated with British horse racing and gives racegoers a fantastic opportunity to break out their finest ensembles and dress to impress.
Gentlemen – What to Wear to a Horse Race Track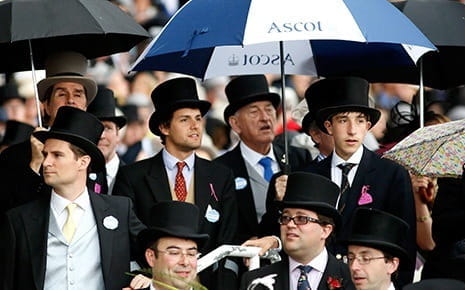 Men are normally expected to wear a blazer, jacket and smart shoes at the racetrack. Some locations, such as Ascot for example, insist on a slightly more formal dress code of black or grey morning dress, which consists of a waitcoast and tie, a top hat and black shoes.
Ladies – What to Wear to a Horse Race Track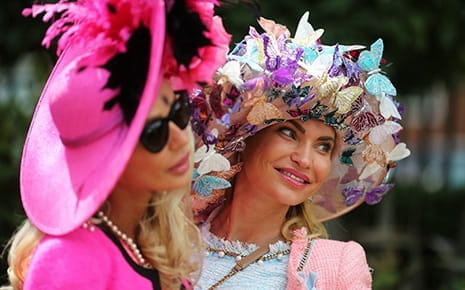 Ladies also attend races in formal day wear, often sporting modest-length dresses and skirts, trouser suits and hats or head pieces with a solid base. Ladies are not normally allowed to expose their midriffs, and strapless dresses or halter necks can be frowned upon or not permitted altogether.
As can be seen in the image above, style can sometimes be the most defining feature at some of the UK's most prestigious racing events. With attendees dressed head to toe in luxury brands, sometimes sporting top hats and veils, some racing festivals are widely regarded as major fashion events in their own right. Additional info on some of the biggest and most prestigious horse racing events in the UK can be found over on our events page.
Top 10 Interesting Facts About Horseracing
It's true that horse racing is one of the oldest sports in the world, and as such, it has many fun facts and historical events that surround it. During our research for this article, we've come across quite a few peculiarities about the sport that we'd like to share with you. In the list below, you can see the top 10 interesting facts about horse racing.
The Top 10 Interesting Facts About Horse Racing:
Horse racing is the second most popular sport in the UK after football
In 1923, a horse named Sweet Kiss first, despite the Jockey dying in the race
Horse racing was banned for five years during the 17th century
The average thoroughbred race horse weighs nearly 450kg (1,000lbs)
In the past, horse racing was considered the sport of the rich
All of the UK race horses' birthdays are celebrated in the first of January
Horse racing brings in billions of dollars to the UK economy
The oldest man to win the Kentucky Derby was 77 years old
Throughout history, only 13 race horses have won the Triple Crown
Horses are measured in "hand" units
If we were to list all the interesting and curious facts about horse racing, we would have to dedicate an entire article. Horses like Secretariat, Seattle Slew, and Seabiscuit are responsible for numerous records, facts, stories, books, and movies! However, the sport is still going strong and there are many more new facts and stories to come! In the next paragraph, we'll continue with the fastest thoroughbred racehorses!
The 10 Best Racehorses of All Time
Every sport has its greats – football has Messi, Ronaldo, and Maradona, while basketball has Jordan, Bryant, and James. However, when it comes to horse racing, it's a bit more complicated. That's mainly due to the fact that jockeys are also in the equation. Nevertheless, we shall look at the 10 best and most famous racehorses in history.
Best 10 Racehorses of All Time:
Secretariat
Man O' War
Seattle Slew
Kelso
Kincsem
Citation
Zenyatta
Dr. Fager
Seabiscuit
Eclipse
Dedicated horse racing fans might argue that Man O' War is the best horse of all time. While the racehorse definitely has the best record, we're also looking at the popularity of the given thoroughbred and the strength of its competitors. When we take all that into account, Secretariat emerges as the clear winner.
Betting on Horses – a British Favourite
Whilst betting on horses is something that dates back many thousands of years, the sport as it appears today can be traced back to the Stuart period in English history. It was from this point on that it grew from an elitist sport that was limited only to the aristocracy to a universal spectator sport on which people could wager and when many of the rules and regulations were set.
Since then, the sport has changed significantly over time to become a fully regulated and highly lucrative betting market that comes second only to football betting. One of the things that makes horse racing unique is that it has retained many of the same traditions that characterised the sport in its early years.
Whereas many sports have seen a pronounced shift from punters wagering inside betting shops to wagering online in the last 10 years, going to a racing event and placing a wager via the track-side bookmakers remains an important cornerstone of the horse racing experience.
Even further, despite the fact that betting on horses is no longer restricted to the upper classes, many race tracks insist on strict dress codes that uphold the tradition of nobility. To sum up, horse racing has long been – and will continue to be – a cornerstone of British betting culture.
FAQ
With our article about horse racing history coming to an end, we came up with the idea of creating a concise section concerning the most frequently asked questions about the topic. To make the following paragraphs even more informative, we had our experts answer the most commonly raised queries! Let's dive into the action!