Horse Betting Terms – A General Glossary
If you're new to horse racing, one of the biggest challenges, even before you've started placing any wagers, is getting your head around the different terminologies. There's a great number of horse betting terms, which are specific to betting on the sport, as well as several more general terms that aren't necessarily associated with betting, but are nonetheless important for understanding the sport.
To make sure that we cover all the bases, we've gone ahead and compiled this glossary page where you'll find all the most important horse racing betting terms explained, along with some more horse betting jargon and general colloquial terms. Keep reading below to find out what's meant by a Juvenile, a Group Race, a Handicap race or a Lucky 63. To learn about other interesting facts about betting on horses, head over to the facts and figures section on the horse racing betting page.
A
Abandoned
A race that has been abandoned due to bad weather conditions. All stakes that have been placed on abandoned races are refunded by the bookmaker.
Accumulator
A single bet that combines at least four different selections. Each selection has to be correct in order for the bet to pay out.
Across the Board
A combination of the Win, Place and Show Bet. If the horse wins you collect on all three pay-outs, if it comes in second you collect on the place and the show and if it comes in third you collect on the show only.
Allowance Race
A type of race that has set conditions and weights for the competing horses. Age, number of wins in past races, amount of money won in past races and gender are examples of some of the conditions.
Allowance
A weight reduction permitted to females when they are racing against males or when three-year-olds race against older aged horses.
Ante Post
Simply put, Ante Post betting is a bet put at least a day before an event. Usually referring to a horse racing or greyhound racing bet, it refers to a bet that is taken usually before the starting price has been set. It is also offered for big races, such as the Melbourne Cup or the English Greyhound Derby.
Apprentice
A jockey that is still in training.
At The Post
The moment when the competing horses arrive at the staring point of the race.
B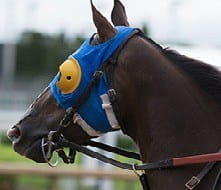 Blinkers
Baby Race
The name of a race given to horses aged two-years-old.
Back
Another term for betting or wagering on a horse: "I am going to back Lazy Sundays to win."
Backed
A horse on which numerous bets have been placed.
Banker
Much like putting your money in a bank, a banker bet requires a lot of money in order to get a good return. Usually placed at odds of 1.40 (2/5) or lower, they can be both singles or multiple bets. A good example would be betting on Floyd Mayweather to win a boxing match seeming as he has never lost a professional bout.
Bar Price
The minimum odds price given to a competitor when an early price isn't otherwise stated.
Betting Ring
The designated area of a racecourse where you'll find the bookmakers.
Blinkers
A piece of material worn over the horse's head to restrict its peripheral vision so that it focuses straight in front.
Bottle
A term for an odds price of 2/1
Boxed Bet
Also known as a Box Trifector, this bet allows your selections to finish first, second or third in any order.
C
Canadian
Also known as a Super Yankee, the Canadian is a multiples bet type consisting of 26 bets: 10 doubles, 10 trebles, 5-four fold accumulators and 1 five-fold accumulator.
Card
Another term for a horse race meeting or fixture.
Carpet
An odds price of 3/1.
Chalk
Chalk is primarily an American term that refers to the favourite in a sporting event. The term apparently comes from the race track, whereby the top ranking horse would be drawn in chalk on a blackboard.
Chaser
A horse that takes part in Steeple Chases.
Checked
When a horse is somehow impeded by another competitor, thus affecting it's speed, momentum or path in a race.
Clerk of the course
The person responsible for managing the track and preparing the course for competitive races.
Clerk of the Scales
The person responsible for making sure the riders carry the correct weight. They weigh the jockeys and their equipment both before and after the race to make sure everything is how it should be. They also check to make sure the horse's and rider's colours are correct.
Closer
A horse that tends to run better in the latter stages of the race.
Colt
A term used to describe a young, male horse normally below the age of four.
Combination Bet
When you bet on a selected number of horses to finish first and second in either order.
Combination Tricast
A bet type where you pick which horses will finish first, second and third in no certain order.
Conditions Race
A race in which horses are allocated extra weight to account for factors such as age, sex or past victories.
Course Specialist
A horse that has proven the ability to perform well on a certain track in past performances.
D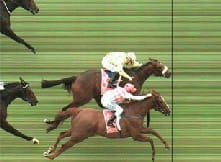 Dead Heat
Daily Double
When your wager on two different winners in two different horse races comes good.
Dead Heat
When two or more horses cross the finish line at exactly the same time.
Draw
The position in the stalls from which a horse starts a flat race.
Drift
When a horses' odds get bigger closer to the start of a race.
E
Each Way
A wager where you bet on a horse to win and place.
Exacta
When you wager on horses to finish in first and second position in an exact order. Also referred to as a Forecast.
F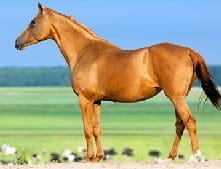 Filly
Favourite
The favourite is the selection most likely to occur in a betting event. Although by no means guaranteed to win, it is seen a fairly likely outcome. If you bet on this you can't expect too much of a big return unless you are bringing out the big bucks.
Field
All the horses in a race. Can also mean all the horses bar the favourite.
Filly
A female horse under the age of four-years-old.
Flat Racing
A race run on a level track with no jumps or obstacles.
Forecast
When you wager on who will come first and second in a race in that exact order.
Front Runner
A competitor whose strategy is to approach the front, or close to the front, as early as possible and stay there for as long as possible.
Full Cover Bet
A bet that consists of the all the available multiples bet types across a certain number of selections.
Furlong
A distance equal to 220yd or 201.1680m.
G
Gelding
A term for a male horse that's been castrated.
Going
The state of the race track surface.
Goliath
Named after the giant of biblical times, a Goliath is one of the biggest bets around. It is composed over 8 selections and 247 bets, including 28 doubles, 56 trebles, 70 four-folds, 56 five-folds, 28 six-folds, 8 seven-folds and one eight-fold. You need a lot of money to do this bet. Betting just 10p on each selection, for example, would still cost you £24.70. If you made 247 £1 bets on the odds offered at the table below you would return £1,814,355.
Graded Race
A term used to classify certain stakes races in the U.S and Canada.
Group Race
Sometimes referred to as Pattern races, Group Races are the highest level of races for thoroughbred horses.
H
Handicap Race
A race where each horse is given a different weight to carry depending on the rating it's been allocated by the British Horse Racing Authority.
Heinz
Taking its name after the Heinz brand, the bet consists of a whopping 57 selections. These include 15 doubles, 20 trebles, 15 four-folds, 6 five folds and 1 six-fold. Here, if 2 or more of your selections win, you are guaranteed a return. Therefore a total outlay of £57 could win you £4020.
Hurdler
A horse that races in hurdles races.
In The Money
Finishing in the top 3 places in a race.
J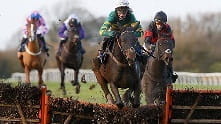 Jump Racing
Joint Favourites
When the bookmakers are unable to determine which competitors are the most likely to win a race. The selection that are chosen become joint favourites.
Jolly
Another term for the favourite in a race.
Jump Racing
A race in which horses must jump over fences and ditches. There are two kinds of jump races: steeple chases and hurdles races.
Juvenile
Another term for a two-year-old horse.
L
Length
The measurement used to quantify the distances between each competitor at the end of a race – approximately three metres.
Lock
A horse that's believed to be an almost certain winner.
Long Shot
A horse with high odds that's perceived to have a small chance of winning a race.
Lucky 15
A multiples bet type with 4 different selections in different events consisting of 15 bets.
Lucky 31
A multiples bet type with 5 different selections in different events consisting of 31 bets.
Lucky 63
A multiples bet type with 5 different selections in different events consisting of 31 bets.
M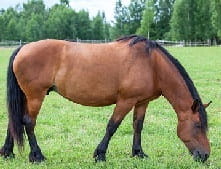 Mare
Maiden Race
A race for horses that have not yet won a race.
Maiden
A horse that has not won a race.
Mare
A female horse over the age of three
N
Nap
The nap is considered the finest bet of the day from a tipster. It comes from the French card game Napoleon, whereby the top trumping card is the Napoleon. It usually applies to horse racing.
National Hunt
A type of race in which the horses must jump over fences and ditches before they reach the finish line. A National Hunt Race could refer to a hurdle race or a steeple chase.
Nod
The action of a horse dipping its head and protruding it's nose to try and cross the finish line ahead of a close competitor.
Non-Runner
A non-runner simply refers to a horse or greyhound that isn't running that day. If you place an antepost bet on a horse that doesn't run, you usually get your money refunded.
Nose
The most marginal distance by which a horse can win a race.
O
Objection
When a jockey makes a complaint against another competitor for an action(s) that took place during a race.
Odds On
Odds on is another way of calling something the favourite. If something is odds on to win, that means that it is the most likely to succeed as it has the most people putting their odds on it.
On The Bridle
When the horses pushes itself, keeping the bit inside its mouth.
On The Nose
When a horse is pushed and loses its bit.
Overlay
When the odds offered on a horse are deemed to be better than they should be.
Outsider
A horse showing low odds – deemed unlikely to win the race.
P
Parimutuel
Another term for tote betting.
Parlay
A parley bet is a single bet that combines two or more individual bets and depends on them all winning together. For example, you can depend on three different teams to win a game. If a single bet on a parley doesn't come through, then you lose the bet. It is also known as an accumulator.
Patent
A patent bet is one of the least complicated of the combination bets. It consists of 3 selections of 7 bets. These are three singles, taking selections 1, 2 and 3, three doubles, taking selections 1 and 2, 2 and 3, and 1 and 3, and one treble, taking in all three selections. This means that only one winning choice is needed to win. The potential return from 7 £1 bets on the table below is £119.
Perfecta
Another term for a straight forecast bet.
Permutations or perms
A permutation bet is like that or a multiple or accumulator except that you don't need every single bet to be correct in order to have a return. Examples of permutation bets are Lucky 15s, Heinz and Goliath bets. This is considered smart bets for people to take, especially on horse racing.
Photo Finish
When two or more horses cross the finish line so close together that the only way to distinguish the winner is by examining a photograph taken at the exact moment of the competitors crossing.
Place Bet
Betting on a horse to finish first or second.
Placepot
When the punter chooses a race meeting and then selects one or more horses from the first six races to place.
Post Time
The designated time at which the competitors in a race must be at the starting post.
Purse
The total amount of money shared among the competitors that finish in the top four or five positions.
Q
Quinella
Another term for a combination forecast bet.
R
Reverse Exacta
Another term for a combination forecast.
Reverse Trifecta
Another term for a combination tricast.
S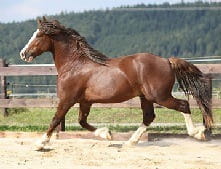 Stallion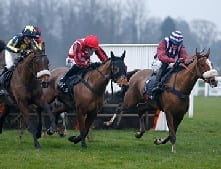 Steeplechase
Short Price
A low odds price offering.
Show Bet
Betting on a horse to finish first second or third.
Sire
Father of a horse
SP
The odds price given to a competitor just before the race begins.
Sprint
A race over a distance of less than a mile.
Stallion
A male breeding horse.
Starter
The steward/person responsible for starting a race.
Starting Price
See SP.
Straight
When you bet to win only.
Stayer
A horse that can run long distances or that only competes in distance races.
Steeplechase
A race in which the competitors are required to clear ditches and fences.
Stretch
The final straight part of the race before the finish.
Stud
Another term for a Stallion.
Super Heinz
Named a super Heinz as it is even bigger than a Heinz, this is one of the largest bets out there. It consists of 120 bets over seven selections. That includes 21 doubles, 35 trebles, 35 fourfold bets, 21 five fold bets, seven six fold bets and one sevenfold bet. If you bet £1 on each selection, this bet would cost you £120.
Super Yankee
See Candian.
Superfecta
When you bet on a number of horses to finish in first, second, third or fourth place.
T
Thoroughbred
A horse whose pedigree can be traced back to one of the three founding stallions of the 17th and 18th century – The Darley Arabian, Godolphin Arabian or the Byerley Turk.
The Original Three Male Stallions
Tote
Either refers to the Wigan-based bookmaker solely responsible for running pool bets on horse racing, or the type of bet in which a dividend is paid out from a betting pool.
Tricast
Where you bet on a number of horses to finish first, second and third place in that exact order.
Trifecta
Another term for a Tricast bet.
Triple Crown
In England, the Triple Crown is a term given to the horse that wins the 2,000 Guineas Stakes, the Epsom Derby and the St Leger Stakes.
Trixie
A Trixie bet consists of four bets over three selections and is popular in gambling. These are three doubles and one treble. This is a full cover bet as each selection appears in at least two doubles and the treble. Two bets are needed to guarantee a return. Four bets of £1 at odds of 2/1 will return you £50.
U
Underlay
A horse that seems to have been under-priced.
Y
Yearling
A horse that is one year old dating from January 1st of the year in which it was born.