The Different Types of Football Bets Explained
As you probably already know, online football betting has come a long way since the 1960's. Back then, the only types of bets that were allowed by law were poole bets and a very limited selection of singles. Nowadays, the betting opportunities available online is staggering. There are so many different types of bets nowadays that learning what each of them mean and knowing how and when to use them to your advantage is a bit of a daunting task. Luckily for you, we've gone ahead and compiled this definitions page where you'll find all the most important betting terms explained in full.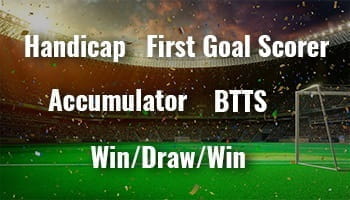 As well as providing simple and concise definitions of the most common types of bets, we'll also be explaining the benefits of outright betting. With such a big emphasis placed on in-play and 90-minute betting these days, people often forget that outright betting is a very valuable type of bet that can produce huge returns. Just to make sure that you don't miss out the chance to benefit from what is probably the most straight-forward, yet worthwhile bet types there is, we'll be providing an overview of outright/ante post bettingm, as well as some tips on which bookies offer the best markets.
Betting Terms Explained
In the section below you'll see that we've grouped together all of the most common types of bets you find at all the top rated betting sites. Keep scrolling down to the sections below where you can find out how to use a both teams to score strategy, learn which bookmaker provides the best selection of specials bets, and where you can see the handicap bet type and Asian handicap explained in full.
Win/Draw/Win
Here is the bread and butter of football betting: The Win/Draw/Win bet. This is where you simply wager on the final outcome of a fixture. The first win corresponds to a home team victory, the second to a draw, and the third to an away team win.
Draw No Bet
A Draw no bet simply means that if the match ends in a draw your stake is returned. So say for instance you bet on a team to win a game but you also think that it's possible for the match to end in a draw, if you were to place a draw no bet wager then you would get a return if your team wins, however if they draw then you would have your stake returned in full. If they were to lose then the bet would also lose. Expect lower odds prices here.
Both Teams to Score
A both teams to score bet (sometimes abbreviated to BTTS) does exactly what it says on the tin; you place a both teams to score bet if you think both teams are likely to hit the back of the net. If both teams end up scoring, then your bet is a winner. You can also do the opposite and bet against both teams scoring.

Both Teams to Score + Win
This is a slight variation of the standard BTTS bet type. You still select whether you think both teams will score or not, however you also combine it with whether you think a team will win as well. Both this and the both teams to score are hugely popular bet types nowadays and are an exciting way to bet on the sport, as the bet is almost always alive till the last minute.
Example: This one is an extension of the both teams to score bet type, where you are selecting which team from the fixture will win, as well as whether both teams will score or not. So for example, you could bet for Liverpool to win + both teams to score, or Liverpool to win + both teams not to score.
Strategy: This bet is very popular nowadays and people often use them in doubles or triples, to get huge accumulated odds. It's a great way to get value from big teams who are favourites to win, as it is essentially comnbining two bet types in one.
Correct Score
This kind of bet requires to guess the exact final score of a fixture. It's a bet type that normally brings good value as guessing the correct final score of a fixture is particularly difficult. Correct score markets are a popular choice for in-play bets as the game is broken down into time periods. Many bookmakers will allow to choose the correct score every 15 minutes, which is of course much easier than the whole 90.
Double Chance
A double chance is a slight variation of a Win/Draw/Win bet. Instead of just covering one outcome – a win, a loss or a draw – the double chance bet allows you to combine two outcomes in a single wager. The only outcome which results in a lost bet is a loss; basically if you place a double chance bet you cover a team to either win or draw.
Example: Double chance does what the name implies and gives you 2 chances (2 outcomes) to win. You'll have 3 options; home win and draw, away win and draw or home win and away win. So, let's say a match finished 2-1 to the home team. In this case, double chance bets on home win and draw or home win and away win would win the bet. Away win and draw would lose, since neither of these outcomes occured, since the home team won.
Strategy: his bet works well when  you fancy a long shot to get something from a match. Let's say you really think Sunderland will be able to get something from a game against Man City. A win is a huge longshot and you're not so confident they will achieve this, but by using the double chance you can get paid off even if they manage to snatch a draw, while still getting a fairly good price.
Accumulator Bets
Accumulator bets are one of the most common types of football bets there is. It's a single bet that combines at least four different selections. In order for the bet to pay out the final result of each selection has to be correct – if just one result isn't as you predicated then the stake is lost. Many football fans tend to go for accumulators because of the potential of some really outstanding value. It is true that with the odds prices of all the selections being combined the chances of winning are slightly less, however if all the results do come through then the winnings can be huge – especially when your accumulator has more than four folds. For some extra information about value betting and how to work out the value of a particular bet, be sure to head over to our strategy page and learn the correct method.
Goals Markets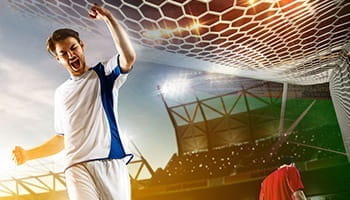 This is what football is really all about real fans enjoy seeing a good hard challenge, a brilliant piece of skill, or even a wondrous through-ball, but what it really comes down to is goals. Goals are the one thing that sends the excitement levels through the roof and are more often than not what dictates the final result. Goals betting markets allow you to wager on variables such as who will score, who will score first, and whether or not both teams will manage to score. These types of bets often come in handy in fixtures where there's a prolific goal scorer who's been in fine form, or when a fixture involves a team that like to play free flowing, attacking football. For an explanation of all the most common goals markets keep scrolling down below.
First Goal Scorer
A first goal scorer bet is when you guess which player will hit the back of the net first. If any other player beats your selection to the task, then your bet is a failure.
Anytime Goal Scorer
This is when you bet on a specific player to score a goal at some point in the fixture. When, or even how they score is not important here, just as long as your selection manages to beat the keeper within 90 mins then your bet will be successful.
Example: An example of this would be if you placed a bet on Lionel Messi to score for Barcelona in an upcoming Champion's League fixture against Manchester City.
Strategy: A good time to opt for this bet type is in a fixture which features a prolific goal scorer or player that's in fine goal scoring form. On its own the bet may not bring much value, however if you were to combine it with a Win/Draw/Win market you'd get a better price.
Team to Score Yes/No
Here is when you bet on whether you think a team will score a goal or not. Say for instance Chelsea are playing West Ham, you could place a bet on Chelsea to win, and West Ham to score. This would mean that as long as Chelsea score more goals than West Ham to win then your bet would be successful. However, you can also place a bet for Chelsea to win, and West Ham not to score. This would mean than Chelsea would need to win and keep a clean sheet in order for your bet to be successful.
Scorecast/Wincast
This is when you wager on who will be the first player to score as well as on the exact final result. Expect big returns here if your bet is successful.
Handicap Betting
A handicap bet is an extremely popular bet type in points based sports such as football. It involves one team starting the game with more or less points as to try to even out the advantage that one team has over the other and therefore make the event more exciting from a punter's perspective. More often than not it is used to get better value from a bookmaker's odds prices in fixtures where one team is the clear favourite. There are different forms of handicap bets, so it's important that you take the time to familiarise yourself with the different types and understand the odds so that you can begin to use this bet type to your advantage.
The Handicap
Example: You can see the image below for a great rundown of what results would win with what handicap. Essentially, you are giving a team a handicap in the game and removing the draw as an outcome. So if you give Manchester City a -1 handicap to beat Sunderland, then Man City would have to win by 2 goals or more for the bet to win.
Strategy: This is a great tactic to get better odds for strong team. Bayern Munich win most of their games and consequently you will not get good odds for them to win. But if you give them a 1 or 2 goal handicap, then you might get some value out of betting on them. This is often used for strong teams who win by big margins then. Or alternatively, it can be used for under dogs who you think can often battle and get a draw, by giving them a +1 handicap.
Asian Handicap
Asian Handicap bets work in pretty much the same way as a normal handicap. The only difference here is that if your selection fails to overcome the handicap and the game ends as a draw your stake is returned.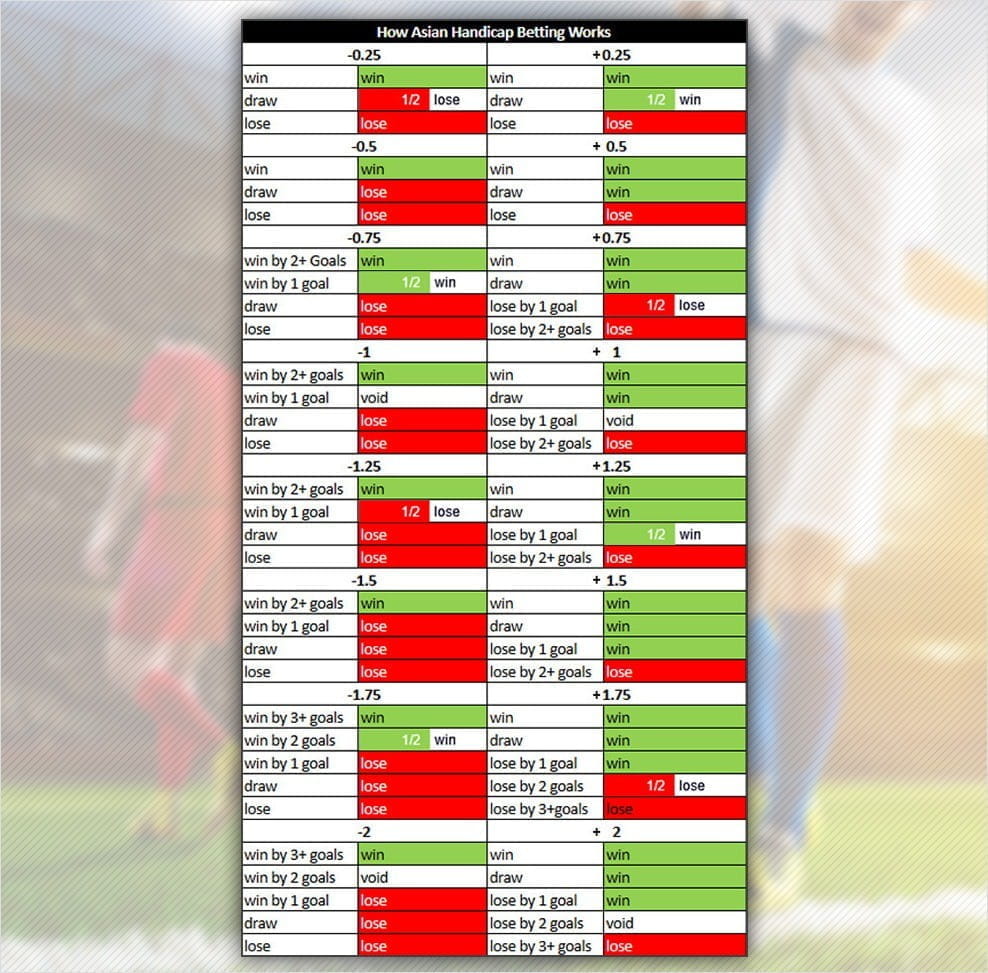 Alternative Asian Handicap
Alternative Asian Handicaps are all the other results that aren't covered by a normal handicap or Asian handicap bet. See the picture above for more info.
Over/Under
There are lots of different kind of stats that fall under this category, especially when it comes to online football. An over/under bet type could apply to the number of goals, the number of cards, corners or even the number of fouls. Essentially what you're doing here is wagering on whether or not you think a statistic will be over or under a given figure. There are too many variables to consider this as just one bet type, so we've gone over a few of the most common over/under markets in the section below. Keep reading to get the answer to the commonly asked question "what is 2.5 goals", find out how to master the over/under bet types.
Goals
With over and under goals bet types you're wagering on how many goals you think there will be in a game. These are normally broken down into 0.5, 1.5, 2.5, 3.5, 4.3, and 5.5 margins. You can bet on whether you think the game will produce over or under 0.5 goals, over or under 2.5, 3.5, and so on and so on.
Example: Simply put, this is betting on whether you think the amount of goals scored in a match will be over or under a .5 margin. So If you bet on +1.5 goals, the you would need at least 2 goals to be scored for the bet to win. If you bet on -1.5 goals, then anything over 1 goal and the bet would lose.
Strategy: This is a very popular bet and there's a few ways to approach it. As with most things, check form and past results. Two high scoring teams, or teams with poor defences often take part in high scoring games. Also, derby matches can often see plenty of goals. Conversely, use your research to find games that could be low scoring.
Cards
Most bookmakers will also allow you to bet on how many cards you think a game will produce. The margins will vary from bookmaker to bookmaker, however an example would be where you bet on between 0-20 bookings, 21-40, or 41+.
Corners
Many bookmakers will give you the chance to wager on how many corners you think there will be in a game. Again the different margins will vary depending on the bookmaker, however a common split could be 0-9 corners, 10-12 and 13+.
Odd/Even
This is simply when you wager on whether the total number of goals produced in a game will be an on or an even number.
Specials
Specials are all the weird and wonderful types of bets offered by the bookmaker. They are considered as separate to the normal types of bets you often find, and normally include markets such as the time of the first goal by time interval, the time of the last goal, anytime own goals, clean sheets or penalties. You'll find that different operators will have their own selection of specials bet types so it's well worth having a good look around to see what's on offer. Either way they allow you to bet on some of the more obscure variables that football matches can often produce, and add an extra element of excitement to your wagers.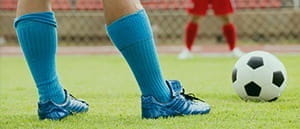 loads of match specials
outright specials
minute markets
EssaIBAS
Licensed by:
Government of Gibraltar
The operator with the best specials bet types is Paddy Power. Not only do they have more specials than any of the other operators we've listed in our top 10, but they also offer a nice, varied selection that has been specially tailored to fit the specific fixture. Follow the link above and start experimenting with some of the most inventive, entertaining specials bet types on the market.
Penalties
Depending on the bookmaker, special penalties markets can differ. Whereas some may allow you bet on whether or not the game will produce a penalty, others will allow you to bet on which team you think it will be to and whether or not in will be converted.
Winning Margin
Winning margin markets are pretty straight forward. Here you only have to guess on which team will win and guess the exact winning margin.
Minute Markets
Minute Markets allow you to wager on events such as the number goals, the number of corners, fouls or sometimes even shots that will take place within a given time period. These time periods vary from bookmaker to bookmaker, however they will normally be set at either 10 or 15 minute intervals.
Example: Minute markets give you the chance to make bets where the outcome is decided in a different timeframe to 90 minutes, usually 10, 20 or 30 minutes. There are many types of bets, such as will there be a penalty, a card, or you can even bet on the result during the time frame.
Strategy: It's essential to be aware of what is happening to successfully bet on these markets. I would recommend watching a fixture and only betting in-play, so you can have a strong idea what is likely to occur shortly, such as a goal or a red card.
Red Card Y/N
Here is where you're able to wager on how many red cards you think a game will produce. This can be a particularly useful option in fierce derby games.
Clean Sheet Y/N
Clean sheets markets are when you can bet on either the home or away side to go the full 90 mins without conceding a goal.
Outright Betting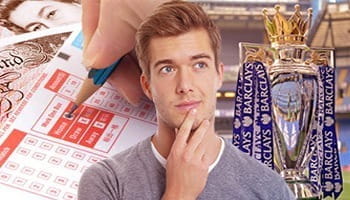 As mentioned earlier in the introduction, outright betting is one of the most straight-forward bet types there are. In the past, an outright bet was when you simply wagered on the outcome of an entire league or tournament rather than on an individual fixture. These days however, you now have the option to wager on alternative markets such as which players will get transferred at the end of the season, which managers will get the boot, and which sides you think will be relegated or promoted. Outright bets are normally placed before the season or competition starts, but they can also be placed while it's already underway. Outrights are well-known for their potential to produce some huge pay out prices and are a common choice for a significant number of UK punters. To find out which outright bet from the 2014-2015 season forced the bookmakers to empty their pockets and pay out millions of £'s, head over to the main football page.
Tournament Winner
This is by far the most straight forward and most common outright bet type there is. A tournament winner bet type is where you wager on a team to win a tournament or competition.
Example: This one is straight forward as the name suggests. You are betting on an outright conclusion. So if you bet for Manchester City to win the Premier League, then they would have to win the leage overall. The same goes for winning tournaments, such as the World Cup.
Strategy: Leicester's winning campaign last season was a bit of an anomoly and usually the value is fairly low for these sorts of bets. Many like to combine them with winners of other leagues, for example you could make a treble with the winner of the Premier League, Bundesliga and La Liga to try squeeze out some extra value.
Promotion and Relegation
The clue is in the name with this one. Simply bet on which team(s) you think will be promoted or relegated at the end of the season. You can bet on a single or combine different teams that you think will be promoted or relegated as an accumulator.
Top Scorer
Again, this is as straight forward as it sounds. Simply choose which player you think will be the top scorer of the season and win the coveted golden boot. This can be done at the start of the season or during it, but of course, the odds for the likely winner will shrink throughout the season if they are near the top scorer list.
Sacked Manager
This one has become popular in recent years, with the regularity that managers are now sacked from their jobs in the top league, especially the Premier League. Most betting sites have this market, where you can bet on which manager will be sacked next from their job in the league.
Transfers
This is another one that has grown in popularity. It's straight forward; you simply bet on what transfers you think are going to happen. There are some great advantages to this bet with inside information, since players are sometimes spotted at training grounds of other clubs, which fuels rumours – and consequently bets – that they will transfer to that club.
Conclusion
So there you have it, all the most common types of bets and betting terms explained in full. As we mentioned earlier, online betting nowadays encompasses a whole lot more than simply wagering on the outcome of a given fixture or deciding who you think will end the season as champions. There are a whole host of different options and variations which offer a number of opportunities to pocket some extra cash. Understanding the different types of bets is one thing, actually learning how to use them properly however is a different skill all together. With this in mind, we've gone ahead and put together a comprehensive, step by step beginner's guide to betting on football that will get you well on your way to placing wagers with confidence and conviction. Head over and start putting your reading to the test.