The Punter's Golf Betting Guide
There's a lot to take in when it comes to golf, so we thought it would be useful to create a Golf Punter's Guide, covering everything from which bookmaker to choose and how to bet on golf, to golf tips betting and things you should avoid. So, whether you're a total beginner or already know your stuff, this Golf Punter's Guide will provide you with useful golf betting tips and information to use when wagering on the sport.
Step 1 of Our Punter's Golf Betting Guide: Choosing a Suitable Bookmaker
First off, it's important to be aware that having accounts at multiple operators is key to getting value when betting on golf. Between the different betting sites you'll find variation in terms of odds, each way places paid, betting options and much more. This means that the optimal bookie to bet with is dependent on many different factors, like the bet type, competition and the time of placing the bet. Not to mention having multiple accounts allow you to take advantage of the different welcome bonuses at each betting site.
So, how do you choose which online bookies to play with? The general criteria that makes a good online betting site applies with whatever sport you are betting on and golf is no different. You should always check then that the operator is properly licensed and regulated, with good security software and ideally a member of a regulatory body for betting, such as the International Betting Adjudication Service (IBAS). Look out for the PayPal logo too, since PayPal will only associate with reputable operators.
The rest of the criteria is more subjective to the user. Things like a range of different payment options, low minimum deposits and a strong welcome offer should be important to all, but depend on personal preferences. But golf betting fans will want to take a look at the markets, betting options and promotions each operator offers for the sport.
All the betting sites we have featured have excellent coverage in all these areas and with golf betting, the differences between the major bookies is rather small. Nevertheless, take a look at our golf betting homepage for a rundown of our top 5 golf betting sites to check them out for yourself.
The Who, What, Where & How
Keen golfers will know the different golf games, such as stroke and match-play, and can bet on their favourite accordingly. But there's so much more to golf betting, that I'll cover here. First things first; get yourself set up with your favourite bookies by making deposits and activating welcome bonuses, so your golf bets will contribute to rolling the bonus over. After this you are ready to bet, but there's still a lot of work to be done if you want to be successful.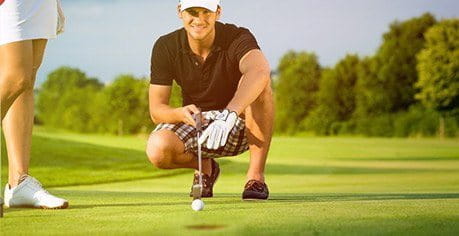 Research is key when it comes to golf betting guide. If you're a keen golf fan then hopefully you keep tabs on things like tournament winners, players form and individual golfers' strengths and weaknesses. Try to keep a record of these things, so that you have data to help you make your selections for future events.
Then there's which bet types to choose. It's a good idea to cover a small portion of the field of any tournament, with both outright, each way and other bet types. For example, if your research and data shows that certain players are strong starters and could be leading after the first round, then you can bet on exactly that. Check out our dedicated golf bet types page for a rundown of all the different betting options.
Even if you're armed with online golf betting tips, there's still the case of knowing how much of your bankroll to bet or what bet types to go with. Value betting is an important concept for sports betting and applies to golf also. Don't worry, we've got you covered if you don't know what a value bet is. Make sure to shop around for odds before you place your bets, as you might get a better price on your selections at different operators.
Once you've learned the lingo, gotten to know your way around your favourite betting sites and feel you know your stuff, it's time to bet. Read below for some essential criteria to consider to make sure your golf tips betting turn into winners.
How to Bet on Golf: Golf Betting Tips
So, onto some of what we deem to be essential criteria when it comes to being a successful golf bettor. Below are some general golf tips betting that you should always keep in mind with your approach. If you want to go deeper into the subject, we've covered some golf betting guide systems and strategies elsewhere on the site.
I mentioned above keeping a form guide, but be careful not to apply general form to each tournament. Instead go a step deeper, and pay attention to which players are strong on which courses. Just because a golfer has won two tournaments in a row, that won't help him if the third event is on a course that does not suit his game and he has never scored well on. Check your data and the previous performances of golfers on the course, along with their general form.
1. Not All Courses are Created Equally

While players' general form is of course important to successful bets in golf, it is perhaps more important to research how they have fared on each course in the past. Before betting on an event, check the player's history on that particular course. Golfers have different styles, strengths and weaknesses, and therefore are stronger on the courses that suit their game.
2. Shop Around for the Best Odds

It's best practice for golf fans to have accounts at multiple online bookmakers, as the odds for players can differ quite a lot between the different operators. It pays to shop around then before placing your bets. Some bookmakers offer strong odds for the favourites, while others will give extremely long odds for middle chancers or outsiders.
3. Keep Track of Your Results

It's a good idea to create a simple spreadsheet where you can note down all the bets you make and the profit or loss. This makes it easy to track your winnings, as well as providing a simple reference to check which players performed well and won you money at previous tournaments.
I've mentioned it many times, but I'll say it once again: shop around for the best odds and choose wisely which bookie to bet with. If a bookmaker is offering more paid each way places, then their odds for the leaders will surely be cut. Where to place your bets will often depend on which bet type you are using, so pay attention to bookies' offers and their strengths.
Also, keep a spreadsheet with your bets and the outcomes. This can help with the data you collect on players and will assist with your upcoming bets. It's also a nice extra way to keep on top of your bankroll so you can apply the optimal bet amounts.
Rookie Errors and How to Avoid Them
It's important to keep the above tips in mind, but equally important is knowing some of the common mistakes rookies make and how to avoid them. Both these points are fairly obvious, but it's always good to reinforce them. Keeping track of your results and designing a staking plan can help with the first point, so if you're making multiple bets on a single tournament, make sure that your potential winnings are not too small to cover your outlay.
Also, trust your data and don't just focus on the big names, you'll get great prices on other genuine competitors. But since it's golf and there are usually large fields, even favourites often offer good value.
Be Careful Not to Bet More Than You Can Win

I mentioned earlier that it's important to cover a portion of the field and back numerous players in a tournament. However, this should be done very carefully and in line with your staking plan. If not, you run the risk of betting more than you are likely to win, meaning that even if one of your players places or even wins the tournament, you could have a negative return.
Don't Just Focus on the Big Names

While there will always be stars, the days of Tiger Woods domination are over. The big names are often priced badly and quite often tournament winners started at very long odds. Educate yourself about all the current golfers on the tour, assess their chances and don't be scared to back players who you think will outscore the big players.
A Golf Betting Guide for Everyone
This golf punters guide works as a great introduction for punters starting with golf and even for those already in the know, who are perhaps lacking some of the key approaches. If you need more information to help you decide which bookmaker(s) to choose, you can always check our homepage, which contains a full breakdown of every aspect of online betting sites.
Or, if you feel you're ready to go deeper into golf betting and want to know some more advanced golf systems and strategies, then we've got you covered there too. Otherwise, bear all the above in mind, bet responsibly and good luck!
FAQ
If you have any questions once you have read this golf betting guide, or anything else contained on this site, please feel free to email at info@bestbettingsites.com. You can also rely on the information that you can find in the section below. It contains brief answers to the most frequently questions regarding golf betting tips nad strategies.
🔒 Can I have accounts at multiple betting sites?
It's perfectly fine to have accounts at different top online bookmakers. In fact, we would recommend this, as it allows you to quickly take advantage of better odds or promotions. But make sure to keep track of your bets and bankroll in all the accounts you have.
🏌️‍♀️ What is the best golf betting strategy?
If you are a keen gambler with a love for golf, then you should probably know how to make a better strategy. But for those who are new to this game and still want to bet on golf, we recommend checking the top golf betting tips that we have listed in this article.
⛳ How to place a bet on golf?
If you are wondering how to bet on golf, then be sure to check all possibilities that are common for this popular sport. One of the key features is to make a good research of the betting options that online operators offer. Besides, be sure to analyse the best betting types that are most suitable for golf events.
✔️ How to find the best golf betting odds?
First of all, you should be aware of the available options across online betting platforms. Be sure to explore the available markets and the betting options featured in each online bookie. Don't hesitate to use our golf betting guide to be able to find even more useful tips on how to analyse the odds and benefit from them.