The Best Golf Bets and Where to Find Them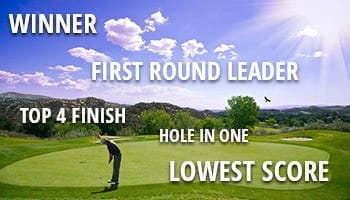 The range of golf bets might be a little smaller than with many other sports, but thanks to online betting sites and live betting, the number of different betting options has expanded in recent years. Due to this, we thought it would be a great idea to put them all in one place, so you'll know all your options when it comes to golf betting.
So, on this page we'll bring you not only the most fun and best golf bets, but we'll also outline smart golf bets that with a little research and time can pay off. From the fundamentals, like outright or each way betting, to the different types of golf prop bets and the types of specials that some online betting sites now offer, we've covered it all. Read on for the full list with each bet type explained in full.
Outright and Each Way Betting Explained
Outright betting works the same as with other sports where you're betting for the outright winner. In golf, this is a much more standard bet, since there is around a tournament a week and a winner obviously emerges each time. Traditionally then, outright betting is the most popular golf bet type. In golf, this is often called futures betting. Futures betting refers to betting on events taking place in the future, hence the name. It's straight forward as you are simply backing a player to be the outright winner of the tournament, so selecting which player you think will win.
Just like with horse racing, you can also back a player each way with an outright betting. Each way betting (also called e/w betting) is also simple: instead of having to win, your bet will also win if your player places within a range designated by the bookmaker. Usually, a bookie pays out the top four places each way. The downside is that the odds will be much less, usually ¼ of the outright odds. You'll have to bet the stake twice too. To bet each way, simply add a selection to your bet slip and then tick the each way box, before entering your stake.
First Round Leader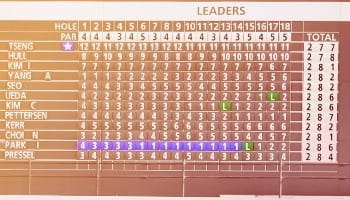 One that ranks in our smart golf bets is the first round leader option. This does exactly what it says on the tin, in that you're backing a player to be leading after the first round of the tournament. Whether they go on to win the competition or not is irrelevant, as long as they lead after the first day, you win the bet.
The reason this can be a smart bet is that it's possible to build up a good database of past results to give you an idea of which players come out of the blocks strong and therefore are good options for winning these bets. Check our golf betting guide to see which sort of data you should look out for.
Proposition Bets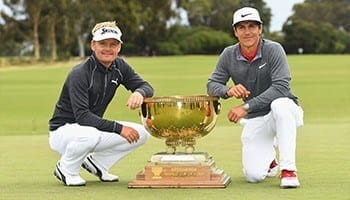 Proposition – or prop bets – is a catch all title that refers to the other type of golf bets now available outside of the typical future or outright betting. This can vary between tournaments and players. For example, upon Tiger Wood's return to the game there were a whole list of prop bets specifically for him, such as would be make the cut, will he place in the top 10 or would he hit a hole in one. Bookmakers have since capitalised on these slightly more novelty bets, with new betting options emerging each year.
What's available depends on the competition and the players taking part, but there are still a number that are almost always available. We've listed them below, but always check through all the available bets for each tournament to see if there's anything that takes your fancy.
Top 5/10 Finish
With this prop bet, you're backing a player to finish inside the top 5 or 10 positions in the tournament. This is a good option if you don't fancy backing a player to win, but also think they also wouldn't place in an each way bet. If you've got a feeling about a player with really long odds who has a chance of placing well, this is a good bet type to opt for.
Playoff
This is simply betting whether or not you think the tournament will go to a playoff after two or more players finish on the same score. This is more a fun bet, since there's no real skill or analysis that can help you determine whether the bet will win. Although it can make sense to play this bet live during the tournament on the last day, if it looks like two players just won't separate.
Hole in One
Another one that's mostly a bit of fun is betting whether a hole in one will be shot. This is usually for any player in the competition, but some operators offer a bet for whether specific players will hit a hole in one for some of the bigger competitions.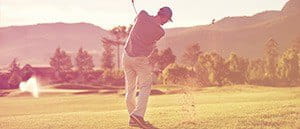 huge range of bet types
all major tournaments
great odds & offers
EssaThawte
Licensed by:
Malta Gaming authority
Lowest Score
As the name suggests, this is betting on who you think will achieve the lowest score in the tournament. Depending on the tournament taking place and which betting site you are using, you'll be able to use this bet for the tournament as a whole or for individual rounds within the competition.
Highest Ranking Nationality
This is a fun bet where you choose which player from a certain nationality will finish highest. So you could pick someone to be the highest placed Scandinavian for example, or the highest placed Asian player in a competition.
Conclusion
So, where to find these golf bets? In truth, all our operators offer all the bets listed, along with some specials and less common options. We'd recommend Paddy Power or Ladbrokes if you are looking for the widest selection of betting options. While golf doesn't have as many betting markets as some other sports, thanks to the online betting sites and live betting, there are now many new ways to bet on the sport. Another way many pros like to keep things interesting and increase profits is to introduce trading and laying into their betting repertoire. Check out our golf betting systems & strategies page for these and other betting approaches.
Frequently Asked Questions
The following section will offer you the chance to examine some of the most frequently asked questions about betting on Golf. We have provided you with short answers that contain some necessary information that you might need. Check the details that we have provided you with to expand your knowledge and have a better overview of what is most essential.
🥇 What are the best golf betting odds?
Betting on golf is a favourite to many punters and the keenest gamblers at least know how to get an advantage over the course of the game. There are different ways to examine the most profitable odds for golf. Have in mind that if we will be talking about golf, outright bets are among the most suitable ones.
❓ What are proposition bets in golf?
This is a type of betting scheme that can include some other different betting variations and options. The top prop bets can be used on аll golf events. However, the available proposition bets will depend on the current competition and the players who participate in it.
🏌️‍♀️ What exactly is the first-round leader option in golf betting?
Using this option, you can indicate who will be the leader in the first round of the event. First-round leader bets will allow you to win even if the player you choose does not win the competition. The only requirement is that he/she is leading after the first day.
⛳ How to make the best golf bets?
The best thing to do is to rely on the already established betting types that are popular in the history of golf betting. Those are the betting options that have proven to be most convenient for sports like golf. The betting types that we have outlined here are a good example of how to make the best golf bets.