Golf Betting Strategy – the Best Strategies and Systems for Golf
In golf – like with most other sports – you can often expect the unexpected. But, through employing a clever golf betting strategy or system, we can make sure that not only do we minimise our losses when the unexpected happens, but also that on many occasions, we can profit too.
Golf spread betting, laying and trading are three golf betting systems that can help us achieve this. They can be very effective if employed correctly, but they can also be a little complicated in parts, especially when compared to straight forward singles betting. So on this page, we'll take you through the important points of golf trading strategies, spread betting and laying your golf bets.
System #1 – Golf Spread Betting
Spread betting was initially developed as a tool to help with financial markets but it quickly spread to be incorporated with sports betting. Simply put, spread betting means you bet whether you think a selection will finish above (buy) or below (sell) the spread price, which is a small range that a bookmaker will designate, based on how they think a player will score in an event.
You'll need a golf spread betting bookmaker to make use of this approach and for this, we recommend Sporting Index. Follow the link above to sign up an account and to get your hands on a £50 welcome bonus.
What is Golf Spread Betting?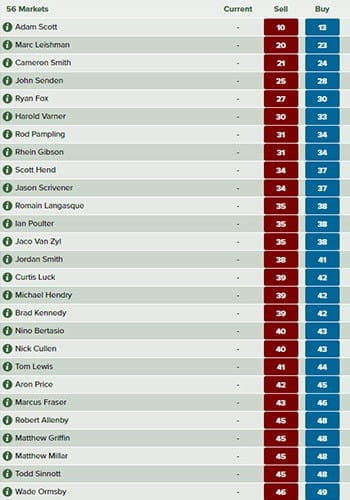 In golf, betting sites will offer a spread price on how many points they think a player will score or which position they think a player will finish. Points are designated based on finishing position and a betting site will state how they designate points for each event. As you can see by looking at the image to the left, Sporting Index provided a spread price for Adam Scott of 10-13, meaning the operator expects him to score between 10 and 13 points for this particular competition. Our next step is to decide whether we think he will score more points (buy) or less (sell).
Let's say that for this tournament, we placed a £10 sell bet on Scott and Scott finished in 15th place and was awarded 5 points. This means that sell bets would win and buy bets would have lost. Here's where spread betting gets a little bit more complicated and different from normal backed bets, as the amount that is paid out depends on how far above or below the spread a selection finishes.
In this case, Scott received 5 points, meaning he was 5 below the spread sell value. The returns would therefore be the spread price (10) minus the points Scott earned (5) which equals 5. This means that you would have earned 5x your £10 stake.
It's true that golf spread betting might seem too complicated for new punters. If you don't have any experience in making spread bets and you don't know much about golf, you might want to start by studying the players' past performances. That way, you'll be able to make more educated guesses and increase your odds of winning.
Advantages & Disadvantages of Golf Spread Betting
Spread betting on golf is a great way to increase profits or minimise losses by the exact position a player finishes or the points they receive. But like anything, there are pros and cons of spread betting. Spread betting works especially well on golf where it can be easier to accurately predict a player's performance and therefore how he will fare in relation to the spread. Below we've listed a few of the pros and cons of taking this approach to betting on the sport:
Advantages
You can cash in your position at any time, meaning you can minimise a potential loss or guarantee profit
There can be more value than simply backing selections as the potential winnings are greater
Greater leverage from your bets, since smaller stakes can win bigger returns
Disadvantages
Losses can also be bigger, as you lose more than just your stake
Bankrolls also need to be bigger to cover potential big point losses
System #2 – Golf Trading Strategy
Trading or laying bets is an established practice in betting on many different sports. Through this approach, it's possible to hedge your backed bets, by laying a bet for the opposite outcome to occur, thus protecting your stake or guaranteeing yourself profit if done correctly. Through trading on an exchange platform, you can also trade out your bet (essentially cash out) or partially trade, to allow you to trade out your stake to give yourself essentially a free extra bet, though this will of course reduce the potential winnings of your first bet.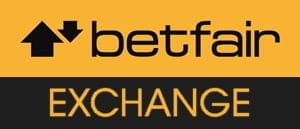 exchange betting platform
fair commission fees
£100 bonus
IBASHydrant ID
Gambling Licence:
GC
Government of Gibraltar
Full T&Cs Apply! New customers only. Available to residents of UK or Republic of Ireland using promo code ZBBC01. Place 5 x £10 (or more) single bets on the Sportsbook each at min odds 1/2 (1.5). Get 1 x £20 free bet. Up to five times.
The use of betting exchanges has taken off in recent years. Betfair and Ladbrokes are the two most popular the internet has to offer, so if you haven't already got an account, we'd advise signing up for one. Our favourite is Betfair, but both are really great. Follow the link above and also check our Betfair review to get a welcome bonus to the exchange platform.
How to Lay Golf (or Back)
As I mentioned above, by a golf trading strategy, we mean backing a selection, then using a betting exchange to lay a bet against that selection later in the tournament to try to guarantee a profit. We covered the back and lay betting approach, on our football strategy page, so check there as well if you want to get even deeper into the topic. Aside from the maths involved, one key aspect is that you need to pay close attention to the action and follow what's happening, to make sure you find the optimal times to trade the bets.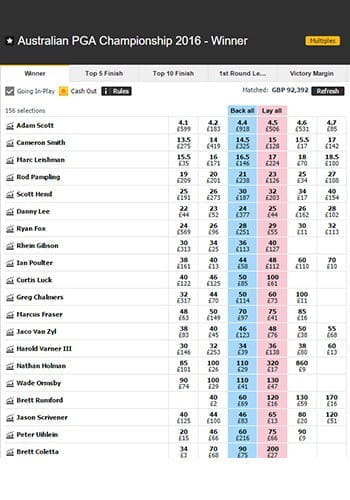 The image to the right shows how golf betting in the Betfair exchange looks like, but let's take a simpler example to explain this system. Let's say that before the tournament, we backed Shane Lowry to win with a £50 bet at 12/1. Shane shoots out into the lead after the first round and maintains this lead into the third round. Going into the final round, his odds have dropped to 2/1.
So, if we wanted to minimise risk even if Lowry doesn't win, we could lay a bet at those 2/1 odds with the same original £50 stake. This gives us a liability with this bet of £100 if he wins, but since Lowry winning would mean the original bet wins £600, we would still be in £500 profit. If he loses, the stake is covered, so you would not lose anything.
You can also lay different amounts, with the goal of making profit whatever the outcome. For example, if we wanted to guarantee profit rather than breaking even whatever the outcome, then we could lay the bet with a stake of £300. In this scenario, Lowry winning would result in the backed bet's profit (£550) being won and the lay liability (£300) being lost, resulting in a profit of £250. Should Lowry not win the tournament, the lay bet's profit would be £300, with the backed bet's liability of £50 lost. As you can see, either way you'd stand to win £250.
Always check your maths to make sure your liability is covered. Timing is key and getting a great lay price can limit your liability, so make sure to closely watch the event and choose the time to lay carefully. The above examples were calculated with no commission considered, but remember that betting exchanges do charge commission, so you should always account for this in your calculations.
The key, of course, is in the selections, as to lay a bet in this manner effectively, your selection must be performing well so the lay price comes down. If this doesn't happen, then you can also use the lay strategy to minimise losses, though trading golf bets is best employed with players having a strong start and using this to your advantage.
Advantages & Disadvantages of Trading
Trading has its advantages and disadvantages of course. In our opinion, it's a great golf betting system that should be utilised by all punters, but like anything, there can be downsides. We've listed some of the advantages and disadvantages below to help you decide.
Advantages
Can guarantee profit whatever the outcome of an event
Trading out reduces risk and potential losses
Can profit from bets that would have lost if they were not traded
Disadvantages
Requires the ability to calculate value and how much should be laid
Potential winnings are reduced through laying bets to cover backed bets
Requires you to follow the action closely if you want to maximise winnings
Key Approaches
These types of golf betting systems are great to have in your locker. They bring a whole new dimension to betting and when used smartly, can minimise risk and maximise profit. But, there are of course key approaches and concepts that you need to know before you go into the advanced stuff. Recognising value is a key concept across any sport, but there are many other things to be aware of. Check our golf betting guide to get clued up.
Along with these systems, there are some key approaches that should be considered. Without proper knowledge of the sport, betting and of course some mathematics, you could be setting yourself up for failure. Make sure you delve deep into stats to help with your selections, always looks for value and allocate a staking plan to manage your budget. Check out our top three key approaches to combine with golf betting systems.
1. Cover the Field with Each Way Bets

It's always a good idea to cover a few selections from each tournament field. Betting each way on a handful of selections should help to ensure against variance and if you utilise a staking plan and bet accordingly you should be in profit if just one of your selections places. Each way bets are a great back up to outright winners also.
2. Go Deep When Checking Player Statistics

Statistics have taken on a new role in golf betting and it really helps to pay extremely close attention to them. Who's driving the longest and most accurately, greens in regulations and number of putts per round are just some of the key stats you should be looking at.
3. Allocate a Staking Plan for Each Event

A staking plan which guides how much to bet on a selection based on their odds is a tool of the pros. Allocate the number of units you want to bet on a tournament (which should be no more than 10% of your bankroll) and then allocate these units between your selections on the tournament, based on their probability of placing.
Conclusion
Hopefully, you've found a golf betting strategy that is right for you and you're ready to take your game to the next level. But before you do, make sure that firstly you have a good knowledge of the basics required for successful golf betting. Educate yourself about the sport and the key concepts before adding these approaches to your repertoire. Once you're ready, incorporating these strategies into your betting could take you to the next level.
FAQ
With our golf betting strategy guide coming to an end, we've decided to dedicate the following section to the most frequently asked questions about the topic. We've had our experts answer all of the common queries raised by punters for you. If you have any questions about the strategies, or anything else contained on this site, please feel free to email at info@bestbettingsites.com.