Betting Exchange Sites: Comparing the Best Platforms
When Betfair entered the online gambling landscape in 2000, the sports betting scene changed forever. At the world's first online betting exchange, users could now stake against each other, eliminating the high commissions found at traditional bookies.
This facilitated the development of innovative betting strategies and new live betting markets. Users could gamble on previously unoffered pre-match odds. If you're looking for a a whole new range of wagering options, check out our list of the best online betting exchange sites below:
The Top 3 Betting Exchange Sites
Betting Exchange Site
Bonus Offer
Features
Rating
Secure Link
T&C's
Betfair
Up to £100

In Free Bets

5 x £10 bets

,

23,000

,

35+

,

5/5

Score

Visit Site!
Full T&Cs Apply! New customers only. Available to residents of UK or Republic of Ireland using promo code ZBBC01. Place 5 x £10 (or more) single bets on the Sportsbook each at min odds 1/2 (1.5). Get 1 x £20 free bet. Up to five times.
Smarkets
Receive £10 Bonus
Deposit

,

22,000

,

35+

,

4.5/5

Score

Visit Site!
Full T&Cs Apply! New customer offer. You must deposit £20 (or currency equivalent) in a single amount with your first deposit to be eligible. Debit card, bank transfer or Trustly only. Please gamble responsibly. 18+
Betdaq
Cashback Up to £2000
30x

,

16,000

,

22+

,

4/5

Score

Visit Site!
Full T&Cs Apply! 18+. New customers only. Promotion available from 11/03/2020 - 31/12/2020. Code BETINS must be used at account registration. Players must place min. 5 losing bets totalling min. £/€50 on sportsbook or casino within 28 days from account registration to receive cashback. Sportsbook qualification entitled to 10% of total net losses, max £/€1,000. Casino qualification entitled to 10% total net losses, max £/€1,000. Not available to API or RDT customers.
The betting exchange sector is undeniably dominated by the superiority of the Betfair exchange. No other operator offers the full package in such an extraordinary way as Betfair have managed to do.
The bonus is fantastic, the depth of markets you can bet on is huge and the UX/UI design of the mobile and tablet application is fully optimised to make the gaming experience as enjoyable as possible. Here are all the best betting exchange sites:
Top Betting Exchange Sites for 2021:
The other three operators mentioned in the list also manage their own platforms. Each has very unique and exciting features, which is why we broke them down by category.
The Concept and Inner Workings of Online Betting Exchanges
A betting exchange is a peer-to-peer platform that lets customers wager on the outcome of events. This is different from betting at a sportsbook, where customers bet against fixed odds set by a bookie. Similar to trading stock options, trading betting exchange outcomes allows savvy punters to get on both sides of the action.
Betting exchanges launched on the basis of offering punters single bet opportunities that can be matched by other players. Betfair is unique in the sense that it operates on a model similar to a financial exchange.
This allows a great deal of flexibility and amongst other things, multiple small bets to fill a position offered by a gambler interested in wagering a large sum on a particular outcome. This innovative approach has allowed Betfair to snap up 90% of the betting exchange market and continue to dominate with its advanced tech.
The main differences between standard bookmaking and betting exchanges like Betfair are important to understand for a successful gambling experience. Firstly, the customer does not bet against the bookmaker.
The betting exchange connects opposing gamblers and facilitates a platform where bets can be matched by other customers, the technology programmed into the exchange makes the process instantaneous.
Betting exchanges take "no risk" with the bets made on their platform, making slow and steady profit on the commission they charge on net winnings, usually between 2% and 5%.
The free market principle also applies to betting exchanges. Unlike standard bookmaking the odds are not set directly by the operator, they are dictated by the betting volume on particular markets and fluctuate accordingly.
Lastly, customers have the ability to "lay" an outcome, – backing it to lose – as well as backing it to win. Read more below for our explanation of back and lay bets.
What Is a Back Bet?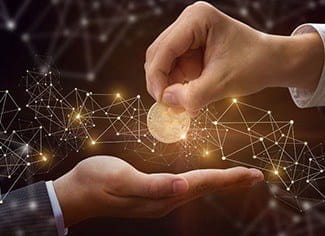 A back bet is a bet on an outcome occurring. If you back Manchester United in a match, you are betting they will win the game.
In the betting exchange sphere, this bet will be countered by a retail customer who is betting on the opposition or a draw. If the back bet is particularly large, the platform will likely match you against multiple counter-parties.
The main difference with this process is the odds are set by the current betting volume as you are not betting against the bookmaker.
What Is a Lay Bet?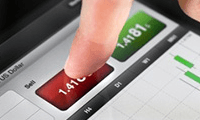 A lay bet is the opposite of a back bet, where you are wagering on any other outcome than the one described in the bet. For example, if you lay the correct score of a football game being 0-0, you will win your bet if the score is anything else.
Lay betting is an option of betting completely unique to the realm of betting exchanges. This form of bet allows the punters to act as the bookmaker, offering up odds to sell a bet rather than back a bet.
This is also a component of matched betting that allows customers to both back and sell bets on the same event, thus covering all outcomes and guaranteeing a profit. There's more about matched betting in the bottom sections of this article.
Lay betting is an option on all betting exchanges, allowing users to act as the bookmaker and take bets on particular outcomes in the hope that they will not happen.
Live Exchange Betting
Live betting on the exchanges is extremely popular and is well facilitated. The markets' odds prices will constantly drift, second by second, allowing players to capitalise on big price options in-play if they are confident about a particular outcome.
The live betting exchange operates in a similar way to standard bookmaking, the prices will drift depending on the betting volume of particular markets.
Live betting on the exchange is particularly relevant for matched betting strategies that require a drift in the market before the lay bet can be struck. Some exchanges such as Betfair will allow you to integrate trading tools and API systems giving you more in-depth data and management control over your bets when the event is in play.
Betting Exchange Comparison: Considering All Variables
There are four major players within the betting exchange industry, so what're the main differences between them? We put them up against one another in a number of different testing categories and the findings are really revealing.
Betfair is by far the most stable due to its massive user base. This results in high liquidity, making it easy to bet on what you want.
Take nothing away from the high-tech platform offered by Smarkets, however. It operates just like the NASDAQ, but for trading outcomes of sporting events.
Here are the results of our test:
| Betting Exchange | Liquidity | Markets | Commission | Usability | Rating |
| --- | --- | --- | --- | --- | --- |
| Betfair | Very High | 75+ | fees of up to 5% | | 10/10 |
| Smarkets | High | 85+ | fees of up to 6% | | 9/10 |
| Matchbook | Medium | 50+ | fees of up to 4.5% | | 8/10 |
| Betdaq | High | 45+ | fees of up to 5% | | 8/10 |
There are key differences between these four operators that should be fully understood before staking large sums of money on the exchange. Do your own research and make a comprehensive evaluation of each operator before fully committing to the services of a particular exchange.
Where Can You Find the Best Betting Exchange Odds?
As the betting exchange odds are not set by the bookmaker, rather by the betting volume on particular markets by the clientele, it is hard to compare the differences in prices offered.
However, there are some minor differences we noticed. While conducting our research, we analysed the prices at the best betting exchanges and cross-referenced them against one another. We produced our findings for you below.
Average Odds for the Top Betting Exchange Sports
Betting Exchange
Football
Tennis
Golf
Racing
Avg. Odds

Betfair

93.99%
94.77%
98.25%
95.63%
95.66%

Smarkets

98.03%
97.93%
96.82%
95.47%
97.06%

Matchbook

95.49%
96.03%
97.39%
97.81%
96.68%

Betdaq

96.47%
94.38%
93.96%
95.76%
95.14%
As you can see from the table, the spread between the betting exchanges is very small. Smarkets comes out on top with an overall average of 97.06%, with the lowest of the bunch being Betdaq at 95.14%.
Depending on the sport you're most interested in there may be some hidden value at lesser exchanges. However, retail customers need to be aware of secondary factors to your pay-out such as market volume and commission fees charged by the exchange on net winnings.
Liquidity of the Exchange
The liquidity of popular markets at a betting exchange is something that the user should certainly put a lot of stock into – it is especially important to be aware of secondary, less popular markets at a betting exchange with low liquidity.
The problem of low liquidity at a betting exchange is your bets, whether they are lay or back bets, will probably not be matched if they are particularly high value.
The best betting exchanges ensure high liquidity by offering the correct range of markets and not overextending themselves and leaving the vulnerability of low liquidity open.
Best Betting Exchange Bonuses
There are some fantastic betting exchange bonuses available to new players in the current market. Take a look below for what we consider to be the best value bonus currently available.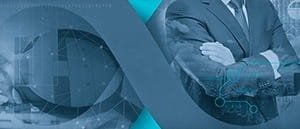 fantastic live arena
large market variety
optimised exchange platform
thawteibasBetting License:
Simplicity is key when it comes to the best betting bonuses. We love to see an operator taking the interest of new players to heart when deciding what offers to roll out.
With a bonus like the one offered at Matchbook, there is very little in terms of complexity that could obstruct the casual player. Simply open an account today and reap the rewards of this fantastic welcome bonus.
Markets Offered at the Exchange
The range of markets offered tends to vary between the top operators and companies offering slightly sub-optimal exchanges. There is a large swathe of market opportunities at Betfair and players will certainly find the largest range at this operator.
There are some other great places where you can find the large range of markets that punters love; Smarkets also has a fantastic range of markets users can find at Betfair, in fact, it offers the most markets of any exchange.
Commission Fees on Net Winnings
As betting exchanges do not physically take bets from the players, of course, they need to generate revenue. Operators have steady profit streams through the commission they charge on winning bets at their exchange, this can be anywhere in the region of 0% – 6%.
However, unless you are playing on an active welcome bonus offering you 0% commission on your first X months of betting, you can expect fees to be in the region of 4.5%. This is only payable on winning bets and customers should take this into consideration when they are conducting matched betting profit-making strategies.
Matched Betting vs. Betting Exchanges: Key Differences
Matched betting is a form of betting strategy that relies upon the drifting of markets in order to create a gap in the spread, then hedging your position and guaranteeing a profit. Sometimes it's very small, but profit all the same.
This method of profit-making utilises free bet offers at third party bookmakers where the player is hedging the bet at a secondary betting operator. Betting exchanges are centrally located and players can back and lay bets on the same event to hedge their position whilst the action unfolds.
Unlike the matched betting method, betting exchanges carry a certain amount of risk and do not allow players to make guaranteed profit bets before the action unfolds.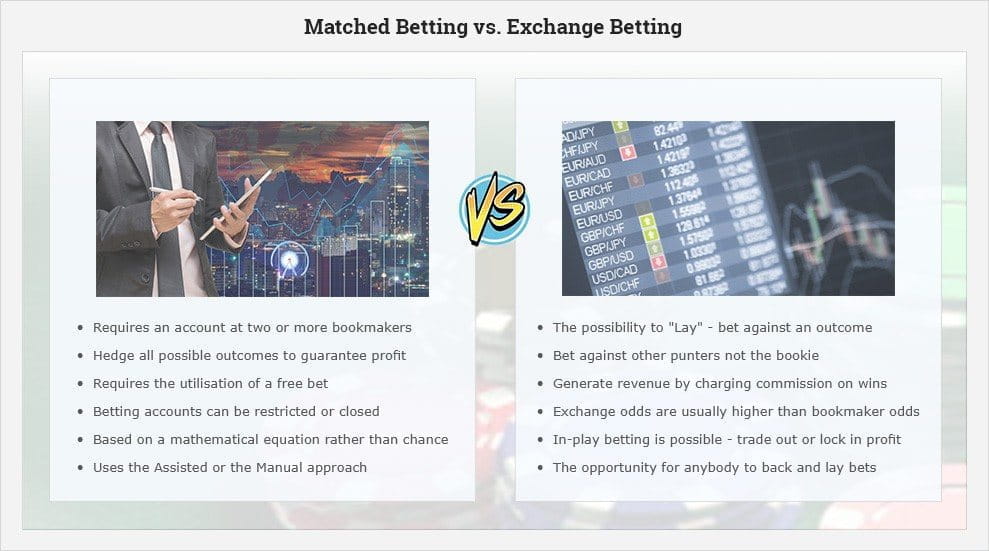 If you're a highly experienced punter with a lot of knowledge surrounding a niche sport such as greyhound racing, then exchange betting sites provide an excellent arena for you to back and lay bets to guarantee a profit.
The key is spotting high value early and anticipating which markets will fall as the start time draws near and then as the action unfolds. Matched betting is for the players who love to seek the best welcome bonus offers around, bearing in mind this tactic has a limited number of deployments as free bets are not an infinite commodity.
Similarities with Trading Platforms
As we've alluded to throughout this guide, there are quite a few similarities between betting exchanges and trading platforms. The first similarity is the back bet, which can be viewed as investing in a stock you think will do well.
The second similarity is the lay bet, which can be viewed as short selling a stock. If you think a team will perform poorly you can make a lay bet, thus locking in profit when the team loses.
The third similarity has to do with the "buy low, sell high" method of trading. With betting exchanges, this can be viewed as the opposite. When the odds of a team winning are high, there may be value in a back bet. When they are low, it's probably correct to make a lay bet.
Lastly, the odds are set by the free market principle. The volume of wagers means the odds can fluctuate greatly as more information becomes available. This is very different from betting at a bookie which offers odds in an effort to limit its own risk.
Profit Making Strategy: Step by Step Guide
Betting exchanges carry an enormous amount of popularity due to the nature of the system, a system that can be capitalised upon by careful and intelligent trading to guarantee profit.
There are a large number of professionals who make a full-time living off betting exchange profit-making strategies and we would like to give you an insight into how this can be made possible. Below you will see a simplified version of the steps taken to form a guaranteed profit scenario at a betting exchange.
[1] Back "Bet On" a Result

First pick a market that you expect to fall in odds during its course. Take it at a price you expect is too high, or will fall.

[2] Wait for Price to Drop

We don't really care if the outcome happens or not. We need the odds to fall below the price we backed them for.

[3] Lay the Same Result

When the price drops to a level below the odds you backed it for, lay a bet against the outcome, guaranteeing profit.
As you can see there are two types of bets you need to place in order to lock in a profit; a back bet and a lay bet. Timing is crucial when it comes to laying the bet off, or hedging your bet.
As the odds price data is being updated by the second, these can fluctuate wildly with no notice. In order to assist you with these strategies, there are certain API and trading tools that can be utilised by the punter, like Geeks Toy, which will give you an enormous amount of market data to make clear how the odds are drifting for any particular market available on the exchange.
Pros and Cons of Betting Exchange Trading
There are many great features that make the betting exchange such an enjoyable and unique gaming experience for the punter. The key advantages of betting exchanges can be fully realised when the profit-making strategy is optimised and working efficiently.
If executed correctly you can make continuous profit from betting exchanges where the risk of losing is zero because you have covered your back bet with a well-timed lay bet, creating a spread and taking a small piece of profit no matter the outcome.
You are also betting against other retail customers, which in itself is a very cool and fun thing to be a part of.
Pros and Cons of Exchange Betting
Major Strengths
steady profit making potential
use API's and Trading tools to assist you
easily monitor P/L
Major Weaknesses
no enhanced odds
large bets may not be matched
Minor Strengths
bet against other players
more data to assist betting
spot market fluctuations
Minor Weaknesses
multiples on lay bets not possible
limited bonuses available
Full T&Cs Apply! New customer offer. You must deposit £20 (or currency equivalent) in a single amount with your first deposit to be eligible. Debit card, bank transfer or Trustly only. Please gamble responsibly. 18+
Despite the obvious profit-making potential that online betting exchanges possess, the basic rules of gambling still apply and should be respected.
If you go and lay a long-odds bet in the exchange and the back bet comes in – you can lose some serious money as you will be paying out your stake times the odds of the market you lay against.
The good odds found in primary betting markets tend to stop when you get to the less popular markets, as the liquidity is low and this is especially relevant on the smaller betting exchanges that only control around 2-3% of the betting exchange market.
If you're into arbitrage betting between exchanges, spotting differences in the odds prices offered, this is extremely difficult to do and most cases will result in a very little reward for painstaking effort.
Regulation and Financial Security
Since your safety and security is of the utmost importance to us, all betting exchanges listed on our website are 100% licensed and legal in the territories they operate in. A licence is the number one indicator of a legit betting exchange.
Additionally, each has an independent regulator, such as IBAS, that can be contacted in order to settle disputes or contested winnings with the bookmaker. These organisations have the authority to overrule the decision of the betting operators if they believe the customer has been mistreated.
History of the Betting Exchange
Since the creation of online betting exchanges, there has been a new wave of punters attracted to gambling. Coming with the mindset of a financial trader, they apply their knowledge of market fluctuations and risk into sports speculations.
It has been an epic journey for companies such as Betfair, expertly positioning itself as the industry leader and outdoing the competition with their superior technological innovation and overall fantastic UI/UX design.
The years since its launch have seen a couple of noteworthy competitors rise up, the most exciting and noteworthy being Smarkets, which has a completely unique approach to business. Check out our timeline below for the most important milestones achieved in the industry in the past years.

Betting Exchanges: Fantastic Playing Experience at Betfair
By reading this comprehensive guide for punters looking to step into the realm of online betting exchanges, you should now have a full understanding of the best betting exchanges, what separates them in terms of quality and how to effectively form a winning strategy at one of these operators.
While this form of betting is growing rapidly, the standard online bookmaker will always command a strong market share. However, there are increasing instances of players who utilise both forms of betting platform.
The future certainly looks bright for Betfair, controlling 90% of this industry with its exchange, though expect new operators and fresh competition to begin popping up in the near future.
For a more detailed analysis on the operators mentioned in this review, read through our Betdaq, Smarkets and Matchbook review pages. To learn more about betting in general, head over to the homepage.
Q&A/FAQ
If you require further clarification on any of the content published on this page, please contact us at info@bestbettingsites.com for a quick response.
🔍 Can I cancel or change a matched bet?
A matched bet is a binding agreement between the backer and layer and so cannot be cancelled or changed by either party.
🥇 What are the best betting exchange sites?
The best betting exchange sites are licensed ones with high liquidity. Check out our list of the best betting exchange sites for a full rundown.
😎 What is a betting exchange exactly?
A betting exchange is a platform that lets customers wager on the outcome of sporting and other events. Different from betting on a sportsbook, an exchange allows players to bet against one another. Click here for more details about betting exchanges and what makes them unique.
👌 How do bookmakers earn money with betting exchanges?
Technically, a bookmaker and an exchange are two different concepts. A bookmaker creates fixed odds to limit its own risk because it stakes money against its customers. An exchange connects customers who wish to wager on opposite outcomes of the same event. Betting exchanges make money by charging a commission on winning bets.
⚖️ Are sports betting exchanges legal?
Yes, sports betting exchanges are legal in most jurisdictions where sports betting is allowed. However, there are some exceptions to this rule, so it's always best to familiarise yourself with your local gambling laws before placing wagers. For more about the legality of betting exchanges, click here.