Horse Racing Betting Strategies – How to Approach Betting on the Sport of Kings
Horse racing is one of those betting markets where punters have gone to great lengths to try and develop strategies that will get the better of the bookie. Over the years, there have been a great number of articles published and books were written on the subject of horse racing betting strategies and ways to maximise profit and minimise risk.
There are a number of approaches and strategies that if used properly, can help to increase profits over time. Before we get to these, we will take you through the very basics and show you the best way to bet on horse racing.
Horse Racing Betting Guide: Taking Care of the Basics
As with most skills, success when betting on horses only comes after you've dedicated a fair amount of time perfecting your craft and learning from your mistakes – and sometimes, most importantly of all, a little bit of luck! So that you don't skip over the basics and find yourself out of your depth in the future.
We've started right from the beginning and put together a brief horse racing betting guide that will walk you through all the essential skills, such as learning how to read an online race day card, and how to develop your own strategic handicapping method, that will show you how to bet on horse racing as a beginner.
How to Read a Race Card
When betting on a horse race for the first time, making sense of the race card may seem like a bit of a daunting task. It is true that there is a lot of information displayed on the card, however, it is all important information that's there to help you make a more informed decision about where to lay your stake.
Everything you need knows about a race, such as the number of competitors, the past form of the runners, the type of race, the odds prices and the condition of the track is all contained. It is therefore crucial that you familiarise yourself with the layout and the abbreviations so that you never miss an important piece of info.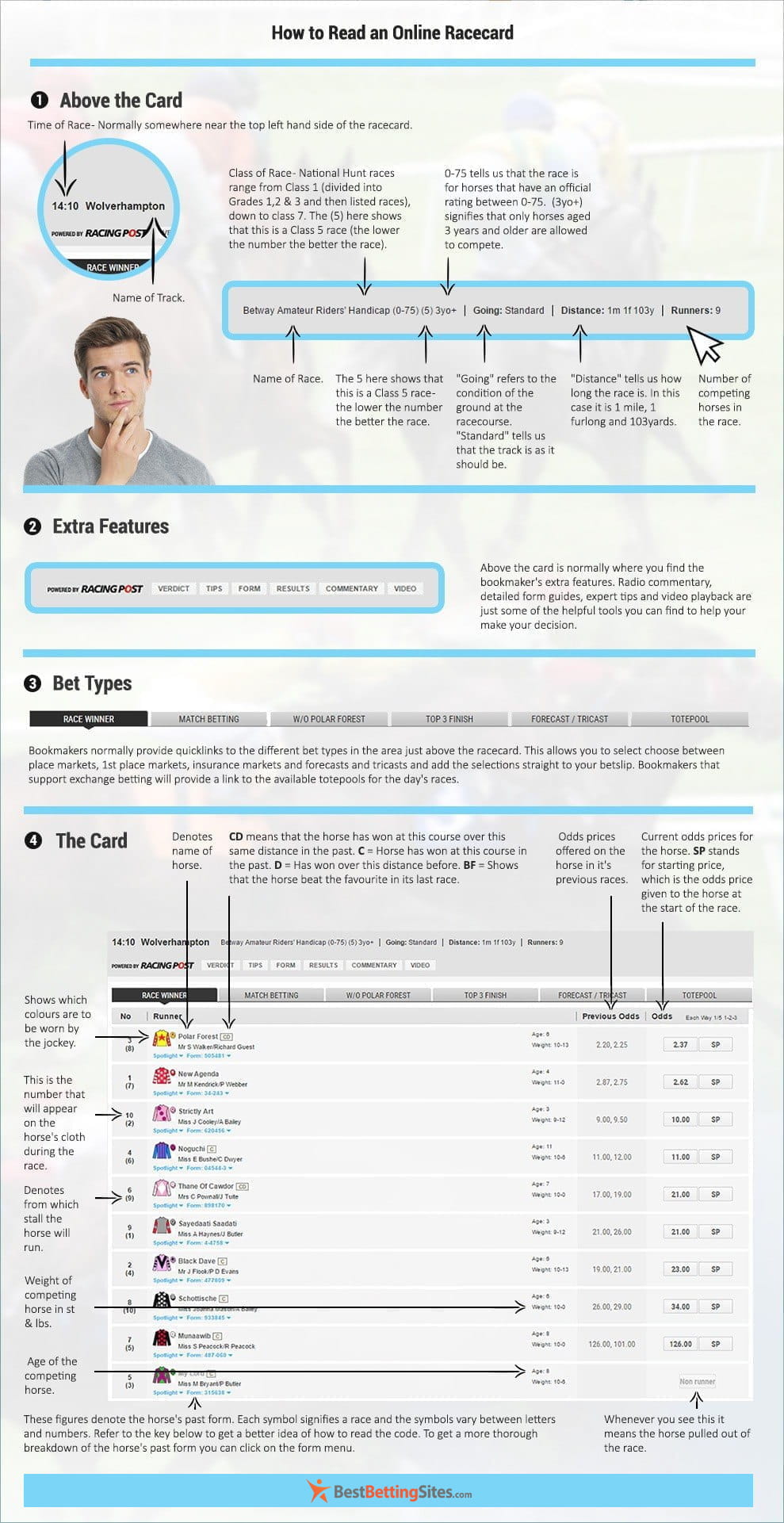 The image above provides a complete explanation of exactly the kind of online race card you find at the majority of betting sites. The race card should be the starting point in your decision-making process when you're thinking about laying down some money on a race.
After you've had a good look through the card you can start conducting your own independent research and utilising other tools that may assist you with the handicapping process. The best way to bet on horse racing, however, is always to start with a thorough read of the race card so that you familiarise yourself with all the specific details of the race and the competitors.
Another thing to bear in mind is that many betting sites feature additional interactive tools above the card. As well as in-depth form checkers where you can see how well the competitors have performed in their last outings, some bookies include links to external pages where you can read extra info on the horse's trainers, gain a deeper insight into the layout of the course, reviews stats centres and even view virtual race simulators that reflect the predictions of expert analysers.
These extras features are just one of the advantages of placing horse racing bets online so be sure to take full advantage and use all the information at your disposal; learn more about the extra features offered by the top betting sites over on the main page.
Developing Your Own Handicapping Method for Horse Bets
"How do I pick a winning horse?": This is well and truly a million-dollar question to which there is no one definitive answer. There are numerous horse racing betting tips and guidelines you can follow that can help you make more informed decisions, however, horse racing is, after all, a sport in which anything can happen and where plain old luck can often prove to be the most deciding factor.
In the sections below we will be going over only the most essential handicapping methods, which can increase your chances of picking a winner. Our aim is not to give foolproof tips on how to make a fortune, but rather, provide some sound advice on how to discard noncontenders and decide which horse, or horses, really merit a wager. Note: these tips only apply for straight, win only wagers on a single horse.
Try to avoid low-level races as much as possible – especially if you're a beginner. Horses of a lower-class can often be inconsistent and thus become a strain on your bankroll.
As a general rule, try to narrow your choices down to a maximum of three horses – this only applies to races where you're planning to wager on just one horse.
Check and see at what level the prospective selection has been racing at. A horse may have won many of its previous races, however, if it has just been bumped up to a higher class it may be out of its depth. To avoid this, you should always check to see if the horse has managed to show in its last three races at the same approximate distance and surface of the race in question – by approximate distance we mean no longer than a furlong.
Check and see if the horse has proven the ability, or at least the potential to compete on a track similar to the one in question. i.e. is the track right or left-handed? Are the changes in the gradient?
See if the horse has recorded a big win (a win by more than three lengths) in the last 6 months – the more recent the better.
Check to see if the horse has had any significant gaps in its race history due to injury. Much like other sports, good form and consistency is important for horses. If the horses is just returning from a lengthy spell of absence (more than 6 months) it might be a little rusty.
Always do some research on the jockey. A talented jockey can be the difference between a selection finishing somewhere near the middle or nearer the front. Check the jockey's history; if he's consistently managed to show then he may be able to turn a consistently middle-ranking horse into a winner. Moreover, if you manage to find a horse-jockey pairing that has consistently managed to finish in the top three places in the last 12 months there's a fair chance that they'd be a safe bet.
Similarly, it pays to do a quick check of the trainer. See if the trainer of the horse you have in mind has managed to win a decent number of races in the past two months – by the decent amount we generally mean more than 20%. Also, see if the trainer has had any success at the track on which the race is taking place.
Check to see if the horse has completed a good work out five or six days prior to the race. What is meant by a "good work out" will depend on the length of the race at hand, however somewhere around the half-mile mark is a good indicator.
Always check the odds prices of the competitors. The odds price of a given selection reflects the chances of the horse actually winning (according to the bookmaker's research and calculations). If you find a selection that matches well with points 2-9, the chances are it will have short odds, but there are times when selections are underpriced. Scan the race day program and use our handicapping guide to see if you can sport any contenders that have slip under the radar. Or you can always just play it safe and opt for a selection with a short price.
Famous Horse Racing Betting Strategies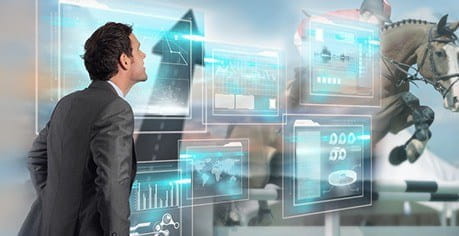 Many punters choose to opt for a more strategic approach to betting on horses in order to try and seek out the best value in the market. There are a number of widely recognised betting systems that can, if used properly, can increase your expected value. Here are some of the most well-known, well-tested horse racing strategies listed below.
Just so you know, there is plenty of knowledge and many books dedicated to betting and its diverse variety, or everything from cards, dices, wheels and any probability game that you can think of. Calculating your chances on a high level means to know math well. To make predictions based on mathematics is not easy, but not impossible either!
Dutching
Dutching is a popular betting system that basically ensures that when you wager on a certain number of horses you make the same amount of money irrespective of which horse actually wins. It does involve a fair bit of maths.
However, it can be extremely useful if you have a set amount you wish to stake and you want to back more than one selection. For the system to be effective you need to first decide how much you're willing to bet, and then work out how you can split your stake so that you guarantee a profit however the race pans ou
Dutching Formula
Say, for instance, you see two selections with odds prices of 9/1 and 4/1 and you're prepared to wager £15.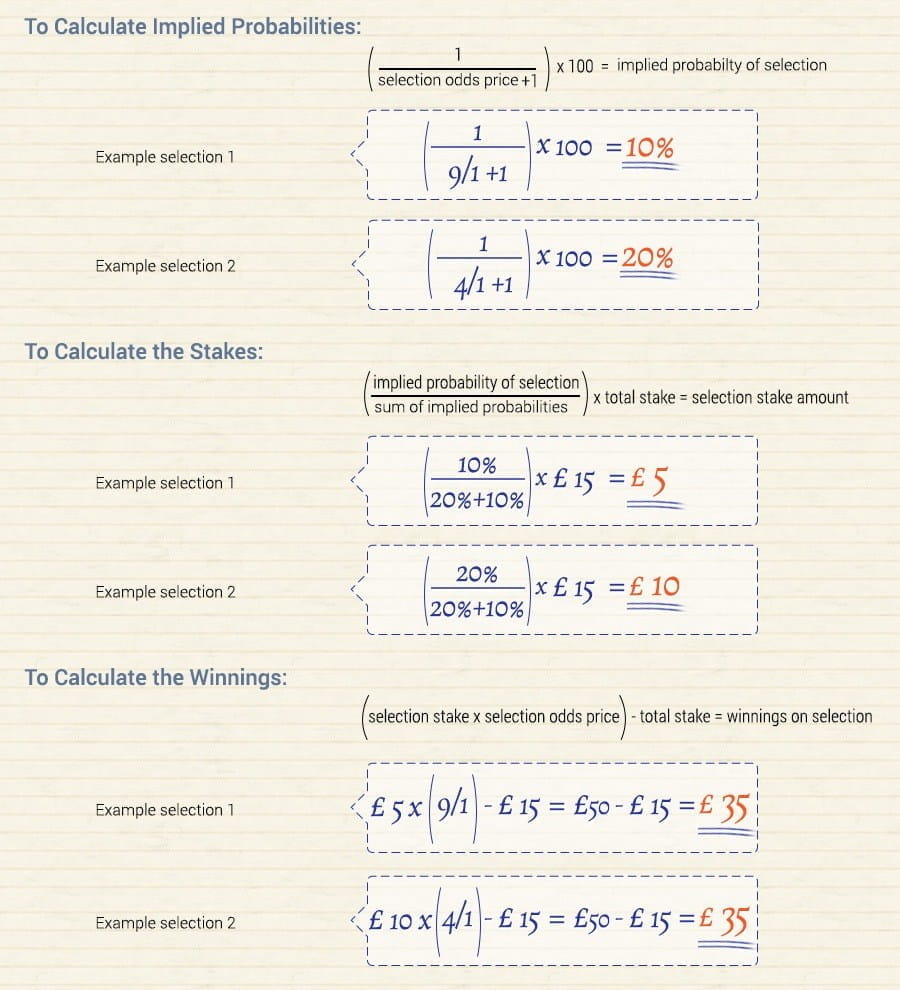 Say for instance you see two horses with odds prices of 9/1 and 4/1 and you're prepared to wager £15. The temptation would be to split this bet 50-50 so that you wager £7.50 on horse A and £7.50 on horse B. However, with the dutching strategy, as shown above, you can work out how exactly how much you need to stake to cover both outcomes and ensure the same profit.
Laying the Favourite
Laying the favourite is when you bet against the favourite to win a race in a betting exchange. It is a strategy that at first instance appears to go against the very basic principles of gambling, but if used properly, can ensure profits over time. Gambling statistics show that only 1/3 of favourites actually end up winning a race.
This means that on average, favourites are more likely to lose a race than they are to win. You need to think, in betting exchanges a horse is only perceived as the favourite because it has the most amount of money behind it, not necessarily because it has the best chance of winning.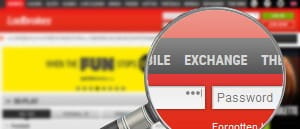 betting exchange platform
great odds prices
low commission fees
IBASComodo security 
Gambling Licence: 
GC
Government of Gibraltar
For this strategy to work you need to first only consider laying a favourite that's trading at 3/1 or below; any more than this and the damage to your bankroll if the selection actually does end up winning will be felt.
Secondly, you need to really need to have your handicapping techniques down to a tee to really be able to identify the weak favourites in a race. As a starting point, you can refer to points 2-9 in the handicapping section of our horse racing betting guide. There are however a number of other factors that should be considered, such as whether or not the horse is running in a national hunt race for the first time if it's carrying any excess weight, or whether or not it's wearing blinkers/headgear for the first time. Take your time, dissect the favourites' form guide and apply your handicapping techniques. If you're pretty certain that there's another horse in the race that can beat it and the odds are looking short there's a good chance it makes for a good lay bet.
Third, you need to know when not to lay the favourite. To stay on the safe side, we generally say that you should stick to the top racing classes, i.e. Group 1 Grade 1 races. Why? Firstly, because bookmakers tend to offer more in-depth form records of the competitors in the higher tier races, which makes it easier to sport a weak favourite. And second, because the exchanges on top tier races tend to have more first time, inexperienced punters who are more inclined to bet on the favourite, and thus bring the prices down. If you'd like to learn more about betting exchanges, head over to the exchange betting info section, or our on the main sports betting page.
Value Betting on Horse Races
Value betting is a more general betting strategy that does not apply exclusively to horse racing but is nonetheless important for maximising profits over time. It is, essentially, when you look to see if a selection has been underpriced i.e. has a higher chance of winning than the bookmaker has suggested with its odds price offering, and taking advantage.
Say, for instance, you have your eye on a selection that has been given an odds price of 3/1, but according to your own research you think it has a higher chance of winning, maybe 20% (4/1), then you may have identified a slight oversight in the bookmaker's calculations and spotted a good value bet. Before you get to this stage, however, it is first important to bear in mind that spotting a value bet and knowing how to apply it properly requires significant experience and know-how.
At the very minimum, you will have to have perfected your handicapping practices (some of which can be found in the "developing your own handicapping method section" of our horse racing betting guide), which will involve a thorough run-down of past statistics and form, and you will have to make sure that your calculations support your initial hunch.
Lucky for you, we've gone ahead laid out everything you need to correctly calculate a value bet. A complete breakdown of value betting, along with the proper mathematical formula can be found over on the football page – don't worry, the same principles apply to horse-racing betting.
How to Bet on Horse Racing
One thing is for sure – horse racing betting is difficult. There are many small particularities that you need to be aware of in case you want to be successful. There are several simple steps that you can follow so that you can be sure everything goes smooth as expected. It really does not matter that much online or not, the how to bet on horse racing guide of ours is applicable in both situations. When it comes to making your bet, these are the steps you should follow:
Pick a racetrack/event
Fill the number of races you are planning to bet on
State how much you are going to bet
Choose the type of bets/wagers you pick
Write the number of horses you bet on
Check your ticket
As you can see, these points are self-explanatory, but it's worth noting them here. In our opinion, choosing the type of bet is essential, especially when we're talking about correct money management. Furthermore, the betting amount should also be reasonable as gambling should be fun and shouldn't break the bank.
Keep Your Finances in Order
Horse racing betting tips, strategies and guidelines aside, perhaps the most important method to success when betting on horses is properly managing your finances. Poor budgeting will mean that you stand a greater chance of going bust pretty quickly and losing money that you simply can't afford to lose. On the flip side, proper management of your finances can go a long way to keeping your head above water and ensuring steady profits over time. See some of our tips listed down below:
Budget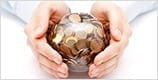 Make sure that you put aside a set amount of money each week or month for betting. These should be extra funds that you would normally use for leisure activities. This will help prevent you from eating into your every day funds and spending money that you can't afford to lose whilst also helping to make sure that you don't go bust through lack of proper planning – your funds with going a lot further if you take the time to budget properly.
Choose Your Races Carefully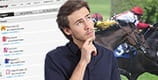 Don't ever feel as though you are obliged to bet on a race. If you've gone through your handicapping process and you aren't able to separate the challengers from the weak then it may be an idea to pass on the race. Trying to manipulate betting systems or applying elaborate strategies that you don't quite understand just to win a small sum of money is not an advisable approach. If you have serious doubts, simply refrain.
Don't Chase Your Losses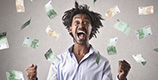 Never place a bet to try and make up for a loss. Betting on horses comes with a risk; sometimes the risk pays off, sometimes it doesn't. However, you should never try to win back the money you've lost by placing a number of bets to try and compensate. Sometimes losing a bet can hurt; the proper way to react is to take a step back, think where you went wrong, gain some perspective and go again when the time is right.
Develop Your Own Strategy
All in all, we hope that you've now gained a deeper insight into some of the more famous horse racing betting strategies out there, and for the more experienced punters out there, we hope that you feel more confident using them. The important thing to bear in mind is that different strategies work for everyone: there is no perfect strategy.
Take your time, build up your experience first, and then once you feel as though you're ready and you have a more sizeable bankroll, start experimenting with some of the different strategies we've mentioned above. After a while, you'll start to get a feel for which strategies work better for you.
FAQ
If you have any questions about these strategies, or anything else contained on this site, please feel free to email at info@bestbettingsites.com.
👍 What is the best way to bet on horse racing?
The best way to bet on horse racing is to be patient, learn from your mistakes and you'll eventually develop your own strategies. If you'd like to read up on some more betting strategies, head over to the golf betting strategy page to the spread betting section
💸 Is it worth paying for betting strategies online?
This is quite a delicate question because it really depends on the source of information. From an overall perspective, there are plenty of famous betting strategies which you can find online for free. It is worth to buy books, but not to invest in any kind of online gambling gurus.
❓ How to read an online racecard?
From a first look, it might seem to be super difficult, but it is not. It is easy to learn how to fill online racecards, because everything is written on then in a very nice and clear manner. Follow the text and you will get it in no time.
📊 What is a Betting Value?
More simply explained the betting value presents your chances of winning. It is a great betting strategy and a fundamental part of your experience. From a general perspective, it presents the idea to bet when you have a 1/4(25%) chance of winning.
✅ How to manage your finances when betting on horse racing?
Horse racing could be very costly is you don't know how to control yourself. There are many ways to manage your finance, but all of them require will power and discipline. If you have strong gambling impulses, you may need some professional help.