William Hill continue expansion with an office in Malta
William Hill has become the latest British bookmaker to confirm it will be opening an office in Malta.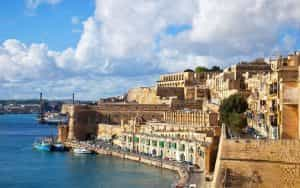 William Hill is the second major British operator to state its intentions to move to Malta. ©
Ulrik Bengtsson, Hill's chief digital officer, confirmed the news to a Maltese newspaper that the group would open a 'small initial organisation' in the country.
A location has not yet been decided on with the search currently ongoing.
Bengtsson stated that the Malta office would help to support the operator's expansion as it looks to take advantage of the nearly open sports betting market in the US.
But, an office in Malta will be key for the operator once Britain – and by extension Gibraltar – leaves the European Union (EU) in 2019.
Hill's plans follow the news in March that bet365 are also set to open an office in Malta next year.
Speaking to the Times of Malta, a spokesman for the group said:
With William Hill's online customer base overwhelmingly in the UK, Gibraltar will continue to be its key operational hub post-Brexit. However, Malta provides an option for international operations should they be required after Brexit.– Spokesperson, William Hill.
Why are bookmakers moving to Malta?
Both bet365 and William Hill have stated that Gibraltar will remain their main jurisdiction, but with Brexit looming, more firms could follow suit and set up camp in Malta. 888 Sport have already started plans to obtain a gambling licence in Malta.
Gibraltar has already secured a bi-lateral agreement with the UK to ensure gambling services can continue to flow freely post-Brexit. So why are operators opening offices in Malta?
Mostly, operators are worried about the freedom to offer their products and services throughout the EU when based in a non-EU state. Setting up in an EU country makes total business sense so that operators can continue to offer their services to the vast European market.
But why Malta specifically? Malta is the EU's smallest country, but its gaming framework is excellent. The Malta Gaming Authority (MGA) has worked hard to regulate the sector in a way that is beneficial to both consumers and businesses, so much so, that it has been publicly commended by the International Monetary Fund (IMF).
Last month, Malta brought a new gaming act into force, enabling stricter regulations and updating the framework. The act also gave the MGA more power to lead compliance and enforcement within the sector, along with introducing a player support unit to be a mediator between operators and players.
Another area where Malta is leading the pack is with its plans to introduce a unified self-exclusion scheme that applies to remote gambling operators as well as land-based operators. All operators wishing to gain a Maltese licence must have their own self-exclusion tools, but this scheme should prove much more effective and beneficial to players.
Ultimately, uncertainty over Brexit and its effects still looms and it seems unlikely that William Hill will be the last operator to open an office in Malta before Britain leaves the EU in 2019.