The 'Beast from the East' causes sporting chaos
The Beast from the East has made its presence known with dangerous conditions throughout the UK and Ireland. And with conditions expected to continue into the weekend, as the Beast meets Storm Emma, the bad weather is likely to have a big impact on the sporting calendar.
Already as a result of the snow and artic conditions, sporting events throughout the UK have been affected and as the effects of the worst storm to hit the UK in 50 years continue, many more events are at risk with the terrible conditions likely to last until the weekend.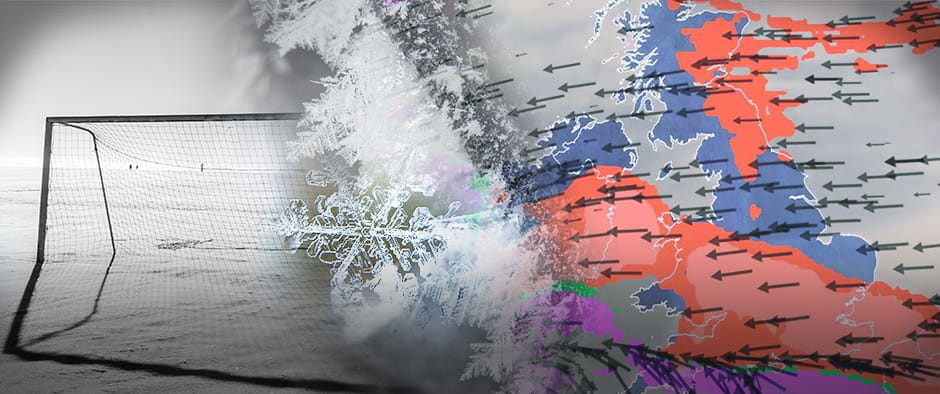 A red weather warning for snow is in place for many parts of south-west England and south Wales and whilst weather warnings are nothing new, it is extremely rare for red warnings to be issued, underlining the seriousness of the conditions.
Sport, no matter how vital the fixture, is only sport and this is brought into context when sadly lives are lost. Sport fans often travel hundreds of miles for events and this makes them particularly vulnerable to changing conditions. Even a relatively short journey can see you encounter totally different conditions from what you experienced when you left home. If you must travel we share some tips at the end of this article to help you keep safe.
Football matches already cancelled
Championship: Sheffield United v Burton Albion
League One: Bradford v Portsmouth, Gillingham v Rotherham, Oxford United v Fleetwood
League Two: Newport v Accrington National League: Boreham Wood v Macclesfield, Chester v Bromley, Ebbsfleet United v Wrexham, Guiseley v Dagenham & Redbridge, FC Halifax v Sutton United, Maidenhead United v Woking, Tranmere v Gateshead
Tips for travelling
Before you set off to any event, you probably will have already checked your team (or rival's) website for news about whether the event is still going ahead. And whilst that site will be invaluable for local information, it is likely to only cover the immediate vicinity of the event.
Make sure you check your route with a trusted route planner, a website such as AA traffic news will not only give you congestion and roadworks information but will also warn of hazardous driving conditions, something your Satnav is unlikely to provide and this information could save your life.
Make sure you wear a hat! In cold weather keep your head covered, you can lose 40 to 45 percent of body heat from your head so this little tip immediately reduces the chance of suffering from hypothermia. Remember, unlike your body, the head doesn't contain fat so it is naturally a poor insulator.
Whilst many people are aware of this, it is just as vital to keep the neck, wrist and ankles covered and warm as they are even more prone to heat loss and are often neglected. Remember the four rules of keeping warm
Also, wear several layers of clothing rather than that one big jacket. The heat we feel when we are warm isn't generated from your clothes it comes from you. Most of your heat comes the muscles in your body so wearing loose fitting cloths allows the heat generated to filter through the layers.
The last tip is to always keep your clothing dry when possible. This is especially true in snowy conditions. If in a car and you have wet clothes, then ring out the clothes before attempting to dry. Items that are worn on the extremities such as hats and socks should be dried first.
Be safe and expect the unexpected, pack lots of spare clothes and enough supplies for at least 2 days. Already, 300 people have been stuck in freezing conditions for over 20 hours, so ensure your car is equipped for that sort of situation.